Last year the BBC ran a comedy writing initiative called 'Jesting About' which aimed to find new talent in the North East. It was championed by Shooting Stars' legend Bob Mortimer so myself and my writing partner Will were extremely lucky to get a place on it. I say 'extremely lucky', we actually sent in some pretty genius stuff.

'Owen and Will truly are comedy geniusi' - My Dad (and accepter of bribes).

See?

We'd been writing comedy together for about a year but had never applied for or been part of a scheme like this, so we didn't really know what to expect. On the first day, we got to understand a bit about what we'd be doing for the next few months - we were part of a team of twelve writers who had to put together a half hour radio sketch show. Several members of the team were people who have been making a living from comedy for many years and some were people much like us who were just starting out. The finished product was either going to be really terrible or really brilliant...or really mediocre.

Throughout the scheme we were mentored by comedy icons such as Bob Mortimer, Ross Noble, Ian La Frenais and Paul Jackson. So that was alright. Also, we got free food - which was like a dream come true for us comedy writers.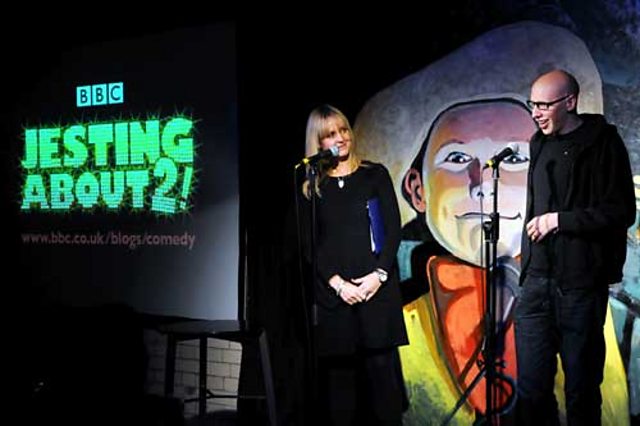 Owen Cooper at the launch of Jesting About 2 with Helen Spencer.
Many workshops were held which gave us all a chance to go through everyone's sketches and see what worked and what needed fixing. This can be a brutal and long process which by the end, makes you feel like you've been beaten with a large stick. And not in a fun way. But when things are going well and everyone is on form, it is a really enjoyable few hours and makes you realise how beneficial it is working with other people.
I have since heard the final show was very well received by those who listened to it and is now nominated for a Sony Award next year. Hooray.
Since the initiative finished, myself and Will have gone on to write for Mock the Week, Celebrity Juice and Show and Tell and many other writers have also gone on to do excellent things. One of them won the Premiership with Leeds on Fifa 2012. The whole experience was amazing and the BBC really treated us like Kings during the whole process. They opened a lot of doors for us both literally and metaphorically and I strongly urge anyone interested in writing comedy to apply for Jesting About 2 by its deadline Monday 28th November.
Find my little egg head on twitter here: @OwenRCooper
And my writing partner Will (he made me add this) @MrWillCooper
Are you a writer, performer or comedian? BBC Comedy are searching for the next generation of comedy talent for Jesting About 2: Funny Gets Serious which is being held in Newcastle. Find out how you can enter Jesting About 2.
Read Peter Salmon of BBC North's blog on Jesting About 2.