Headspace Scheme: My month at MediaCity
Ensconced in his thought-pod: Ian Winterton muses on his month of Headspace...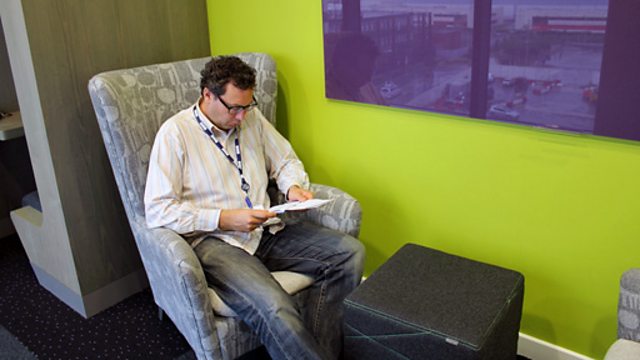 It's hard, this writing lark. Starting off, most of us have to find time in between all of that pesky 'life' stuff to even put finger to keyboard. But if you're lucky enough to find a space for yourself where all you have to do every day is sit at that damn computer and type – sorry, write – then you're confronted with a whole host of new problems, perched somewhere betwixt the Heaven of unlimited free-time and the Hell of self-loathing and procrastination.
Check email, check Facebook, check Twitter, play chess against the computer, eat, wash up – repeat. That's what a bad day looks like. A good day looks much the same only with less chess and more writing.
A quick straw-poll of fellow writers reveals that I am pretty typical and most, like me, find themselves craving more structure, so when I was offered the chance to join Writersroom's Head Space scheme – a month as 'writer in residence' on the Fourth Floor of the BBC in MediaCity UK – I jumped at the chance.
It wasn't just as a cure for procrastination, of course (and, thanks to the building's wi-fi, getting distracted proved almost as big a problem) – the very act of walking into the BBC every morning was inspiring. This place, this environment is where I want to be and, ensconced in one of the ultra-modern thought-pods, I felt remarkably centred and, though it's hard to quantify, I'm pretty sure I was more productive than when sat at home.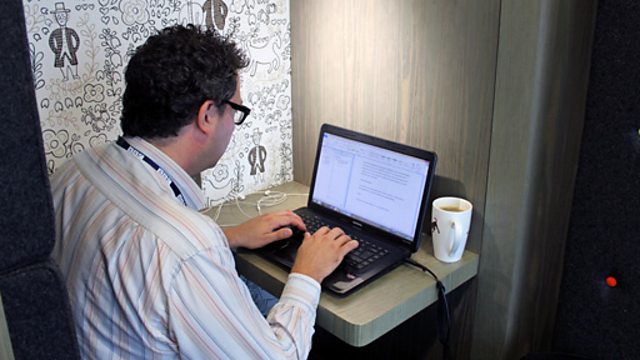 And at home I don't have access to the talented personnel who work in MediaCity. As well as Writersroom, the Fourth Floor is home to Radio Drama, Comedy North, Drama North and Comedy Commissioning and I was flattered by how many people were willing to take a break from their busy schedules to offer me advice and answer my questions. Thanks must go to Simon Judd (currently working to get Season 2 of In The Flesh onto our screens – here's hoping I can write for Season 3…), Gary Brown (one of the best producers of radio drama around), Anna Davies and Anna Berrington – CBBC Drama Development – and, over in ITV's new MediaCity offices, Kat Reynolds.
One thing I've concentrated on this month is whittling down my putative stories and deciding which ones to focus on and key to this has been the chance to discuss my ideas with professional drama practitioners.
Except for Charlotte Riches, radio drama producer, who warned me at the very beginning of our meeting not to let slip any ideas as she's once again running the Alfred Bradley Bursary Award (the ABBA) and, as all submissions are read 'blind' didn't want to risk any conflict of interest should she recognise one of my stories. It was Charlotte who suggested I enter the ABBA last time around, which saw me get through to the final six; I'm definitely entering again and was intrigued to hear that it's being split into two categories – the full-length radio drama and an eight-minute short, inspired by the standard of work entered for Writersroom's Turn Up The Talent events. The ABBA is due to launch in late October so keep checking back here for details.
Whatever the future brings, Head Space has made for a fantastic month – and not just because I got to spend the July heat-wave in air-conditioned comfort. It's hard, this writing lark, so thanks to Writersroom for making it that little bit easier.
Based in Salford, Ian Winterton is associate playwright at Shred Productions and a member of BBC Writersroom Northern Writers Group.
Headspace is a scheme where writersroom North invites talented emerging writers who we want to encourage and support into Mediacity, where they can hotdesk and concentrate on finishing a script away from the confines of their bedroom. The scheme is all about giving writers creative space, helping to develop and champion the work of those writers who we already have a relationship with, and offering support in kind.