People Just Do Nothing - from Youtube to BBC Comedy Feed to full series
Without trying to sound too dramatic, the education system does seem to spit many young people out into the world without any idea of what they want to do or how they can possibly explore their options. I was definitely one of those people. But I knew that I wanted to write, at least, so that was a start. And I had funny friends. Some of them were starting out in production (shooting music videos etc), some were bedroom rappers and producers. All of them had funny voices and characters that they could switch into effortlessly. What I proposed was that we put our talents together and work towards developing something that we could all be proud of. Spending our time doing something that we actually wanted to do, even if there was no immediate reward.
People Just Do Nothing - MC Grindah, DJ Beatz and Decoy.
People Just Do Nothing started as a Youtube series, loosely planned and heavily improvised. Characters and their particular traits or back-stories were born out of spontaneous talking heads. If someone mentioned that they had a kid in one episode, we'd find a kid to put into the next one. It was a very reactive process, which gradually gave way to more structure and planning as we progressed, in order to try and maintain some consistency. We would meet on Sundays and talk about the characters and come up with loose plans for the next episodes. I would write down any particularly strong ideas or quotes. Then we'd film and edit the episodes, or 'webisodes' as they're sometimes known. By the time we heard from Roughcut TV we had made 5 of these webisodes and a music video, and we felt like we knew the characters and their world very well. We probably didn't, but we felt like we did.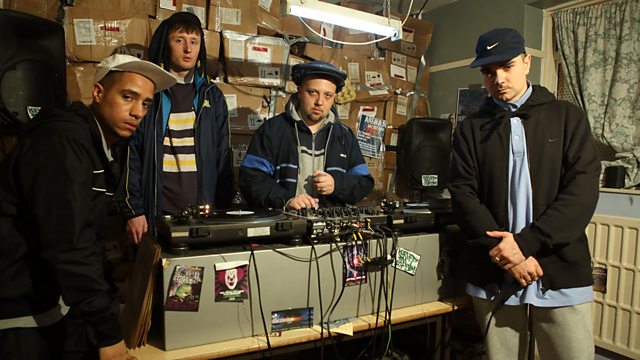 People Just Do Nothing - Decoy, Grindah, Steves and Beats.
The fact that none of us had ever acted or written before never felt like a problem. Roughcut were impressed with the world we'd created online and effectively offered their support in helping us develop it into something fit for television. Our thoughts at this time were something like, "Ash Atalla produced The Office. And now he's interested in working with us to develop a comedy pilot. Yes, then." A few weeks later we were called into Roughcut and told that the BBC were going to commission a pilot, as part of BBC Three's Comedy Feed. The catch was that we would have to write a full script – the BBC weren't convinced by our 'beat sheet' approach and, looking back, I don't blame them.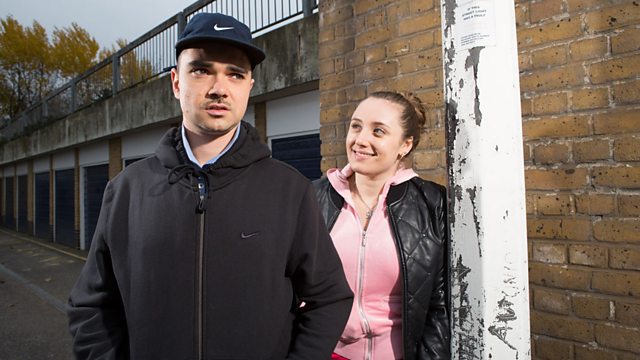 People Just Do Nothing - MC Grindah (Allan Mustafa) and Michelle (Lily Brazier).
One of the things that makes People Just Do Nothing unique is the collaborative approach to every aspect of the programme. The script writing process set the standard, I think. We formed a great bond with our Producer, Jon Petrie, and developed a process where everyone's voices could be heard. My challenge as the writer was to balance the various ideas and viewpoints and produce scripts which everyone would be pleased with. It did take a bit of getting used to (I did fourteen drafts of the pilot script over about six months) but by the time we went into Pre-Production we all felt like we were onto a good thing. We were consulted on every aspect of the production, from the set design to the wardrobe and, of course, the music. This was a reflection of the fact that Jon respected and appreciated the minutiae the show. He recognized that it had to be the right jacket, or the right garage tune. When we came to shoot Roughcut had no objections to us being on set, feeding notes through to the director if anything seemed off.
People Just Do Nothing - Chabuddy G (Asim Chaudhry)
The biggest shock for me came in the edit. Up until then you have a fairly well formed picture in your mind of how everything will look. Arriving on set and seeing your ideas come to life is an amazing feeling and seeing the characters delivering lines and the scenes working is all really fun (not to mention reassuring). But it's not until the edit that the episode becomes fully formed, and it's at this point that your work suddenly gets chopped to pieces once again. It's like a script edit but now someone else is sorting it out for you and for the first time it feels really out of your control. And it really is ruthless. Those interweaving plotlines that you've been crafting for months get cut down to a couple of key scenes and there's so much footage that you wonder why you wasted your time writing such long scripts. It's painful and when it comes to edits I'm never completely happy with the end product, but you have to accept that there's only so much you can do.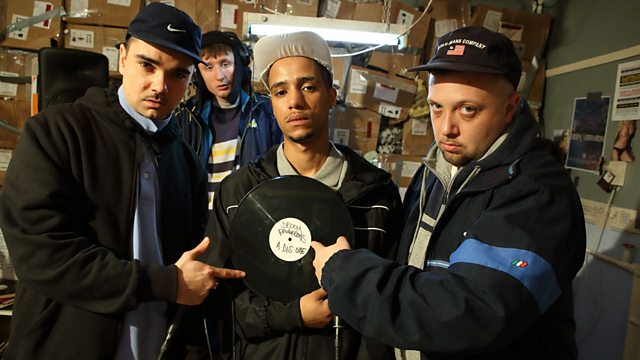 People Just Do Nothing - Grindah, Beats, Steves and Decoy.