Newsjack: A Hero's Journey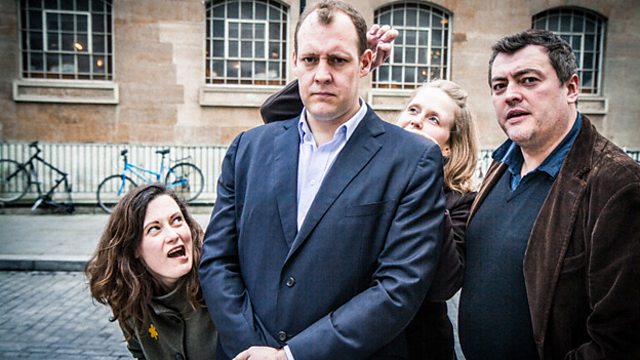 Newsjack - Radio 4 Extra's flagship topical comedy show
Tom Neenan deleted seven words from a document; he was the contract writer at BBC Radio Comedy five months into a twelve month contract and he was struggling with a puzzle of Sudokan proportions. Tom had been asked to construct a blog outlining his experiences writing for an open door topical sketch show on Radio 4 called 'Newsjack'. It was returning for a seventh series and the producers were eager to encourage new talent to take part. He had been asked to use his own experience going from a non-commissioned contributor to his current position, for which he had written for a number of different projects and once been handed a coffee by Hugh Dennis.
You see, Newsjack was an excellent way for seeking out new writers; every week the producers requested a maximum of three sketches along with one document containing one liners in the form of 'Jack Apps' or 'Corrections'. For Tom, submitting sketches to Newsjack was a Herculean task, which he executed with aplomb. He would sit down on a Sunday night and begin chiselling away at the marble of the news to slowly create his satirical Parthenon. The font; a classic Arial, the size; a cool 12 points, the margin; a sweet 2.5 cms - there was no stopping him. He would also masterfully incorporate both male and female voices into his sketches to fully make use of the cast, and stay true to the tone of the show by dodging four-letter-swears with the viper-like speed and poor taste jokes with musk-rat dexterity.
But at the production side of things they had it sewn up as well. The producers and script editors made sure that absolutely every piece of material submitted was read. It was in their best interest to find the strongest material as it made their job of creating the show easier – a practice which continues to this day.
Eventually Tom was invited in to sit in on the Tuesday meeting where producers would plug any gaps not covered by the non-commissioned material. In these meetings writers would pitch ideas and be sent away to write up the sketches, and in these meetings Tom realised that Newsjack had given him excellent practice in writing funny material to a deadline and adhering to a brief – a skill every writer needs to learn.
Having proven his ability to write gags and not spill Diet Coke down himself in these meetings, Tom was put forward as a contributor for other shows, asked to submit pitches and suggestions for shows that didn't have an open door policy, and he even did some trial writing on The News Quiz, where writing topical material to a deadline was very much in vogue. In all of these projects Tom was using skills he had learned sculpting his skits on a Sunday night.
And so we re-join Tom, sitting at his desk where we first met him, as a contract writer for the BBC filling a post once held by the likes of Douglas Adams, Richard Herring and Stewart Lee, writing links, gags, sketches or even sitcoms all under the banner of his year-long contract with BBC Radio. He deleted those seven words from the aforementioned document and re-examined the email sent to him by Newsjack's brilliant producers Carl Cooper and Ed Morrish: "Write a blog that shows how even the likes you can get into comedy writing through an open door show," it said, "Oh and don't write it in the third person, you'll just sound pretentious".
Tom Neenan is the contract writer for BBC Radio Comedy
Newsjack is Radio 4 Extra's flagship topical sketch show. They have an open door policy, showcasing the best new comedy sketches and one-liners submitted by writers.
Also see previous blog by Newsjack producer Lyndsay Fenner giving a round up of the 6th series.