The Dumping Ground: Developing and writing the series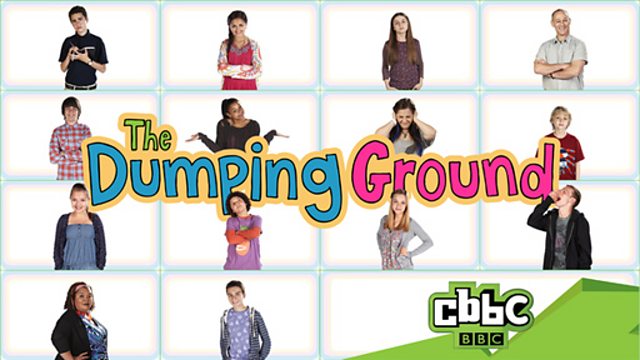 Image from CBBC drama - The Dumping Ground
I'd been nearly two hours in the shop, trying to buy an office chair.  (Little bit proud of myself actually, for making it in there - I've had a 'stickie' on my screen for over a year now: buy new chair.) 
The shop assistant is visibly wilting at my inability to make a decision.  "But what else d'you want it to do?" she wails. 
I suddenly get what's wrong.  "I want it to tip backwards more easily." 
"Why?!"
"Because I spend a lot of time with my feet on the desk."
Daydreaming.  The best sort of creative spadework.  Well, daydreaming and brainstorming.  And I do a lot of both, though daydreaming mostly.  (Went three tube stops past the one I wanted yesterday.  Sigh.)  I'm the Lead Writer on The Dumping Ground.  It's a spin-off of Tracy Beaker Returns, which is a spin-off of The Story of Tracy Beaker, which is an adaptation of a book by Jacqueline Wilson.  Just so you know.
I did the original development work on Story of and was Lead Writer on the first series.  So some eight years later, when the BBC were thinking of bringing the series back with Tracy as an adult, they asked me if I'd like to be involved in reformatting.  And I would.  And I did.  And brought my chum Ben Ward along for the ride (Horrible Histories, MI High.)  So we were joint Lead Writers on Series 1 and 2 and I carried on as Lead Writer on Series 3 and The Dumping Ground.
Ben and I worked with the Drama Department and Jacqueline Wilson to put Beaker Returns together.  That's the format, the characters and possible storylines.  Ben and I then worked up the characters and devised some new ones.  And I've devised any subsequent new characters as we've needed them.  With loads of buffing and honing chats along the way with our Producer and Script Editor.  It's a very collaborative process.
We have a team of writers.  And there's usually a storyline day at the start of each series, where we get together with the Producer and Script Editor and discusses what stories we'd like to tell.  The show's filmed in three blocks, so sometimes we just concentrate on one block of episodes at a time, so we can get people writing.  However much time we think we have, it's never enough.  
We want to be true to what it's really like, living in care.  And we have a great researcher on the show who helps us keep things accurate.  Having said that, we also have to use a bit of poetic licence because of course, we're there to entertain. 
Our core audience is 6-12's.  They have so many choices these days about how, when and where they watch tv that if you don't grab them from the off, they're gone.  So pace is really important.  Show, don't tell.  And never patronise.  Oh yes, one other thing – we don't use painfully hip language.  The Story of Tracy Beaker is still being repeated some thirteen years later... what's 'street' today could look very old fogey tomorrow. 
By the end of our storyline days, we'd hope to allocate stories to specific writers and then everyone goes away and starts working up their storylines.  I'll usually do at least a couple of drafts of a storyline – having had notes each time, from the Script Editor.  Once the storyline's approved, I start working up my Scene by Scene Breakdown, which is a prose version of a script and gives a lot more detail about what the actual script will contain. 
Some writers hate doing a Scene by Scene in masses of detail, because they feel it stunts the creativity they'd rather put in to the script itself.  I prefer it, because then I know where I'm going when I get to script.  I don't always stick to the plan - I often cut scenes that turn out to be unnecessary or repetitious - but it's a good blueprint to work from.  And I might do two or three versions of a Scene by Scene before I'm given the go-ahead to script.  But when it comes to telling you how many drafts of a script there'll be – who knows?  Enough to get it right... in the Producer's opinion, not yours.
At the moment I'm wrestling with the storyline for an opening episode of The Dumping Ground, in case we're lucky enough to get a second series.  We hoped, but couldn't presume, that the audience would take to a Beakerless first - and happily the viewing figures seem to indicate that they have.  So, fingers crossed. 
A second series would make this episode my fifth series opener and so far we've used nearly all the emergency services.  I've spent a lot of time this week, tipped back in my foam-sprouting, tatty old chair, daydreaming about how to work a lifeboat in to a land-locked Dumping Ground.  Although now, as I gaze out my office window, I'm thinking maybe I should make that a runaway snow-plough?
Elly Brewer is lead writer on the brand new CBBC drama series The Dumping Ground, which is a fast-paced mix of social drama and comedy, taking the audience back into the heart of the fictional care home previously featured in the hugely popular Tracy Beaker Returns.
You can catch up on the new series on BBC iPlayer