Mrs Wilson - Writing the story for the screen
Anna Symon is the writer of new BBC One drama Mrs Wilson, based on the true story of actor Ruth Wilson's grandmother Alison. We spoke to her about turning family memoir and memory into drama and about her own journey from journalist and documentary maker to screenwriter.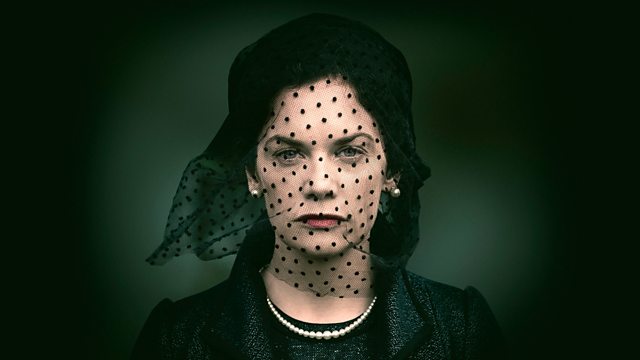 Alison Wilson (RUTH WILSON)(Image Credit: BBC/WP Films/Steffan Hill)
Whenever I'm asked about my own journey into screenwriting I always say 'I'm not one of those people who has always written'. I like to dispel the myth that being able to write is an innate talent that you know about from a young age. But I have always been interested in story-telling in one form or another. I did a degree in English and Drama at Sheffield University and then worked in television current affairs and documentaries for many years.
I think the most important quality for any writer is having something to say about the world and enjoying the process of telling that 'truth'. So working in factual television was really an outlet for me to tell stories. After I had my kids, I left broadcast TV for a bit and spent some time working in prisons for a charity making films with inmates. Here, I met people who had had such fascinating and troubling experiences that I really wanted to tell their stories too. I had a sense that to get to the emotional truth of these people, I'd have to get inside their heads in a way that would be difficult in a documentary. So I sat down and wrote a screenplay about one of the female inmates, a drugs mule, who I got to know. It was both a terrible script, but also the best script I ever wrote because through it, I discovered how much I loved writing. From then on, I knew I wanted to be a screenwriter.
I had no idea how to make it into a career so I decided to do as much as I could to demystify the writing process. I did a brilliant course (an MA in Screenwriting at LCC), went to networking events, read scripts, wrote more scripts, sent them off for people to read, and did all the stuff that everyone reading this probably has done or is doing now. I don't think there is any shortcut. I had loads of rejections along the way, but I kept going because every morning, after my kids went off to school, I used to look forward to sitting down at my computer. There didn't seem to be another option for me. Things took off when I got on to 4Screenwriting, the Channel 4 talent scheme. I'd encourage anyone to apply to that as well as all the great schemes that are run by the BBC Writersroom.
Watch the trailer for Mrs Wilson
I first became involved with Mrs Wilson when the production company Snowed In were looking for a writer for the piece. That was in summer 2015. I think I was seen as potentially being a good fit for the project because it was a true story and I had a background in current affairs and documentaries. So I was sent various books and documents to read including Alison Wilson's (the main character played by Ruth Wilson) memoir. As soon as I read Alison's account of her life - fifty or so closely typed pages outlining secrets she had carried for decades - I was desperate to tell her story. I knew it wouldn't be straightforward as the story played out over about thirty years and there was so much material, some of it reliable and some of it less so. I spent a lot of time thinking about how I would structure the screenplays so that I could confidently pitch to the executive producer Ruth Kenley-Letts, then Ruth Wilson as well as the BBC.
When I first went to pitch for the job I got the sense that everyone knew there was an absolutely incredible story here but it was hard to find a journey through the wealth of material about Alison's husband (Ruth's grandfather) Alexander Wilson. I was able to cut through that a bit as I was actually less interested in Alexander than I was in Alison, so to me she was always the protagonist. There have been a lot of stories already told in books, film and TV about male spies, the conflict between their professional and personal lives. The story I wanted to tell was about the wife of the spy, especially as we had her wonderful, visceral memoir as our source. This clarified the focus of the story and meant I could be ruthless about not erring into others' POVs (except in one or two exceptional occasions).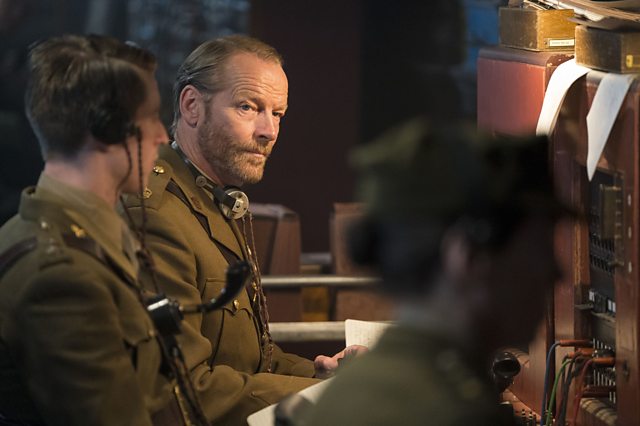 Alec Wilson (IAIN GLEN)(Image Credit: BBC/©WP Films Ltd)
The second thing I pitched was to start the story almost at the end with Alexander's death in 1963. It was only after this event, in real life, that Alison learnt how much her husband had lied to her throughout her life. So, in Mrs Wilson, the audience goes on a sort of quest to discover who Alexander was, with Alison as the emotionally invested detective. We are with her every step of the way as she tries to find out whom she was married to. This meant using a lot of flashbacks to their early years together in wartime London, as well as following her in the immediate aftermath of her husband's death.
So when I first sat down with Ruth I talked about telling her grandmother's story as a kind of detective story unfolding in two time frames (1963 and 1942-44). And she seemed to like that idea. As is always the case through development, the focus of the scripts changed a bit. What transpired was that we all became just as interested in Alison's emotional journey in 1963 - grieving, finding faith and forgiveness - as we were in the investigative element of the story.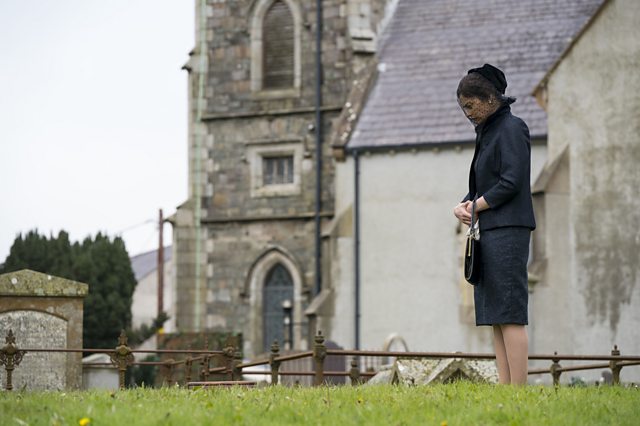 Alison Wilson (RUTH WILSON)(Image Credit: BBC/©WP Films Ltd)
I think the story chimed with me, not so much because of my journalism background, but because of the huge journey that Alison goes on. I was interested in how a young, innocent woman deals with being married to a man who makes things up for a living (Alexander Wilson was a spy and a prolific novelist). How does that change her over many years? How does his lying and spying 'rub off' on her? So, although my journalistic background was useful in filtering all the factual information that was presented to me, I didn't really have a journalistic approach to writing the drama. There was something much more interesting to say about how we as human beings construct narratives about our own lives, and what we do when these are challenged.
One of my first jobs, when I was a researcher in documentaries, was to provide the factual research for a Channel 4 drama documentary called The Investigator (written by Barbara Machin, starring Helen Baxendale). Back then, I felt it was my duty to keep reminding Barbara of the facts, the 'what really happened' (she was probably deeply irritated – but always gracious). Now, I can see that finding the authentic emotional truth of a story is much more revealing than dotting the Is and crossing the Ts of the facts.
Watch a clip from Mrs Wilson: It's 1940s London. Young Alison Wilson is thrown into an exciting first day at the Secret Intelligence Service and catches her first glimpse of the enigmatic Major Wilson.
I thought it was going to be really difficult to balance the needs of the drama with the desires of the family to have a particular version of the story told. However, from the start, Ruth was incredibly generous and brave in giving me carte blanche to tell my version of her grandparents' story. I was never under any pressure to sanitise the darker elements to spare relatives' feelings. The trust she put in me was extraordinary, and this was shared by the wider family. I met Ruth's dad and uncle (Alexander and Alison's children, Nigel and Gordon), and then more and more members of the family, and listened to them, and took notes. Many of the scenes in the show owe their authenticity to these meetings. However, it was also the case, at times, that people remembered the same event differently, and I found this interesting and liberating. As so much of the story is about truth and lies, and the "tricks of memory" that Alison talks about in her memoir, I felt able to make up my own interpretation of Alison's story. I do hope, if Alison were still alive, that she would approve of what I've done.
All the time, as I was writing, I felt a really keen sense of responsibility to the many members of the Wilson family. They were shown scripts along the way, and we had a very moving family screening last Sunday. We've now met many times and have become friends. This has made the project particularly special. Their view of the drama is incredibly important to me.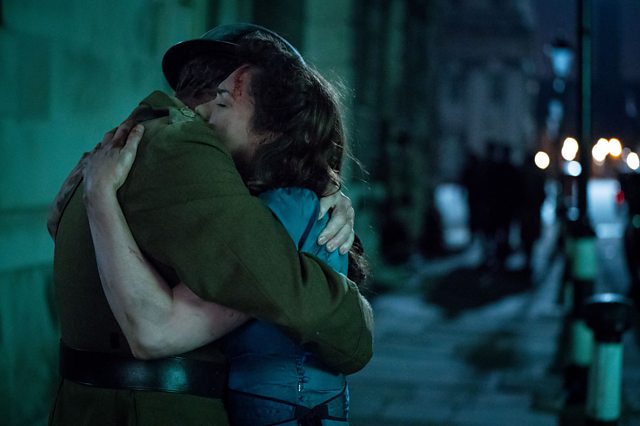 Alec Wilson (IAIN GLEN), Alison Wilson (RUTH WILSON)(Image Credit: BBC/©WP Films Ltd.)
In terms of having to fill in gaps in the story the problem was never about how much of the true story to use... but more, a continual attempt to decipher what the truth actually was.
That said, I did love the detective work involved in writing the scripts. I spent so long researching and trying to understand Alexander Wilson. Every time I thought I'd got a handle on him, I came across a new piece of evidence that made me question what I'd previously thought. I've tried to mimic that in the scripts so that the audience will change their opinion of him as they watch and gather more evidence. Was he a flawed but basically good man? Or was he a total scoundrel? His children, whom I talked to at length, have a very balanced view of him. In fact, they have differing opinions. But above all, they all maintain he was a wonderful father. I hope the audience will continue to question who he was as they watch the three episodes. And also to question Alison's role in his deception. To what extent does she (and the other women in his life) collude with his lies?
To make the whole process of research and writing even more intriguing, we were denied access to the files about Alexander Wilson held by the Foreign Office. The Wilson family has been asking for years to know the truth about their father's intelligence record, but they have been told his work is still 'security sensitive.'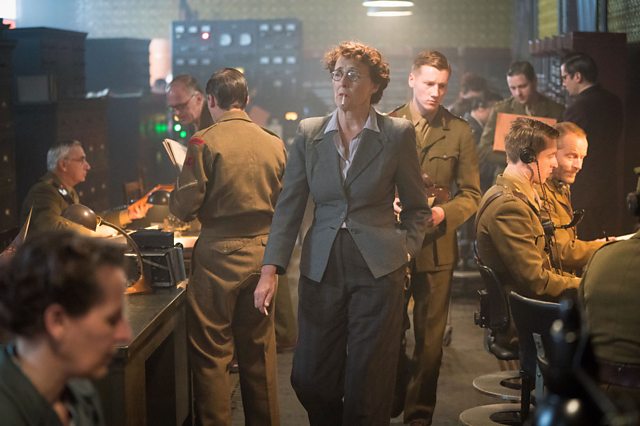 Coleman (FIONA SHAW), Alec Wilson (IAIN GLEN) in Mrs Wilson (Image Credit: BBC/©WP Films Ltd)
I hope that this story has universal interest because Mrs Wilson is the story of an ordinary suburban housewife who goes on an extraordinary journey to discover who her husband really was. I hope people will engage with it because it asks a fundamental question about how well we really know the people we love. It's been fascinating to me that so many people I've talked to about the story say that something similar happened in their family. A double life. A second marriage. Another family. It seems it was much more common than it is today (in a world before mobiles and social media). I also hope that people watching it will empathise with Alison's predicaments in the story: to be honest in a world of lies; to deceive in pursuit of the truth; and to love and forgive in the face of betrayal.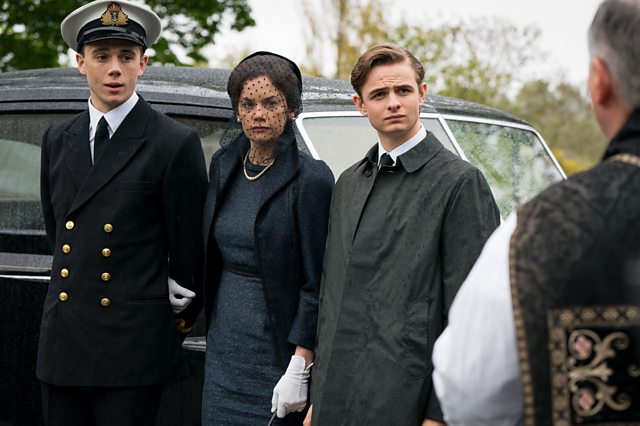 Gordon (CALAM LYNCH), Alison Wilson (RUTH WILSON), Nigel (OTTO FARRANT) in Mrs Wilson (Image Credit: BBC/©WP Films Ltd.)