From Investment Banking to the Comedy Room
This blog post is about the January 2019 Comedy Room day. Oh… and insecurity.
My name is Mark Salmon. I'm 37 and I'm not meant to be here. I should be sat at my desk in front of a computer screen at a large investment bank. That's what I did for eleven years before something in my brain exploded. Imploded. Hmm.
When I was sixteen, Derek Shelbrooke, our careers advisor at school, asked me what I wanted to do in life. I said "Screen Writer". Both Derek and I did bugger all about it. So twenty years later and two months into a sick leave for depression and anxiety, I began writing TV scripts.
In my previous professional life, I had been given some encouragement to write. "Nice email Mark". But when the BBC read my third script, liked it and invited me into the 2018 Comedy Room, Lordy Doo Da! I got that good feelin', spread it thick on toast and gobbled it up. Thank you BBC, for peering into my mineshaft and seeing more than darkness.
Now I'm going to describe the January Comedy Room day and offer a smidge of insight around:
1) Radio Drama and Comedy
2) BBC Sounds and Podcasting
3) TV Priorities, Commissioning and Comedy Pathways
4) Writing to Brief and Comic Archetypes
5) Pitching and Networking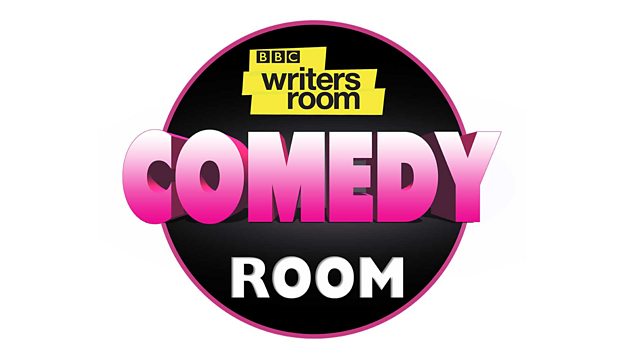 Radio Drama and Comedy
It started with a visit from Abigail Le Fleming and David Hunter, both experienced producers for BBC Radio Drama. Drama?! You heard right. Some of us also write drama and there's a whopping overlap between comedy and drama anyway. Abigail and David also produce non studio-audience comedy programmes that occupy multiple Radio 4 slots. The output varies between more traditional sitcom offerings and trippier, experimental numbers.
Abigail and David articulated the importance of the relationship between radio producer and writer. They described the development process and encapsulated what's essential for a good radio script:
Radio is visual. Set scenes and characters to create striking images in the listener's mind. Zoom in and out.
Be dynamic in your storytelling. Move through your world.
Radio is intimate. Imagine one person listening as they cruise along the M60.
Radio is a writer's medium. Enjoy more influence and involvement throughout the creative process compared with other media.
Many of these sentiments were echoed by Sioned Wiliam, Commissioning Editor for BBC Radio 4 and 4 Extra. She kindly gave us her time later in the day and talked through the radio commissioning cycle from initial pitch, which comes in the form of a 250 word synopsis, through to first transmission some fourteen months later. This year, there's a clamour for sketch shows following a successful burst of narrative-heavy commissions. But things change.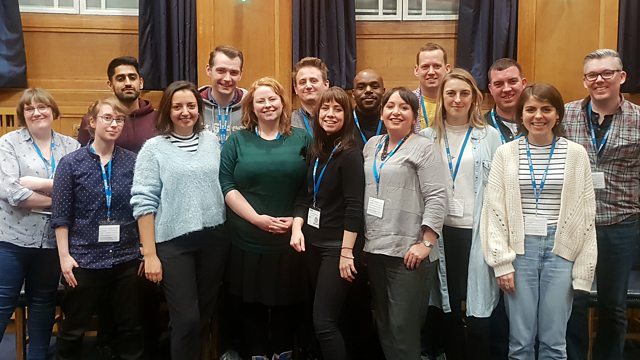 The 2018/19 Comedy Room writers
BBC Sounds and Podcasting
It was interesting to compare the world of radio to that of Podcasts. Hot from the new BBC Sounds platform came producers Elisha Sessions, Hannah Rose and Emmanuella Kwenortey. BBC Sounds commission podcasts and package existing radio content to listeners in a downloadable, online format. The focus is on providing a contemporary way to give audio content to those younger listeners who don't know what the word 'radio' means. (I am one year off being a Millennial).
This is an exciting area. BBC Sounds is still a baby and will evolve to establish its own identity within the podcast universe and attract fresh talent. One thing for sure is that BBC Sounds wants narrative and it thinks across broad, creative categories. It looks for strong, diverse stories that rummage through unpilfered pockets across the UK. Two men just talking to each other on a beanbag doesn't cut it. Unless it's really, really good.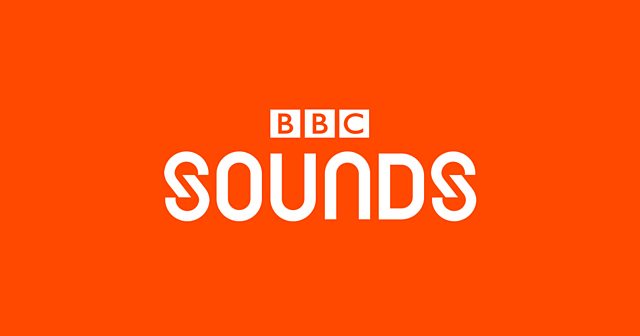 BBC Sounds - Music. Radio. Podcasts
TV Priorities, Commissioning and Comedy Pathways
Before lunch, BBC Controller of Comedy Comissioning/Top Cheese, Shane Allen and Commissioning Editor, Sarah Asante joined us to share their views on TV and the routes by which comedy talent hits UK screens.
Shane talked about the demand for good comedy writers to target BBC One's pre-watershed slots. Big, prime time slots are a priority and need filling. It's a positive, creative challenge to write for a big audience, but many comedy writers are intimidated or dismiss the notion, so think about it. Seriously, think about it.
Big emphasis was placed on shorter form opportunities at the Beeb: Comedy Slices, Threesomes and Quickies. These are BBC Three springboards from which both writers and performers can develop and graduate towards a more substantial commission: a sitcom pilot and potentially a series. Top tips:
Earn it. You won't get given a six-part sitcom as your first commission!
Make it. Breathe life into your words by performing them, filming them or writing them across paving slabs in Trafalgar Square.
Be open-minded and flexible. If you count yourself as a half-decent writer, you ought to be able to adapt to different formats with varied requirements.
Writing to a Brief and Comic Archetypes
My brief at lunch was to not spend more than my canteen allowance and I absolutely nailed it. After a good feed and watering, stand up comic and writer for the Tracey Ullman Show, Gemma Arrowsmith, taught us something less trivial: writing to brief. She gave us two briefs from real life shows that she had worked on and we had to storm our brains for well funny sketch ideas. We did this in groups, which meant having to talk to our fellow writers. Since we now quite like each other, this was OK. And I learnt two important lessons.
Firstly, I may have a funny idea, but is it funny and right for a particular show? Secondly, who will be performing the sketch and how can I give them suitable material?
Simon Nelson, our Comedy Room 'Dad', talked to the group about comic archetypes. You know them: the lovable loser, the logical one, the bastard, etc. The message was not that we should simply replicate archetypes when we invent our characters. It's that comedy is chemistry based on contrasts. Funny situations between characters depend on them wanting different things and achieving their objectives in different ways. Conflict. Sometimes, the simplest mechanisms to create conflict yield the best results. Del Boy tries to be cool and suave to impress the girl. Del Boy falls through bar. Hee hee.
Watch an interview with writer and actor Gemma Arrowsmith
Pitching and Networking
We all have to do it if we want our writing to go anywhere. At the tail end of the day, our nerves and resolve were tested. Having been given five weeks' thinking time, we were asked to pitch a script idea to a producer. A real producer with skin and eyes and a head. This experience bled into the final session of the day, which was down the pub.
The number of producers expanded. There were chicken nuggets and alcoholic beverages and we networked. In some cases, we were guided by Simon and Amanda from the BBC Writersroom. In other cases not. We circulated, struck up conversations and sought similar interests. We discussed their work and our own. And I did my best to leave my insecurities at the door. Producers are people. Repeat mantra.
Often, when I look around, it feels like everyone else is in perfect command of what they are doing. They appear at ease, confident and able to successfully navigate the world. Meanwhile, my mind winds a staircase up a ten-storey building and peers down at itself from each floor. In a pitch or social situation, I can feel tense, overexcited, distracted by my surroundings, unsure of my opinions and second-guess the opinions of the person I am speaking with. In a word, I am insecure. That's not cool to admit.
It is undoubtedly the case that some people don't feel the same way. I've watched enough episodes of The Apprentice to understand that. But many, many do. Their insecurity is as invisible to you as yours is to them. My point is this. You don't need to leave your insecurity at the door. Carry it with you. It's OK, because you're possibly, no probably, managing far better than you think you are. Just as importantly, that insecurity informs your personality and your personality feeds your ideas, characters, sitcom scripts and sketches. Embrace the full force of your insecurities and create funny, exceptional stories.
Find out more about our Comedy Room writers' development group
Would you like to be part of the Comedy Room? Find out about our open submission system for scripts, the Script Room
Read a blog post by Gemma Arrowsmith on writing a viral hit for Tracey Ullman
Networking: A Necessary Evil - great advice on this blog post by Philip Shelley