In the fourth of our blogs looking at content being made in Scotland which offers opportunities for Scottish writing talent (and marking the launch of BBC Writersroom in Scotland) we turn to digital output.
The Social is a new platform for Scottish voices and includes scripted comedy and short-form drama. Senior Producer Louise Thornton explains...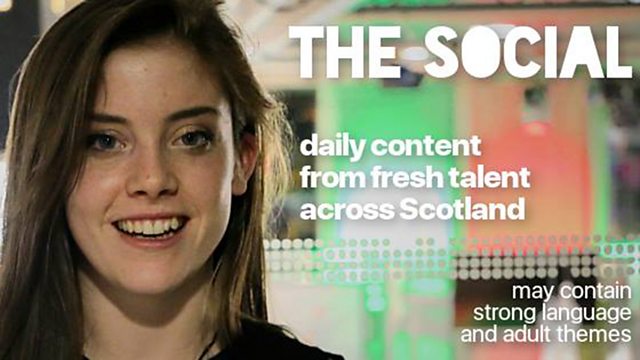 BBC The Social features exclusive daily content created by and for young people in Scotland, and is delivered through social media.
Our biggest audience by far is on Facebook - facebook.com/bbcthesocial - where we reach over 4 million people a week - and we're growing on other platforms like YouTube, Twitter and Instagram.
We want to be where the audience is, representing young people in Scotland and giving them a voice. Our aim is to be authentic, relevant and celebrate creativity and passions. When I was working as a Development Producer, my colleagues Anthony Browne, Muslim Alim and I developed The Social, as we knew that BBC Scotland underserved young audiences and we all felt strongly that there were ways to connect with them through the rise of digital platforms.
Instead of the traditional model of commissioning, we decided to start with the audience and find out what they were interested in, what they would like to see on the BBC and what ideas they would like to make for us. They said to us that they didn't feel represented on BBC channels and there was a lack of Scottish voices in general in their media consumption.
The Social isn't a user generated content channel - the young people we work with go through a development cycle working with our production team to improve their technical and storytelling skills. And we pay them for every piece of their content that we publish.
We aim to be responsive to what's going on in people's lives, what they're talking about and what they care about, as well as what they find funny and shareable. We cover comedy, music, lifestyle and more. There's a wealth of talent and ideas out there and The Social enables us to work with young creatives, develop their ideas and skills, and give them a place where they can reach a wide audience, which will hopefully take their own careers in new directions.
We are particularly interested in developing new talent in the areas of comedy and short form drama. Comedy is something that our audience really enjoy and we've featured some fantastic new talent from Scotland on The Social. Some examples are Hannah Macmillan whose first video for us hit over 6 million views on Facebook and rocketed her in to our top ten most viewed videos, Bash (see above) who created one of our most loved You Tube videos and Nathan Byrne, who off the back of his content for The Social has gone on to make other comedy content for BBC Scotland.
We've also got lots of other regular scripted comedy content coming from Nicki Paton, Tam's Tips and Marjolein Robertson to name but a few, so quite a variety in tone and style.
We are also developing ideas around short form drama targeted at a young Scottish audience.
In 2016, we released our first short web drama, THEY, which was created by filmmaker Asten Holmes-Elliot. THEY is a story about a trans woman and a non-binary person working together in a club cloakroom, and the series gave a voice to a community that isn't often featured on mainstream channels.
Web series and short form drama are a great place for experimentation, and we are looking to create more of this content in the coming year across audio and video.
Follow The Social on Facebook, YouTube, Twitter and Instagram