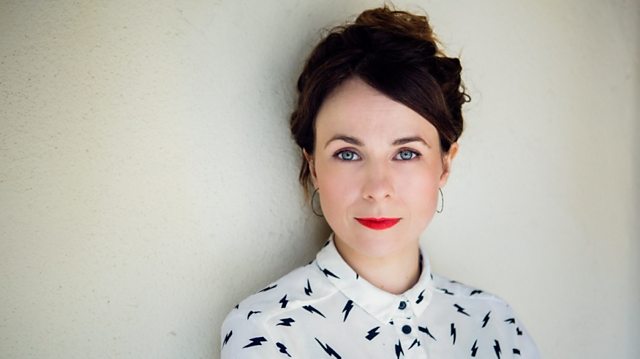 It looked like Cariad Lloyd wouldn't have room left on her CV for anything else. The writer, actor, improviser, comedian and Master Shipbuilder (okay, we lied about that last one) has starred in shows ranging from Crims, Murder in Successville, I Want My Wife Back, Peepshow and Crackanory to CBBC's DNN and a special edition of Drunk History: UK. Award-winning and prolific on stage she's one of the creators of Austentatious: The Improvised Jane Austen Novel and Cariad & Paul: A Two Player Improvised Adventure. (Want to know more? Visit her website!)
But now, to top it all, she's one of our guest tweeters for the TV Drama Writers' Festival on Monday (18th July). Yep, Cariad will be reporting from the frontline so ahead of that assignment we caught up with her to talk Miley, Moomins and comedy…
BBC Writersroom: In terms of comedy, what's the worst piece advice you've ever been given?
Cariad Lloyd: I think any advice about what you 'shouldn't' do is unhelpful. I was once told I shouldn't do a Film Noir character because kids aged 16-24 wouldn't get it, also I shouldn't mention asparagus, for the same reason - honestly. If you find something funny and you get it, I truly believe you're not alone, someone out there will also get the reference and will understand what you're trying to do. Eventually you find your audience, Stewart Lee's book on stand-up talks more eloquently about this. Although, I will caveat that advice with a cautionary note, that the amount of people who've watched The Moomins and The Killing is a much smaller Venn diagram than you'd hope, as I learnt in Edinburgh 2012.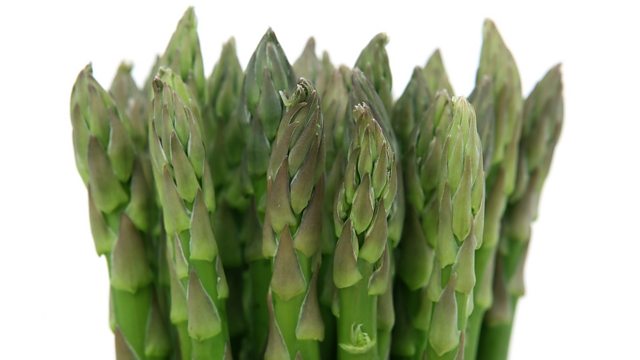 Cariad was once given an asparagus tip.
BBC WR: Which is easier… Writing a show or starring in it?
CL: I find writing much harder than performing, but that's just how my brain works. Once something's written, and it starts to get made - it becomes collaborative. Your hair, make-up, costume, the set, the lighting, the edit - all of the other important jobs start working with what you've written to create the thing. You become a cog in a bigger machine and I find that quite relaxing.
Writing, to me, is the starting point of it all, I put more pressure on that side of it, you set the tone of what everyone else is going to do, and I can find that overwhelming. I try to write as if I'm only going to perform it in front of 15 people above a pub, otherwise I get in my head about where to begin.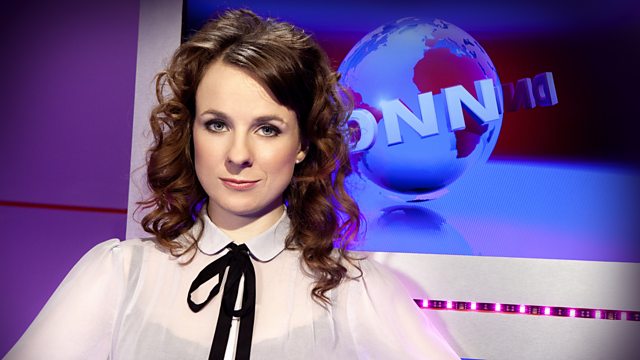 Cariad as Stacey-May Anais in DNN.
BBC WR: You're a bit of an onscreen chameleon. Not literally. That would be weird. But you've rocked a lot of looks. Did you ever get into character and think, 'I love this look!' and keep it? Miley Cyrus hair springs to mind. And actually, do you ever play your characters in 'real life', slipping into them when you're out and about?
CL: I don't tend to slip into them in real life, I think it's can be quite wearing if you can't talk to people as yourself and not a 'Character'. I think I'm lucky with all the improv I do, because I get to be so many different characters, different genders, different ages, whatever I want, every week, and I think that keeps my Character brain fed and happy.
The Miley Cyrus look took about 4 hours to get into, so I definitely didn't love it, although it was fun to do. I'm a sucker for a Period drama look though, I had to be a 18th Century maid the other day, corset and mop cap, the full works, filmed in an Elizabethan mansion, I could have stayed there for days and not missed the real world too much.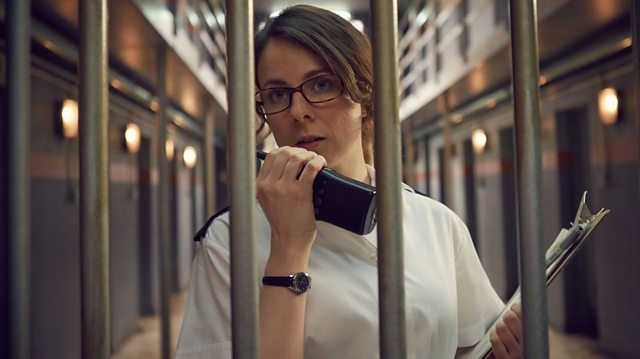 Good call: Cariad as Dawn in the BBC Three show, Crims.
BBC WR: What was the last thing you saw (on TV, stage or the big screen) that made you roar with laughter?
CL: I really loved Chewing Gum, I just thought it was so fresh and new and like nothing I'd seen before. I think Michaela is an incredible talent. I also love Catastrophe for its beautiful writing and look, the whole thing is so classy, all the parts help each other, nothing is fighting in that show.
For sheer LOLS I can't recommend Broad City enough, it's a Comedy Central US show, about two girls living in New York. Essentially, one is an idiot, and the other is more of an idiot. It depicts female friendships in a way I've never seen on screen before, they like each other, the humour comes from their idiocy not their competitiveness, but it doesn't scrimp on gags. I urge you to watch all 3 seasons as it is truly, just brilliantly funny.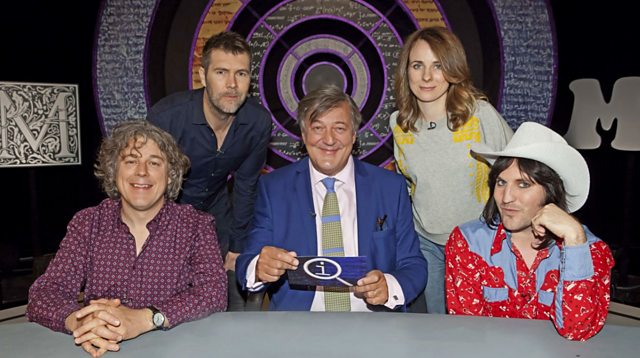 Frying tonight! Cariad is a regular on popular panel shows like QI.
BBC WR: You've reached the promised land! TV and stage shows, panellist shenanigans, good parts in good shows… So! Comedy success… Is it all it's cracked up to be?
CL: Depends what you thought it was going to be! My best friend is a stand-up and writer (Sara Pascoe) and we always say, it doesn't matter what happens to you, or how brilliant things are - because you'll still be you when you get them. So you have to get good at being ok with being you, which is much harder than anything else really. Ahh, and I thought I wouldn't give away how much of a hippy I am. Just be you guys! I am my own crap Instagram quote. Genuinely though, you don't get somewhere and think, here I am! Work done! You're always thinking of what you can create next, so it's tiring but also fun. It's fun. Let me impart that fact mainly.
Big thanks to Cariad Lloyd and we look forward to her guest tweets from @bbcwritersroom at the TV Drama Writers Festival on Monday!