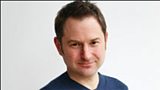 Danny Brocklehurst
Writer
Blog posts in total 3
Posts
Catch up with the Twitter Q&A with writer Danny Brocklehurst that we ran following the final episode at 10pm on Tuesday 21 April 2015 #OrdinaryLiesQA #OrdinaryLies

Danny Brocklehurst blogs on the writing of BBC One's drama starring David Morrissey.

Exile is without a doubt one of my proudest moments as a writer. It is a show that sets out with serious themes in mind and explores them through character, whilst utilising a thriller motor to forward the narrative. So where did it come from? Well, having worked with Paul Abbott on three pr...