Super Furry Animals call it a day?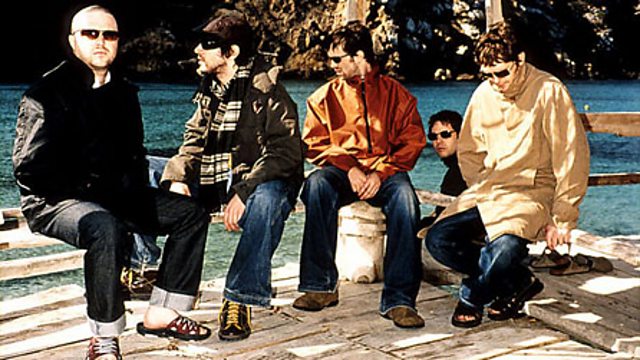 Update: On his Twitter, Gruff Rhys has posted: "Slow news day. SFA have not split up. Love SFA."
Guardian Cardiff editor Hannah Waldram quoted an unnamed source: "It's been revealed to a close circle of friends.
"There were some revelations about the band's finances and they've decided not to get back together after the break.
"People understand why it's been decided to kick it on the head, but they are a group of such magnitude, it would be a poor end to a massive successful career."
Following on from Gruff Rhys' recent venture with Brazilian musician Tony Da Gatorra, his film Separado!, and the band's most-recent release last year, their ninth studio album Dark Days/Light Years, this possibly temporary split comes as little of a surprise.
Commercial returns for the Cardiff-based band have always been limited and, although they've always been critically acclaimed, their sales have never matched their public profile, especially in recent years.
I first encountered the band at the Phoenix Festival near Stratford-Upon-Avon 14 years ago this month, when they were rolling round the country in their techno-pumping bright blue tank. They were inventive and fascinating and their songs were late-90s indie disco favourites, but later tracks never replicated the appeal of Do Or Die, Hermann Loves Pauline or Something 4 The Weekend.
It has also been reported that there have been discussions within the band about the commercial use of their songs. Coca-Cola wanted to use the song Hello Sunshine in an advert, and were willing to pay handsomely for it.
On Redpepper.org.uk, Gruff Rhys said: "Last year the Super Furry Animals turned down a seven-figure offer by an advertising agency for the use of our song 'Hello Sunshine' in a Coca Cola commercial. We thought long and hard.
"We have never been a big selling band, but when it came to the crunch, we felt we couldn't justify endorsing a product that may have had a part in violently suppressing some of its workers. For a moment, sitting in the Sinaltrainal office, I thought that we could have done the advert and donated the money for their campaign for justice.
"Yet the thought of having to hear our song used to sell anything that exploits anyone for the worse turns my stomach."
It's difficult to be an inventive, principled band committed to safeguarding your artistic integrity and make decent money. Even if that is but a small part of the reason, I've spoken to enough bands to know that virtually none are without financial pressures.
Regarding the length of this split, and whether Gruff Rhys will ever return to the fold, Rhys' manager Alun Llwyd told Waldram: "No one is saying that's it. I'm afraid there's always going to be gossip and suspicion but it's not decided firmly.
"Dafydd and Gruff are working on other things but no future plans are being decided. I know Gruff has made no firm decision on what he wants to do."
Feel free to comment! If you want to have your say, on this or any other BBC blog, you will need to sign in to your BBC iD account. If you don't have a BBC iD account, you can register here - it'll allow you to contribute to a range of BBC sites and services using a single login.
Need some assistance? Read about BBC iD, or get some help with registering.