Exploring the stories behind Welsh war memorials
As the centenary of the start of World War One draws nearer we can expect a surge in commemorative events.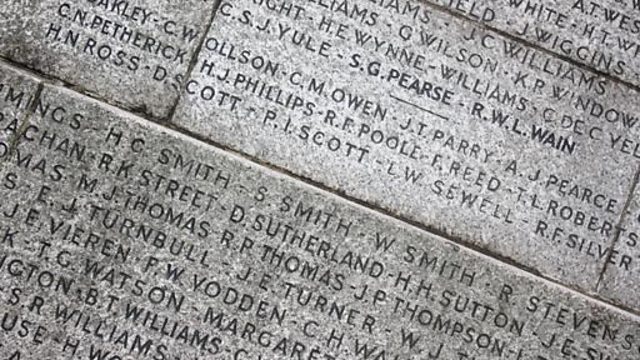 War memorial in Penarth
One which has been brought to my attention is that individuals and communities are researching the names that appear on their town, village, school or in some instances workplace memorials.
This is not merely an attempt to ensure that the names are not forgotten but that their short lives are documented in full and where possible photographs used to bring their stories to life.
The Commonwealth War Graves Commission is the natural starting place for basic information but I have no doubt that most communities will not stop until the complete story is known for each name.
To help with the vast task at hand there are various grants and even lottery funding available. The money awarded can be used not just to aid the research process but on staging exhibitions, publishing books or creating websites so that the whole community and beyond can share the information.
Stories In Stone
A few years ago I was involved in a BBC Radio Wales series called Stories In Stone. My job was to find war memorials and research the names to uncover their stories. It was one of my most memorable jobs with the BBC to date.
Part of my research included paying a visit to the Imperial War Museum in London to research the UK National Inventory of War Memorials in person.
My hand-written notes were easy to locate, such is their value to me. They include details regarding the vast variety of ways and places in which people chose to place their memorials. And although you cannot search by name on the website, you can locate the precise grid map reference and the date of the ceremony when the memorial was unveiled.
Since Stories In Stone was a series for BBC Radio Wales, I was focusing on those men and women who came from Wales. It was no surprise to discover that Glamorgan Wanderers RFC had dedicated a playing ground while Penarth RFC had chosen to dedicate a grandstand to the people lost from their community.
Blaenavon chose a clock tower, St Asaph decided upon a mosaic mural in the cathedral to commemorate 51 names, while in Aberaeron the church bells from the Holy Trinity church were inscribed with the names of 10 men.
Locating memorials
Some of the memorials may no longer be displayed in their original place, but this is exactly why it is so important to research them and conserve the information and memories forever.
It may be hard to locate the actual brass plaque in the form of a fireplace which lists the 27 names from the now demolished Abercarn Tinplater's Men Institute but please don't forget them. Nor the seven names in the post office in Aberystwyth or the solitary name commemorated at the fire station in Llandudno.
To learn more about where these brave men and women lived and died, and what they achieved while serving their country it is well worth contacting or visiting the respective regimental or service museums. It is also worth paying a visit to the National Archives to examine the war diaries they hold.
One such war diary from 1914-1918 that has been published is that of the 10th service Battalion of the Royal Welch Fusiliers. It provides an all too clear account of the day-to-day actions of the regiment.
"16th February 1916. The battalion marched into the trench area N.E of St Eloi and took over what remained of the old trenches, from the 7th battalion East Yorks Regiment.
"Distribution D.Coy in Trench 32, C Coy in Trench 31, B Coy in Trench 30, A Coy in Trench 29 (Bluff Trenches) and 30R.
"17th February. At 5.30am the enemy heavily bombarded the battalion trenches for over half an hour."
The diary continues with the names of their casualties: 21 men killed, five died of wounds and 50 wounded.
One of those names listed is Pte W Millington and while the Commonwealth War Graves Commission provides valuable details such his age, address, parents' names and where his name is commemorated, the additional information found in the war diary is somehow more personal.
Finally, another interesting project that is well underway to help ensure we all remember is the Faces of the First World War – Imperial War Museum (IWM) Centenary project.
The IWM is uploading photographs collected between 1917 and 1920 of those who fought, and often died, for Britain and the Commonwealth during World War One.
So if anyone has a photo of William Millington make sure that you contact the IWM and help keep his memory alive.
Edited by BBC Wales History to add:
 
Frances from War Memorials Online contacted Cat to say:
"I was interested to read your blog on BBC Wales last week regarding the stories behind war memorials and thought you might be interested in a new website www.warmemorialsonline.org.uk.
"War Memorials Online is an unprecedented opportunity for the public to upload images of war memorials and log concerns for the conservation of these important community and historical sources for future generations. Together, we can build a complete picture of the whereabouts, type and condition of all war memorials in the UK. This is a collaborative project between War Memorials Trust, Imperial War Museum's War Memorials Archive and English Heritage."