Bringing the voice of Dylan Thomas to life
I'm Gareth Davies, Head of Marketing and Events for BBC Cymru Wales. It's my job to help our programmes and services reach their audiences in Wales and beyond.
Today we launch three animated shorts inspired by the poetry of Dylan Thomas - And Death Shall Have No Dominion, Fern Hill and Poem in October. Extracts of each of these three poems are brought to life with colourful illustrations and are voiced by Dylan Thomas himself.
An animated short inspired by Poem in October by Dylan Thomas.
Two of the objectives that we've set ourselves as a project team for the Dylan Thomas Season are reach and impact. We wanted everybody in Wales to hear both his poetry and his voice, and we wanted to showcase creative work inspired by Dylan's words.
One of the best ways of reaching people is through our TV junctions, the space between programmes where we recommend and promote other programmes and services across the BBC.
Also, this season aims to put tradition and innovation side by side. If you do an image search for 'Dylan Thomas' you'll see that most of the images are black and white. We wanted something as colourful and contemporary as Dylan Thomas was in his time.
So, the challenge was set. We needed to create something beautiful that Dylan Thomas fans would appreciate, but that would also impress and intrigue younger audiences who are less familiar with the man and his work. Oh, and to fit into junctions they'd have to be less than 30 seconds in length.
In terms of the process, the first step was creating a set of illustrations inspired by his poetry. We worked with Cardiff-based digital illustrator Hannah Minney and a number of Dylan Thomas experts including Professor John Goodby. You'll see these designs on the Dylan Thomas website, in our season brochure and at our radio festival Laugharne Live.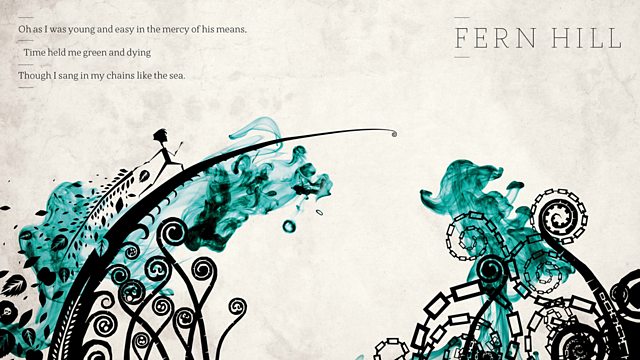 Fern Hill illustrations as seen in the Dylan Thomas season brochure
The work of bringing these illustrations to life was led by Art Director Nicola Marie Rivers from our Creative Services team working with BBC Wales in-house graphics team. They have done an incredible job transforming flat images into small, beautifully crafted worlds full of movement and depth accompanied of course by powerful performances by Dylan himself.
Here's the original storyboard.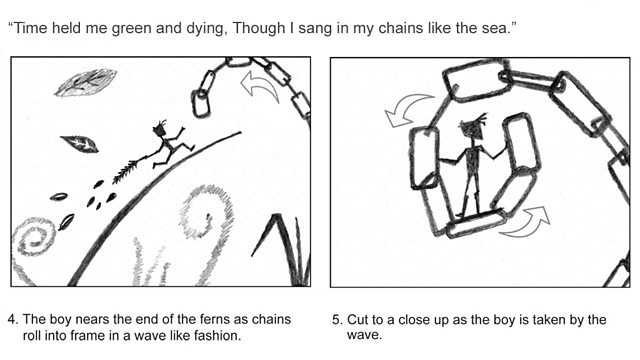 Detail of Fern Hill animated poem storyboard
And here's a short video showing the initial 3D model of the animated character.
Look out for the completed animations between the programmes on BBC One Wales and BBC Two Wales throughout April and at bbc.co.uk/dylanthomas.