Introducing a new band: Violas
Violas started the year with a handmade limited edition EP release on the wonderful Owlet label, run by the Trwbador duo, and I've been playing it lots on my Saturday night show on BBC Radio Wales. They'll be playing live on the BBC Radio Wales show on 20 February, and here's an interview with the band's Owain Griffiths.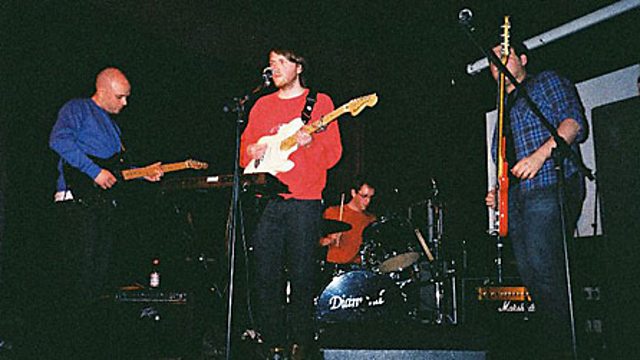 Violas


Hi Violas. Congratulations on the release of the new EP Hwylio/Sailing.
"Hi Beth, diolch! It's a mini EP with only has three songs on it but think it works well. We have built 'paperback' covers and fabric covers for its packaging and it's the fabric ones which are limited edition - we're only making 50 of those."



The packaging looks pretty. Did you all help make them individually? It must have taken ages!
"The fabric ones did take a long time and we still haven't finished making them. There's a lot of cutting, ironing, gluing and folding involved - it keeps us busy. We had a lot of trial ones that we had to throw in the bin, though. We thought it was a good idea to get Hannah, who did the artwork, to supervise us.

"
Owlet Records are releasing it. How did this partnership come about?
"
I answered an advert nearly two years ago volunteering to help with a new record label. It was a UK-wide advert and so I had no idea that Owain and Angharad were from Carmarthenshire! We got talking and they offered to help us. They're great. They work really hard and have been amazing in promoting the EP.



"
Tell me more about the band. Who's in the line up? How long have you been a band, and what made you start in the first place?

"We consist of five band members: two Owains, one Sion, one Andrew and one Llyr who joined us recently on the synths and tambourine. Matthew, our original bass player, is somewhere in South America at the moment.
"We started writing songs in 2009. We knew each other since uni and we knew we all played some sort of instrument. We threw it all in a cauldron."
What are your main musical influences?
"
It's something we didn't discuss at all. Each member has his own influences but it doesn't reflect in our songs in an obvious way. It's a casserole of influences. Indie, math ock, alternative - whatever you want to call it."
What have been the highlights of being in a band so far?

"We've played Sŵn festival twice, appeared on S4C on Bandit and Gofod, and had radio plays on BBC Radio 1, BBC6 Music, BBC Radio Wales, BBC Radio Cymru and Amazing Radio which has been beneficial to our profile. Releasing our first EP as a band is pretty special too."
What would be one goal that you're all focused on? Is there one thing that would be a dream come true?

"We are all focused on releasing more material and getting ourselves more gigs across theUK. We would like to travel more with the band: it would be good for us.

"
Have you had any disaster gigging stories so far, or has it all been plain sailing?
"Ha! A child once shouted "Get off the stage or play Kings of Leon!" We did neither."
When's your next live event?

"We're playing at Cardiff's Koko Gorillaz on 24 February. I think it's just for students, but you can check out future gigs online at Soundcloud, Facebook and Owlet records."
You can read a great interview and review of Violas' recent EP launch at Plastik Magazine and they will be in session on BBC Radio Wales on Saturday 18 February, when Georgia Ruth Williams will be covering my DJ slot for me, between 7-10pm on BBC Radio Wales.
Feel free to comment! If you want to have your say, on this or any other BBC blog, you will need to sign in to your BBC iD account. If you don't have a BBC iD account, you can register here - it'll allow you to contribute to a range of BBC sites and services using a single login.
Need some assistance? Read about BBC iD, or get some help with registering