Kylie Minogue, Motorpoint Arena, Cardiff - Friday 25 March 2011
I've only been to see a few big pop tours in my time. As you can imagine, my speciality is the beer-stained, dark venues that are usually appropriately named part of the 'toilet circuit'.
However, now and again it's nice to lift yourself in life, and a walloping great big pop show is definitely the best place to put a silly smile on your face. So this is an unapologetic review of one of biggest and best pop stars in the world: Kylie Minogue and her £15 million Aphrodite: Les Folies two-night stint in Cardiff's Motorpoint Arena. And boy oh boy, what a show!
The stage set is lit with row upon row of Roman pillars and grandiose stairways jutting out right into the audience. There are the visual screens of floating Grecian bodies in water tanks, the live band, the incredible costumes and large troupe of athletic and super-hot male and female dancers. Yes, having seen her before on the Kylie Fever 2002 show, it's game-on for another full blown show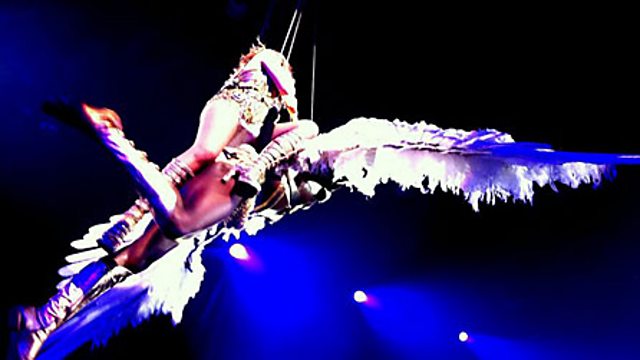 Kylie Minogue by Laura Nicklin
Designed by Dolce & Gabbana - and taking influences from Broadway, sci-fi, films and so on - it's a pop show like no other. It never ceases to amaze me how this pint-sized pop star manages to ensure that she is the centre of the attention throughout, and never eclipsed by the theatrics of the surrounding circus.
The first half of the set we are led (quite physically at times) around the heavily themed Aphrodite album, so there are more unfamiliar tracks to the majority of the audience, but big grand dance gestures keep us distracted. From the new album she sings Aphrodite, Cupid Boy, Get Outta My Way, Everything is Beautiful, There Must Be An Angel, All The Lovers and Put Your hands up (If You Feel Love).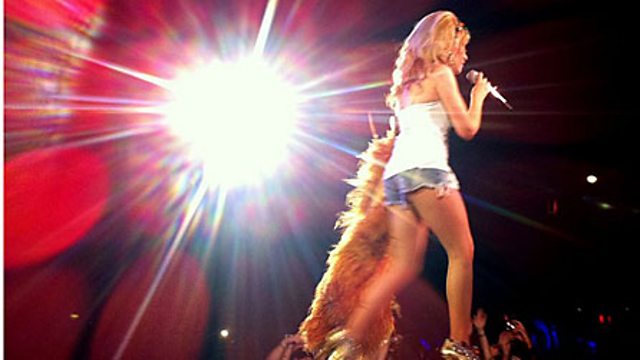 Kylie Minogue by Laura Nicklin
The cover of Eurythmics' Angel... (with full-on gospel choir backing vocals, and winged dancers) is probably the first moment of apoplexy from the audience. Then some of the old hits creep into the set including Spinning Around, Can't Get You Out Of My Head, Confide in Me, and even a very touching (musical, not neurological) breakdown before Better The Devil You Know and Locomotion acapella; this alongside a little cwtch with a young girl, Jessica, who is at her first ever concert, and is called up to meet Kylie - aw!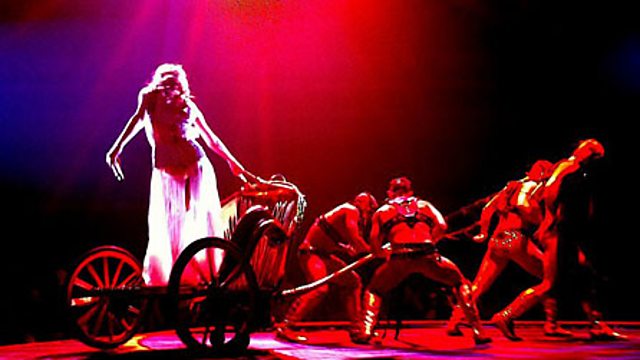 Kylie Minogue by Laura Nicklin
There are so many visually incredible moments, and musically touching acapellas with tender emphasis of her stunning (and definitely live!) voice, that it's hard to pin point one thing from the whole experience. However, twist my arm, and I'll have to mention the human fountain of flesh-coloured bodies that rise in a circle around Kylie, as she is dressed in 1950s screen goddess retro swim cap and cape, with the dancers hanging from the trapeze ropes around the fountain, and scattering the water as they spin around. Like nothing I've ever seen before, and ever likely to see again. The waterworks generally are a highlight.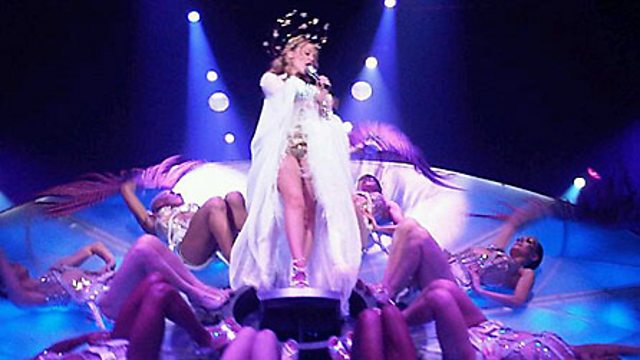 Kylie Minogue by Matthew Andrews
I also asked some BBC colleagues, and huge Kylie fans, to send me their thoughts. Here are some of their highlights.
Matthew Andrews
"One of my highlights was hearing her sing Confide In Me live which I've always wanted to see and she hit all the high notes at the end! Also who else could pull off riding an angel over the crowd? The show was one of the most camp, crazy and coolest things I've seen!"
Georgina Lee
"The dancers' bodies were a definite highlight. Kylie flying over the crowd on the back of a winged dancer was pretty impressive too."
Laura Nicklin
"I thought the costumes were amazing and she is a true showgirl. And to still look so fabulous after 20 years in the business is a real achievement. Musically it was a good mix of old and new and my god are her dancers hot."
Leanne Edwards
"The show was a delight to watch. Such a celebration. I have many highlights but I think the moment that touched me most was when Kylie asked a young girl to go up on stage with her, she made a little girl's dreams come true - very touching a truly inspirational lady."
Ed Cross
"I'd definitely have to say being able to get so close to the stage and seeing Kylie up close was the highlight of the night. I'm going again in London but the O2 is such a big arena, she'll just be a dot on the stage. It was a shame that there were so few people there but on the other hand it's great that there was plenty of room to move about and have such a great view.
"My favourite song of the night was her cover of Prefab Sprout's If you Don't Love Me, It's the B-side of Confide In Me but has always been one of my favourite songs. Kylie live is always such good fun, I danced all night!"
Jamie Lynch
"I liked the jazzy version of Slow (Body Language). I think this was when she was stood with dancers lying on the floor around her and the stage lifted up at an angle. All The Lovers' climax with the waterworks was an awesome ending with Kylie dressed in a kind of '50s glam swim suit and dancers in next to nothing!
"The campest moment for me, and all of us I think, was the rendition of Closer (Aphrodite) whilst riding the angel across the stage. I also loved the cover of There Must Be An Angel by Eurythmics which she wore the big feathered black dress."