Welsh War veteran with a James Bond connection
As Remembrance Sunday approaches, the Big Lottery Fund continues to share with BBC Wales History the remarkable stories and memories of men and women in Wales who have fought in past wars.
One remarkable man is Dennis Whitcombe from Cwmbran in south Wales.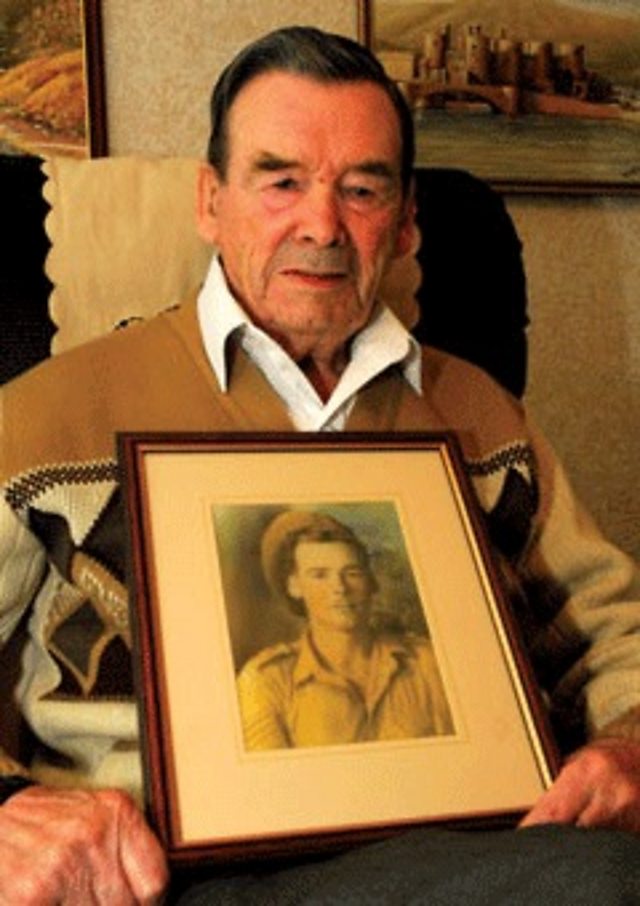 Dennis Whitcombe
World-famous secret agent James Bond is not normally associated with a World War Two veteran from the Welsh valleys, but Mr Whitcombe was part of 30 Commando Assault Unit (30AU). Created by James Bond author Ian Fleming, a former World War Two naval intelligence commander, 30AU undertook covert operations into enemy territory.
Working alongside notorious safecracker, "Gentle Johnny" Ramensky, the 90-year-old was involved in reconnaissance missions in Italy, gathering key information from partisan groups which helped change the course of the war.
A former Scottish prisoner, Ramensky joined the commandos, instructing them in the techniques of safe-cracking and later parachuting behind enemy lines to blow safes containing important documents in German and Italian buildings.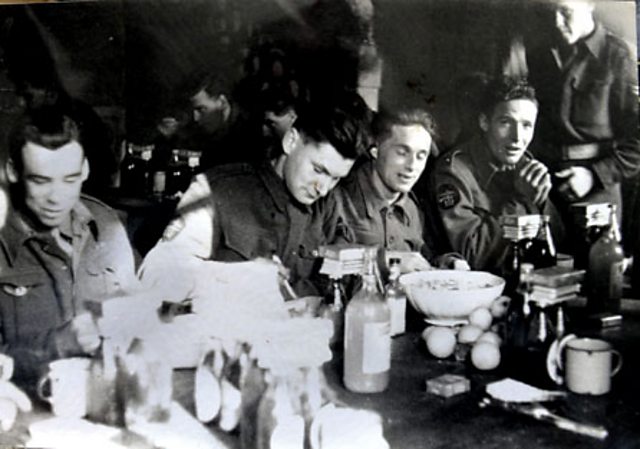 "Gentle Johnny" Ramensky can just been seen at the far right of this photograph.
Years later at a reunion of 30AU, Mr Whitcombe even met Patrick Dalzel-Job, the soldier believed to have inspired the James Bond character.
How does a young man from Cwmbran end up in Ian Flemming's Command Unit?
"While I was in Italy in 1944," explains Mr Whitcombe, "I saw a list on the wall asking whether anyone wanted to join the commandos. I put my name down and was interviewed. The interviewee wrote that I was a bright, sparkling little man with plenty of "L" and in November 1944 I became a commando.
"Serving for 30 Commando was exhilarating but as we working behind enemy lines you lived on your nerves.
"But the information gathered helped change the course of the war - I'm very proud of what our unit achieved. And it's incredible when I think about how closely I was connected to both Ian Fleming and his world famous creation James Bond."
Mr Whitcombe, a former coalminer, was called up at the age of 20 in June 1940.
He was sent to Brecon for training before travelling to Cardigan and then County Durham to serve on sea coastal defences. Following further training in Kilmarnock, he left to fight in Algiers on St David's Day 1943.
"Everyone stopped to listen when we started to sing as we left," he says.
"The scenes we were confronted with in Algiers were a world apart from this. It was in a terrible state with men dying around us on the ground. And it was very hot with little water around".
After Mr Whitcombe left North Africa, he landed in Taranto before travelling to Bari, Salerno and then onto Anzio.
Then for five months between January and May 1944 he was caught up in intense fighting with German soldiers. On 17 February 1944 he had a lucky escape.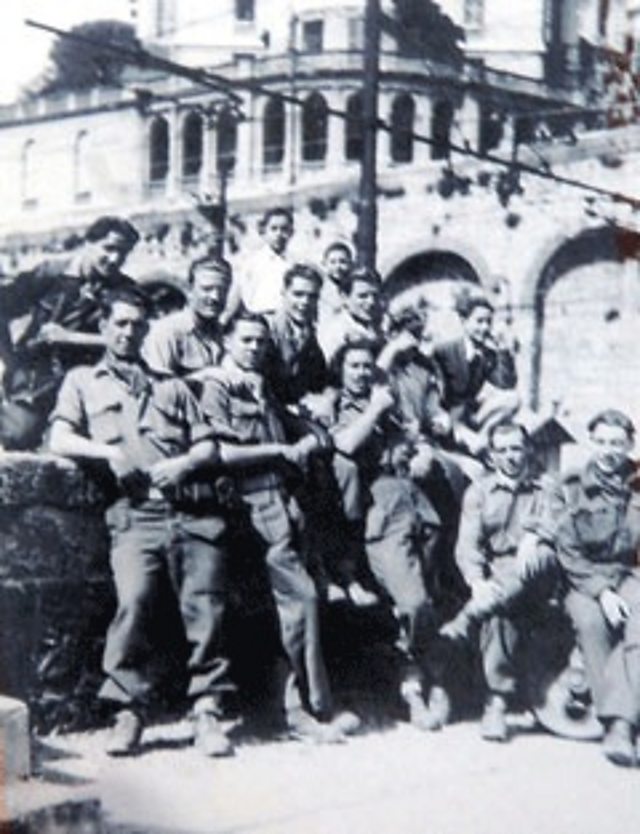 World War Two soldiers including Dennis Whitcombe
"I was walking away from my Bofor gun to get some more vegetation to cover us when I felt a shell fly past me which then hit our gun position killing four of my friends. Although I escaped uninjured it was a terrifying experience which left me in a bit of a state because of the loss of my friends.
They are buried in a line together in Anzio and I was able to make a special trip to visit their graves a few years ago."
When soldiers were finally able to break out from Anzio, Mr Whitcombe travelled to Rome and then joined the 30 Commando Unit.
"The war took the valleys out of me and I came back with a different attitude," he says.
"The war formed bonds not just with the soldiers I served with but with those at home who served somewhere different to me. They are unshakable bonds that last a lifetime."
To find out more about the Big Lottery Fund's Heroes Return 2 programme, call the helpline on 0845 00 00 121 or visit the website www.biglotteryfund.org.uk.