Red kites in trouble across Europe
It's not that long ago that red kites were on the brink of extinction here in Britain.
Thanks to a successful breeding and protection programme here in Wales, we now have a very healthy population.
The red kite feeding station at Gigrin Farm is testament to that, and
I was lucky enough to visit in person during Springwatch 2009
when I witnessed hundreds of birds circling in the skies for their 3pm feed.
A red kite I photographed back in May 2009 swooping in for some meat: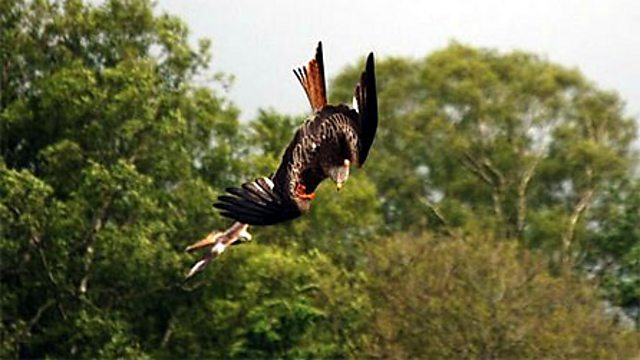 Incredibly some of these birds had flown in from as far afield as Scotland and the South of England for their lunch.
According to the
Welsh Kite Trust
- there are now around 800 breeding pairs here in Wales and over 1,600 across the UK.
In Europe however the picture isn't so bright...
Numbers on the bird's main wintering grounds have halved since 1994 and there have been big falls in the number of breeding pairs in its heartlands of Spain, France and Germany.
So alarming is the drop in numbers that the EU has now adopted a Red Kite Action Plan, produced by the RSPB on behalf of
Birdlife International
and with the support of red kite experts across Europe.
Intensive farming in Eastern Europe is one cause, but the main problem is the widespread use of poison and birds feeding on dead animal carcasses which have been illegally poisoned to control foxes and wolves.
In some countries, vole plagues are legally controlled by farmers using large quantities of 'rodenticides' spread out in the open across fields.
Red kites are excellent scavengers and are particularly vulnerable to poisoned baits.
In other places birds of prey are are still being deliberately targeted.
The steep decline in breeding pairs - 40 per cent in Spain and 30 per cent in France and Germany - contrasts sharply with their success in most parts of the UK.
Information courtesy of the
RSPB
Gull