Artist Susan Adams on hearing voices and the information era
Continual chatter on the airwaves in the era of burgeoning wireless technology marks the theme for a fascinating exhibition set to open at Theatre Mwldan in Cardigan this weekend.
Welcome Machine by Susan Adams is the culmination of a body of work that explores what it means to live in a world where people are constantly publishing and transmitting information, and how that affects the way we experience reality.
Through her fascination with satellites, aerials and mobile phone masts, Adams highlights the modern tendency to always tell everybody instantly what we are seeing via social networking on phones or computers, and whether we actually lose a sense of what is in front of us in our haste to publish.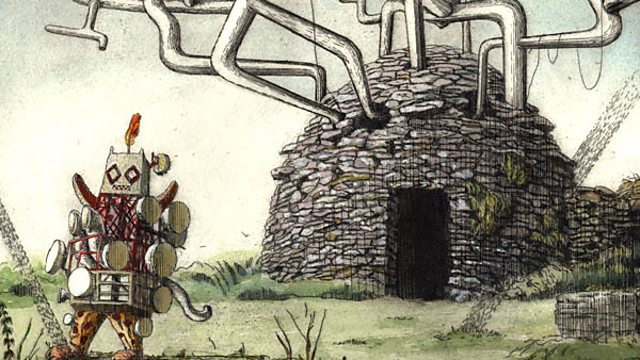 Print from the series Welcome Machine. Photo: Susan Adams
She told me: "It's about the way we experience the world through second hand media and how we are so quick to whip out the camera or the phone to video things when we experience an event. It's almost like we're too nervous to experience things for real any more.
"I am interested in this age of information as it advances rapidly and we don't yet know what direction we are going in. We are so quick to embrace it but we don't know yet what we are losing."
The launch pad for the exhibition is an intriguing piece of work which Adams, who is based in Brecon, Powys, carried out a few years ago that focused on people who hear voices.
With the help of mental health charity Mind Cymru and the Hearing Voices Network, she was able to make contact with and interview various people who live with the constant presence of voices.
Funding from the Arts Council of Wales enabled her to carry out the project, which was called They Leak Through Me and linked her interest in the spiritual and cultural implications of hearing voices throughout history with the real experiences of people living with mental health issues, or those who do not have pathological illnesses but still must live with the reality of voices.
She says: "Hermit saints who journeyed to the wilderness in the hope of hearing a truly meaningful 'voice from above' have long been of interest to me; it was looking for a contemporary equivalent that led me to work on a project with people who hear voices.
"One of the voice-hearers said that 'hearing voices feels like picking up people's thoughts on the ether'.
"This struck me as highly relevant to the age of mobile phones and the internet as we are now all transmitters and receivers of information, invisible information that comes from the sky."
Adams was not to be put off by that aspect of the stigma and taboo associated with some aspects of mental health, instead determined to see creative potential in the phenomenon.
She told me: "Some of the people I spoke to had mental health problems, others had gone through a period of stress when they heard voices but what I learned is you don't have to be suffering from something pathological to hear them.
"I had always been interested in this phenomenon because I was fascinated by medieval and Celtic saints who would take themselves off to some remote part of the world and get to a certain state of mind, either through hunger or isolation, where they would hear voices and view it as a spiritual experience.
"Some of the people I spoke to experienced those voices as God and for some they were negative voices or encouraging voices - part of their own personality."
Her research led her onto another project - Receiver - the leading exhibit of the show at Theatre Mwldan.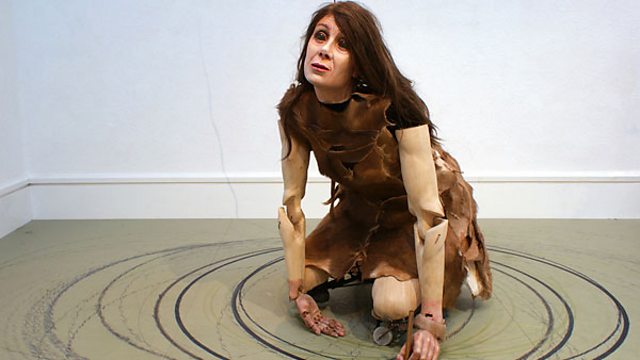 Susan Adams' Receiver, 2010, automaton. Image courtesy of the artist
The piece is an eerie large-scale automaton, described by Lyndon Davies, who wrote the supporting catalogue to the exhibition, as having: "a marionette's open-jointed limbs and knees supported on little plastic casters.
"When the motion-sensitive cell jerks the motor into action, its hand moves a 'pencil' across the floor through the arc of one of a series of heavily inscribed circles. Its hair is unkempt; it wears an animal skin tunic like some kind of hermit, prophet or Palaeolithic cave-dweller. Even before you approach it it's a troubling presence."
Receiver joins a new series of prints exploring the relationship between different physical levels and a wooden sculpture called Darling Buds, which features painted satellite dishes and looks at the world through second-hand media.
Adams added: "People who have heard voices may have thought they were gods or spirits but now we know they could possibly come from electronic devices and radio waves."
Adams is currently teaching at Cardiff Metropolitan University and has held a number of prestigious artist in residency positions including those at Gloucester Cathedral, Millay Colony for the Arts New York, Welsh National Opera, Bardsey Island and Shaftesbury Abbey.
Welcome Machine runs at Oriel Mwldan from 10 November until 5 January 2013.
An opening reception will be held on 11 November by Robyn Tomos between 3.30 and 5.30pm and all are welcome. Oriel Mwldan is open from 10am-8pm daily, and admission to the gallery is free.
For more information on the artist visit her website susan-adams.co.uk.