The date 21 April may not seem of major significance to most people. Yet on this day in 1509 Henry Tudor, King Henry VII of England as he had become, died at Windsor.
Henry Tudor was the first and arguably the only Welshman ever to become king of England. His family, the Tudors, were descended from Ednyfed Fychan, seneschal to Llewelyn ap Iorwerth. Ednyfed's son Goronwy established the Tudor dynasty at Penmynydd on Anglesey from where, for many years, they lived an adventurous and warlike life.
In the 15th century Owain Tudor married Catherine de Valois, daughter of the King of France and the widow of Henry V. One of their sons, Edmund, the first Earl of Richmond, was the father of Henry Tudor.
Henry was born on 28 January 1457 at Pembroke Castle in west Wales. His mother, Margaret Beaufort, was just 13 years old and his father Edmund had died three months before Henry was born.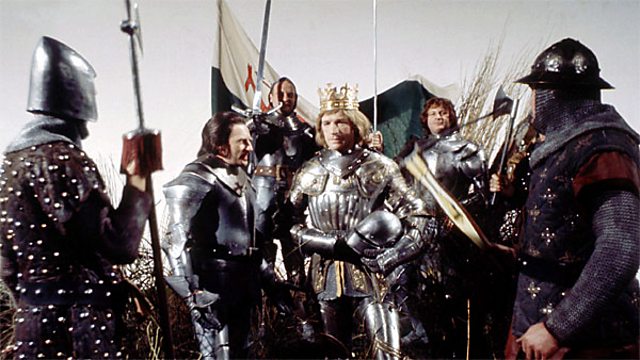 James Maxwell as Henry VII in the 1972 BBC drama The Shadow Of The Tower
The story of how Henry Tudor became king Henry VII is well known. Suffice to say that with his victory over Richard III at the Battle of Bosworth on 22 August 1485 - the last British king to win his throne on the field of battle - he ushered in a new and vibrant dynasty and, arguably, was the country's first "modern" monarch.
Henry made considerable political capital out of his Welsh ancestry. To begin with, he needed the support of Welsh noblemen and Welsh soldiers to claim his throne. When he landed in Milford Haven in 1485 he had only a handful of followers.
After his progress through Wales - where he was greeted well in almost every town and village - his army had swelled to over 5,000, still considerably smaller than Richard's forces but enough to carry the day.
Henry regularly displayed the red dragon of Cadwaladr (a mythical figure, supposedly one of the last true ancient British kings) on his standard and there is a legend that he was even taught to speak Welsh by his nurse during his early days at Pembroke.
If this is true, then it surprising as Henry paid no particular heed to Wales during his reign. He left the running of the country in the hands of men like Sir Rhys ap Thomas and never went back once he reached London and power had been obtained.
Yet to the Welsh, Henry's affiliations and affections were always geared towards Wales. To the ordinary people he was regarded as Y Mab Darogan - The Son of Prophesy - who had returned to free the country from oppression, something that was singularly untrue. Yet it pleased Henry to perpetuate this myth. After all, he had come to power via the western ocean and other possible contenders for his throne might well come the same way. So, best keep the Welsh happy.
His clear focus was Britain as one entity - and in those days that meant England. Undoubtedly, his major achievement during his twenty four year reign was the re-establishment of a stable monarchy and, ultimately, of the country as a whole after the utter chaos of the Wars of the Roses.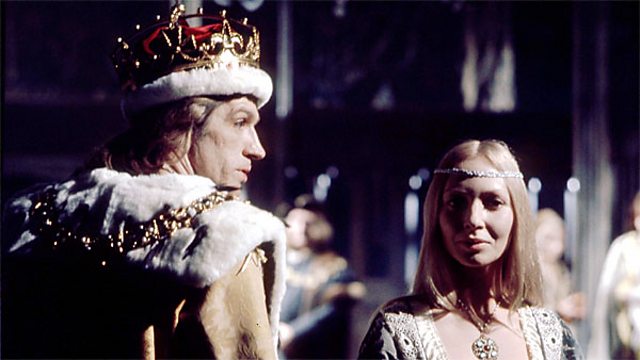 James Maxwell as Henry VII and Norma West as Queen Elizabeth in The Shadow Of The Tower
Arguably, Henry was so successful in his efforts that all of the glories and successes of future British sovereigns for the next 200 years could be said to stem from the efforts of this one Welsh ruler.
Henry VII was financially very prudent. He needed to be. The Wars of the Roses had virtually bankrupted the country and Henry soon realised that he had to build up wealth and power in a single central authority, one that was, admittedly, autocratic but which was also politically very necessary.
As well as the wealth of the crown and the country, Henry also built up his own personal fortune so that by the time of his death he was worth nearly £1.5 million - approximately £650 million in today's money. It was wealth that his son Henry VIII gratefully accepted and then proceeded to spend.
Henry VII's foreign policy was also geared towards maintaining peace - so that economic prosperity could be further improved. His greatest achievement in this field was the passing of the Intercursus Magnus, a trade agreement between Britain and the Netherlands that quickly improved the wealth of British merchants.
Henry VII died peacefully in his castle at Windsor on 21 April 1509. If the final years of his reign had been a little oppressive, particularly in the financial area, it was something that he felt was needed to do. His own demise was apparent and he knew what the country would require in the years ahead.
Henry certainly learned lessons in statesmanship from continental rulers such as Louis XI of France and Ferdinand of Aragon. Yet, at heart, he was remained a medieval ruler - again, he needed to be if the power of the great noblemen was to be broken and thus keep the country away from further ruinous civil war.
Perhaps his real legacy lies, not so much in the establishing of peace and prosperity, but in the creation of a system and a way of thinking that enabled his son and grandchildren to take the country forward into the modern world. Not a bad legacy for a boy born in Pembroke Castle.