OK, hands up anyone who has ever heard of Open Doors? If you're someone whose hand has just been left resting firmly in your lap, then this blog might possibly lead you to some great experiences and magnificent sights in the month ahead.
Every September buildings - or, in some cases, places where buildings used to be - take part in the Open Doors Programme. It is, quite simply, a time when buildings and places not normally available to the public throw open their doors and invite people in. The buildings might be churches or castles, private houses or old forts. It really doesn't matter what your normal interest might be, this is simply a chance for you to see buildings and structures that you might otherwise never encounter.
Llanerchaeron in Ciliau Aeron, near Aberaeron
And what's this, I hear you ask, about places where buildings used to be? Simple. One of the locations involved in this years programme is the old Stackpole Court in south Pembrokeshire, a wonderful Georgian building that was totally demolished in the 20th century. Now almost nothing remains of this grand old residence of the Cawdor family and so Open Doors is offering a virtual tour of the building. Fascinating stuff, eh?
The Civic Trust for Wales is organising Open Doors on behalf of CADW and if you think you might be interested you can find out more by logging on to civictrustwales.org. You will find lists of places to go and things to see - there really is something for everyone.
But as a way of whetting your appetite, just look at some of the places you can visit in Wales if you decide to get involved this September.
To start with you can get yourselves into the Royal Mint at Llantrisant - now that's not something you can do every day! Or how about a trip to Trinity Church in Penarth, a church that is known as The Cathedral of Methodism. If you do decide to try Trinity keep your eyes peeled for the Titanic connection - by way of a hint, it's a plaque to a Sunday School teacher who was drowned when the liner went down in 1912. But you'll have to find the location of the plaque for yourselves.
If you head west you could do a lot worse than try two buildings in the Royal Naval Dockyard at Pembroke Dock, both of them being opened up for the first time in years. Firstly, there's the Garrison Chapel. It's a recently refurbished building that originally dates from 1832, the only classical Georgian chapel to remain in Wales. Last used as a Motor Museum, the building has been lovingly restored to its previous state and is well worth an hour of anyone's time.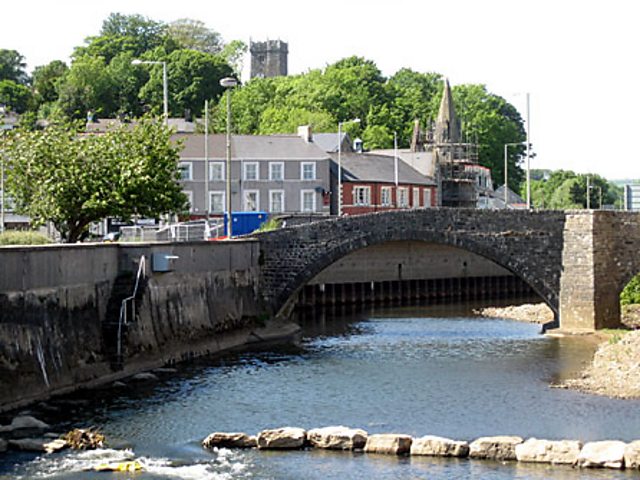 Newcastle Hill in Bridgend, where a cluster of Open Doors events will take place.
And then there's the wonderful medieval Paterchurch Tower. Situated in the western part of the yards, its origin is unclear but it pre-dates both the dockyard and the town. Quite possibly it has some type of connection with the Knights Hospitallers, an early religious order - many believe it was a watch tower for nearby Pembroke Castle. It is unlikely we will ever know but one thing is clear. The tower is a magnificent structure that is both atmospheric and ancient.
In north Wales you could do a lot worse than call in at Hawarden to steal a glimpse of Gladstone's library. This is the only prime minister's library in the country and was the result of a lifetime's work by Victorian prime minister William Gladstone. There are over 200,000 volumes in the library, books that cover a huge range of topics.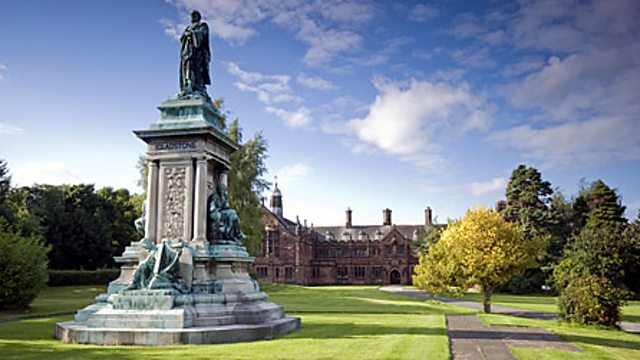 Statue at Gladstone's library, Hawarden
Or you might like to visit Flint Castle - the key keeper will be on hand to offer guided tours on a regular basis. But if you would prefer to wander around at your own pace then that option is also available. It is entirely up to you.
Anglesey has a wealth of wonderful sights, not least St Mary's Church at Aberffraw. This ancient medieval church was built to serve a community that has long since disappeared and now it sits, alone and almost tragic on Wales' biggest island.
Then there is Plas Newydd Country House, the home of the Marquess of Anglesey. It is a palatial building, sitting in easy grandeur in its country park. But perhaps one of the best reasons for visiting the house is to see the partially completed wall painting by Rex Whistler. He had not finished the work when he went off to fight in World War Two. Whistler, of course, was killed and never did finish what would probably have been his masterpiece.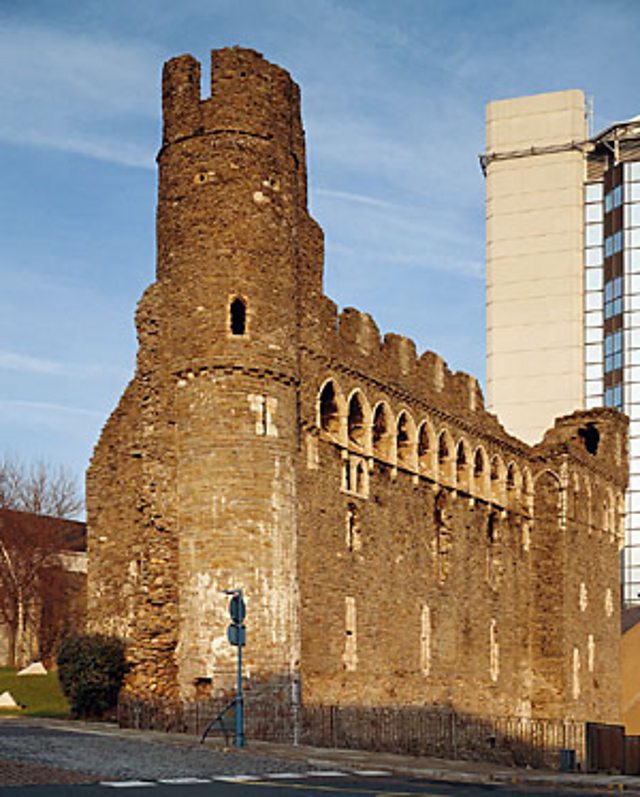 Swansea Castle
There are so many more options to choose from. Wherever you decide to go, whatever you decide to do, you can be sure you will enjoy it. Just make sure you do actually do something. Take advantage of this years Open Doors.
Open Doors days take place throughout September and offer the public free access to places and buildings of historic and architectural interest. Buildings which are normally free to visit put on something very special. This year there are over 500 events at more than 300 sites across Wales. For more information visit opendoorsdays.org.uk.