Risk of river flooding this weekend
Low pressure has brought some heavy showers over the past couple of days but at least there's been some dry weather and sunshine in between. However, more widespread rain is on the way tomorrow as fronts move north across the UK.
Saturday will be the wettest day of the weekend with some heavy rain at times. The Met Office has issued a yellow warning for parts of the West Country and south Wales.
Another 10 to 20mm of rain is expected quite widely with 30mm (over an inch) in places, not a huge amount of rain, but the ground is already saturated and more rainfall will top up the rivers.
The Environment Agency has highlighted southern parts of England and Wales as having the greatest risk of surface water and river flooding this weekend.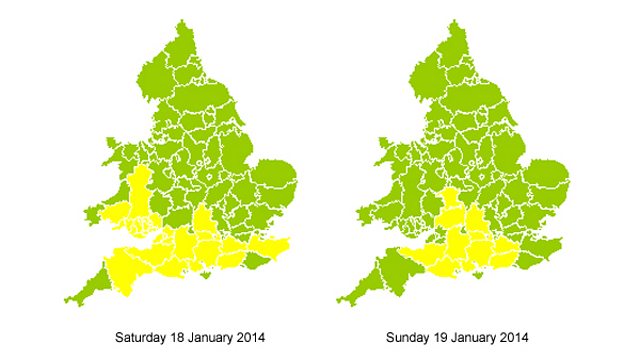 The Environment Agency's surface water and river flooding warnings for the weekend.
Later on Saturday afternoon and evening the rain will clear with much drier conditions spreading from the south-west with a few scattered showers.
Mist and fog patches will form; some frost and icy patches are likely with temperatures inland falling close to freezing or below by the end of the night.
Sunday will start cold with a risk of some black ice. Watch out for fog patches too if you are travelling, especially in the Marches.
The fog may be dense and freezing in places and slow to lift. Otherwise some dry weather and sunshine on Sunday but showers will spread from the west later in the afternoon and evening and some of these may be heavy and thundery in places.
Next week we'll see some sunshine on Monday with a few scattered showers. Another spell of rain on Tuesday will be followed on Wednesday by brisk winds and showers.
Some people are asking if there's any sign of cold weather and snow. Cold air and high pressure are not too far away over Scandinavia and Russia, and it wouldn't take much of a shift in the weather pattern for some of that cold air to move west and reach the UK with easterly winds.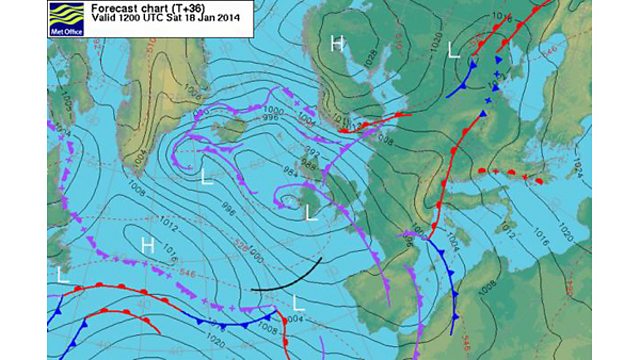 Met Office forecast chart for 18 January 2014
There is a possibility of a brief cold snap late next week and into the weekend but not all of the computers models agree.
There is a lot of uncertainty in the forecast beyond the next 5 days. Westerly winds over the Atlantic may win the battle between high and low pressure.