A tale of three Sheppards
Each year as people start to wear poppies and Remembrance Day gets closer my thoughts and research efforts become focused on helping others overcome their military based family history obstacles, and this year is no different. 
While I was attending the annual fair for the Glamorgan Family History society I was drawn towards one particular lady who was seeking help to solve the mystery of her military ancestors. 
As Anita Farrell carefully unwrapped her hundred year old black and white postcard sized photographs it was clear that she was keen to learn as much about them as possible. And as soon as I saw the photographs I was keen to help her in any way I could. 
Incredibly Anita had not just one or even two photographs but three. They were of her great uncle William Sheppard, his younger brother Arthur and astonishingly their father, Anita's great grandfather, Thomas Sheppard.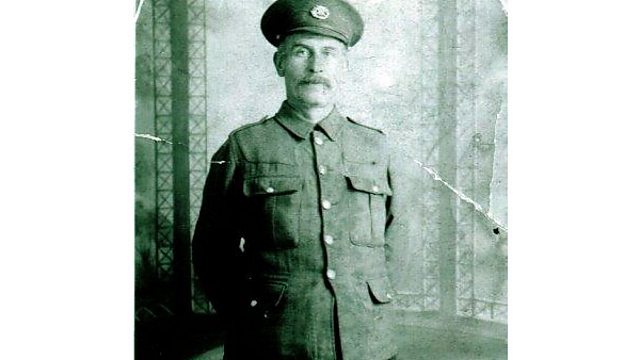 Thomas Sheppard. Photo courtesy of Anita Farrell
Standing bolt upright, Thomas looks proud to be serving his country alongside his sons, despite having been born in 1862 and therefore aged 52 when war broke out. Yes, 52! I've checked the maths and each time I can't quite believe he is 52 years old and decided to join up.
Anita had no details at all regarding Thomas or William. She had never seen their medals and did not know their regiment, let alone their service numbers, although she did know that they had survived the war. Since my own knowledge of military research is lacking I sent the photographs off to various experts. 
From closer inspection it looks like Thomas and his son William both have the same cap badges, which made me think that perhaps they enlisted together in the hope that they might be able to stay together and look out for each other. 
William Sheppard. Photo courtesy of Anita Farrell
The expert opinions varied with one believing that the cap badges looked like South Wales Borderers while the Regimental Museum of The Royal Welsh, which is based in Brecon, remarked that although the cap badges were somewhat indistinct that they think that they were affiliated in some way to the Welsh Regiment. However, what is clear is that William has two stripes on his sleeves meaning he was a corporal, while Thomas was a private. 
A quick glimpse at the campaign medal index on Ancestry revealed that there were 80 men called Thomas Sheppard and 252 called William and none quite fitted the profiles, which simply meant there was more work to be done.
By the end of the war in 1918, more than seven million men and women had seen service in the British army. Unfortunately, more than half of their service records were destroyed in September 1940, when a German bombing raid struck the War Office in London.
An estimated 2.8 million service records survived the bombing or were reconstructed from other records which means that there is a roughly only a 40% chance of finding the service record of a WWI soldier. 
So I turned my attention to Arthur Sheppard.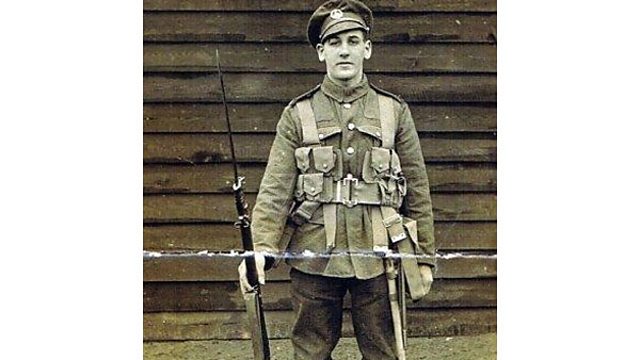 Arthur Sheppard. Photo courtesy of Anita Farrell
Anita's elderly aunts had told her that their uncle Arthur had died "going over the top" aged just 18. The Commonwealth War Grave Commission's website confirmed that he was Private Arthur Sheppard, 93661 with the 17th Battalion, Royal Welsh Fusiliers when he died on 3 September 1918, and that his name was engraved on the Vis-en-Artois Memorial in France. 
More details were provided on the Index of "Soldiers who Died in the Great War, 1914-1919" (available on Ancestry) which revealed that Arthur was born in Bristol but lived Tonyrefail and crucially that he was formerly with the South Wales Borderers (SWB) with a different original service number of 49353. 
Information about men who served with the South Wales Borderers is now held at the Regimental Museum of The Royal Welsh and they confirmed that held the war diary of the 10th Battalion, South Wales Borderers (who crucially fought alongside the 17th Battalion RWF) for the period that covered August and September 1918. 
They also confirmed that the image of Arthur shows him wearing the cap badge of the South Wales Borderers - ready to go on guard duty. This photograph was obviously taken prior to him being transferred to the Royal Welsh Fusiliers. 
Keen to learn more about what Arthur was doing when he died I asked for one more favour. 
The extract from the war diary of 10th Battalion South Wales Borderers reads: 
"2nd/3rd September 1918 
Spent the early morning getting into position for advance on Mensil under cover of 113th Brigade. 
A & C Companies in front B & D in rear.
5 p.m Formed up for attack from Sailly to Mensil.
Enemy allowed reconnoitring officers to go forward to point of assembly, when Battalion followed he opened out heavy Machine Gun fire on Royal Welsh Fusiliers on right and South Wales Borderers on left; 1 officers killed, 4 officers and 50 other ranks wounded...
Battalion advanced and occupied trenches south of MENSIL-EN-ARROUVAISE, 10th Battalion South Wales Borderers on Left, 17th Battalion Royal Welsh Fusiliers on the right; German barrage - C Company had 6 casualties. 114th Brigade went through and advanced to the line of the CANAL DU NORD."
Having this information about young Arthur Sheppard is very special, but there is much more information still to be learned.
Anita Farrell will join Cat Whiteaway on Eleri Siôn's afternoon show on BBC Radio Wales on Wednesday 6 November.