A night of free musical wonderment at Hendre Hall
Wonderment is the perfect word to use to describe Cardiff's
Soft Hearted Scientists
. Their pastoral, psychedelic folk is steeped in the landscape, the culture and the folklore of Wales, but not so that it's at all po-faced or precious: their chest of curios contains references to Billy Ray Cyrus, weather systems in Birmingham, Gregorian plainchant and the mysterious promise of roads that lead into the mountains.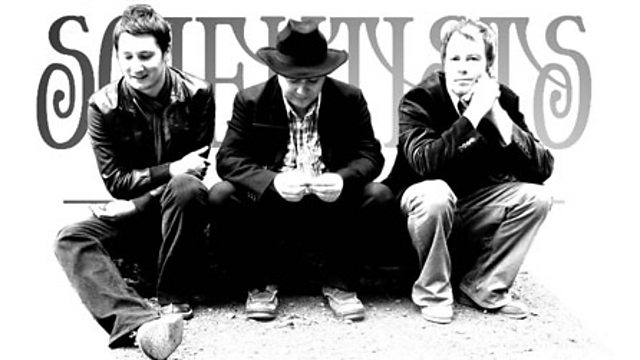 They've released three critically acclaimed albums on the My Kung Fu record label including last year's compilation of home recordings, Scarecrow Smile: an album that Word Magazine liked so much they put one of the songs on a cover-mounted CD. Influential independent music site, Drowned in Sound, had this to say about Scarecrow Smile: "this is an album that will transport you from wherever you are to a place where the wind blows in your face, where the air smells fresh and where you can breathe easily".
Which is a perfect description of the elementally beautiful surroundings at Hendre Hall itself.
This will be their first-ever live appearance in North Wales. An unmissable opportunity - and that's before we take into account the other artists on the bill.
Bangor's
9bach
were responsible for one of the most atmospheric and accomplished albums of 2009: their eponymous début album on the Gwymon label. They're folk, but not as you might expect it. There's as much of the space and mood of Massive Attack or deep dub, here, as there is the hallowed footprints of the traditional folk songs they reinterpret. Their singer, Lisa Jen, is one of the finest singers I've ever heard live. Their consummate musicianship is, truly, something to behold.
Mold's
Mechanical Owl
take the campfire experimental ethos of Grizzly Bear and Broken Social Scene up into the hills, where their songs expand to fill the space and the cool air. There is a great tenderness of spirit to their songs, too. Something akin to country soul - country in the sense of countryside, rather than gingham, Hank Williams and cowboy boots.
Tregarth's
John Lawrence
is best known for being one of the founder members of Gorky's Zygotic Mynci. But his fine reputation has been forged anew with a debut solo album (Rainy Night) that has earned justified excellent reviews in the Guardian and Mojo. I could expound for hundreds of words on the multitude of influences worn easily by John's solo, acoustic work: John Martyn, Kevin Ayers, flamenco, Crosby, Stills, Nash and Young et al. And he's prepared to tell his truth honestly, too, without compromise. John will be joined by Machynlleth's utterly unique
Nia Morgan
. Her quavering songs are entities of great, fragile beauty, enchantingly showcased on her eponymous debut album (Patrin Records).
First on, and a very welcome last-minute addition to the bill, is Aberystwyth's
Georgia Ruth
. She plays the harp but writes songs quite unlike anything that has hitherto come out of a harpist's fingers. Georgia was one of the highlights of the recent HMV Next Big Thing festival and has been touring the UK to support her irresistible and beguilingly soulful debut EP. Georgia will be on at 7:30pm - do not - DO NOT - miss her!
The musical journey continues before, between and after the artists in the company of tag team DJ'ing from Cob Records'/
Ectogram
's Alan Holmes and the man who used to be known as
Soundhog
, but it now just plain Ben.
Tickets for this event are FREE and available on a first come / first served basis by calling the following number: 03703 500 700 Lines are open weekdays 0930-1930. A maximum of six tickets per applicant. Tickets will be posted to successful applicants. So, get your call in soon to avoid disappointment!