Very best of Celtic dramatic talent to be showcased at festival
For those of you who missed some of the best productions to come out of Wales over the past year or so, this month and next there is a chance to revisit several of them as part of Clwyd Theatre Cymru's Celtic Festival.
This is only the second time the Mold arts centre has hosted the event, which aims to showcase the cream of new dramatic talent from Wales, Scotland, Northern Ireland and Cornwall.
Among the headline performances will be the acclaimed production Salt, Root and Roe, by valleys playwright and Dirty Protest co-founder Tim Price, directed by Clwyd's own associate director Kate Wasserberg.
The play was first staged at the Donmar Warehouse in London to rave reviews and was nominated for an Olivier award for Best New Play. Clwyd Theatr Cymru's production will be its Welsh première and will feature an all-Welsh cast. It will run from 18 April to 4 May.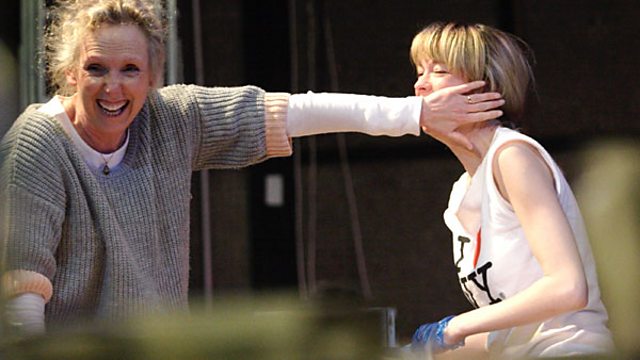 Betsan Llwyd as Anest and Catrin Aaron as Menna in rehearsal. Photo: Catherine Ashmore
Kate is currently in rehearsals for Salt, Root and Roe, and will once again be directing Matthew Bulgo's hit play Last Christmas from 30 April to 4 May.
I caught up with Kate amid her hectic rehearsal schedule and her excitement about the festival was palpable.
She said: "The festival is a chance to hear all sorts of new voices and writing.
"Last year we had three plays and this year we have taken over the building with 13 plays and 13 films as well as comedy and dance. It's allowed us to do Salt, Root and Roe and Last Christmas in tandem which is really exciting."
Kate has been working closely with Tim Price on the new production of Salt, Root and Roe, which moves into technical rehearsals today.
She said: "It has been an incredible play to work on. I saw the original production and it is quite unusual for me to be working with a new play where I am not the first person to direct it.
"I thought the London production was stunning but what we have been able to do is bring it back to Wales with an all-Welsh cast and it feels very different.
"Our actors have all known each other for at least 10 years and worked together several times so already there is that sense of family and richness before you even start rehearsals.
"That has enabled us to have very honest conversations about what is really a very emotionally brutal, if at times funny, play."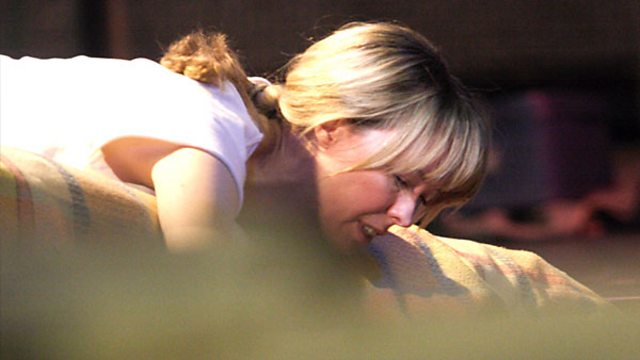 Catrin Aaron in rehearsal. Photo: Catherine Ashmore
Salt, Root and Roe tells the tale of identical twin sisters Iola and Anest who live in isolation on the north Pembrokeshire coast.
Iola is battling with a brain tumour and Anest is struggling to care for her so when Iola declares herself ready to die, her lifelong companion is ready to accompany her on that momentous journey.
However, Anest's daughter Menna is determined to put a stop to their plans.
The new production concentrates more on the poetic landscape created by Price in the original script, blurring the boundaries between sea and sky and echoing his exploration of the frontiers between life and death.
Kate has also chosen to make more of the striking sense of place Price created in the original.
She said: "Tim wrote it in the place it is set so the designer and I spent a few days there. We really grasped the idea of farming people and fishing people living alongside one another, with the sense of a life that goes back hundreds of years and a clear life and death cycle."
This will be the second time Kate has directed Matt Bulgo's debut Last Christmas, a one-man play starring the phenomenal Sion Pritchard as Tom, a young man travelling back from London to Swansea on Christmas Eve to face his demons.
She said: "It's a wonderful piece of writing. When Tim sent it to me I read it on my iPhone at a bus stop and immediately contacted him saying that Theatr Clwyd had to put it on.
"Bringing it to my home audience is very exciting and because of the nature of the play I don't think it matters too much that it's now spring, because Tom is somebody who is not very comfortable with all the trappings of Christmas anyway."
Elsewhere at the Celtic Festival
The festival line-up also features a reprise of a Gagglebabble and Theatr Iolo production of The Bloody Ballad featuring Mary and the Missing Fingers, a brutal love story which draws on Grimm's fairy tales and is inspired by blues and rockabilly music.
For several consecutive Thursdays later on in the festival, Clwyd Theatr Cymru, Dirty Protest and Sherman Cymru will present a series of Picnic Plays, a celebration of new writing which will be read in public for the very first time by actors from the Clwyd Theatr Cymru company at lunchtime. Audiences are invited to bring their sandwiches, or enjoy a picnic basket from the theatre and munch away happily as they get a sneak peek at some fresh Welsh talent.
But it's not just theatre that is taking centre stage. On Thursday 18 April, Music Theatre Wales will present the operatic Eight Songs for A Mad King by Peter Maxwell Davies alongside Ping, a new music theatre setting of Samuel Beckett's monologue by Vasco Mendonça.
On 19 and 20 April, National Dance Company Wales will also present their triple bill from Christopher Bruce, Angelin Preljocaj and house choreographer Eleesha Drennan.
In total the festival includes 39 events and 111 performances or screenings, presented under one roof over eight weeks during April and May.
Performances from other Celtic nations include Brian Friel's Translations in a production by Millennium Forum in Londonderry, Scotland's Dogstar Theatre Company's The Tailor of Inverness and a presentation of The Boat Factory by Happenstance Theatre Company in Northern Ireland.
From 14-18 May the theatre also plays host to an event which will take audiences on a journey through Cornish poetry, prose and music and features the stage and screen actress Susan Penhaligon sharing some of her favourite literature from her native area.
Audiences are offered the chance to up to 10 events with a festival pass which gives big savings on ticket prices when shows are booked at the same time. For more details visit clwyd-theatr-cymru.co.uk or call the box office on 0845 330 3565.