Festival of sung and spoken word at Dylan Thomas' birthplace
Poets and musicians will be descending on a significant address in Swansea from today as part of an evolving festival.
The week long event has been arranged by Annie Haden, director of Dylan Thomas' birthplace at 5 Cwmdonkin Drive in Swansea.
In 2005, Annie and her husband Geoff funded its restoration so that it now resembles the house as it would have been when Thomas was born in 1918.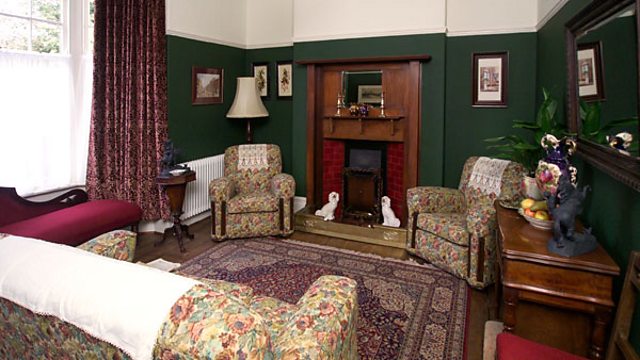 The front room of 5 Cwmdonkin Drive. Photo: Annie Haden
This is the festival's second year and Annie is delighted with the enthusiasm from participating local artists and performers, which is helping her aim to make the venue a living museum.
She told me: "It's a lovely, eclectic mix of people in a stunning environment. There's no specific performing area as such, but the whole of the house is a stage and artists can choose where they want to be.
"After last year, people came forward offering to take part. There's a lot of new talent coming through and I think it will be nice for people to say they have performed in such a wonderful venue."
The festival welcomes poet in residence, Sri Lankan born Asoka Weerasinghe, who has just returned to Wales from Canada. This Saturday he will be presenting his work Once upon a time... I returned alongside John Lindley's new work Screen Fever and a performance by folk singer Steve Garrett.
Sunday sees crime writer Sally Spedding launch her new work Malediction in the company of storyteller Amanda Rackstraw, Helen Miller and Asoka Weerasinghe.
On Monday 1 October local poet Angela Brunt will launch her new work Tawe Town, an illustrated chapbook of haikus written about Swansea.
Angela wrote a lot of poetry in her late teens and early 20s, when she used to take the bus every morning with the late Vernon Watkins, a poet and friend of Dylan Thomas, and he advised her on her technique. After a career in science, she has returned to poetry and this is the first time she has performed her haikus in public.
She told me: "I first started writing them after an event at the Dylan Thomas Centre, which happened just as the horror of the Japanese tsunami was unfolding.
"It seemed so strange that as we were walking on the beach, drinking wine and talking about poetry, far away, this horrendous tragedy was occurring."
Her new chapbook is divided into three parts - a section about Swansea's foreshore, marina and harbour, a section about the town, Thomas' birthplace and the suburbs and the third about the seafront hospital and seafront university.
She will share the stage with local musicians Sarah Passmore, Neil Clarke, Sam Gardener, Martin Thomas and Keira Marshall.
On Tuesday 2 October Swansea Jazz legend Derek Morgan will host an evening of jazz, while on the following day Dylan's Holiday Memory will be read by the Porthcawl reading group to begin an evening when Glenys Davies' new work Elusive Liberty and Bernard Pearson's Steaming Light will be launched.
On Thursday 4 October Andy Morse, together with local musicians and poets, will celebrate National Poetry Day. They will introduce Down Sparrow Lane by poet and musician Tony Webb and The Other Side Of The Bridge, which is the new work by award winning Cumbrian poet Geraldine Green.
Annie hopes the event will become an annual fixture and help with the upkeep of the tourist attraction.
All events take place at 5 Cwmdonkin Drive, Uplands, Swansea, SA2 0RA. To book phone 01792 472555 or email info@dylanthomasbirthplace.