Heavy showers and a risk of thunderstorms ahead
We've had a good dose of fine and warm weather and sunshine this month, but a trough of low pressure over the Atlantic is heading our way. This will bring a spell of rain reaching the south and south-west late tomorrow afternoon and then moving northwards during the evening and overnight.
On Friday there will be a few bright spells, but the air will be very unstable which means heavy showers and a risk of thunderstorms.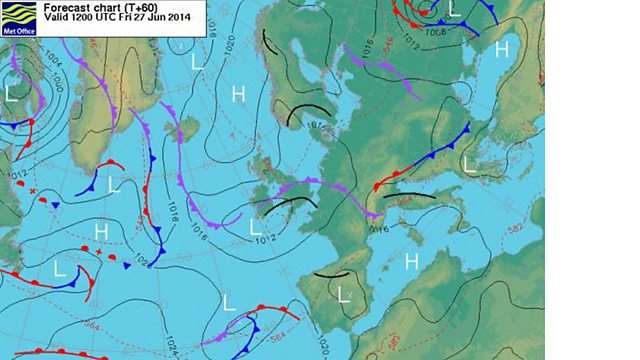 Weather chart for Friday 27 June 2014
On Saturday, further showers are likely - most of them in the south where they may be heavy and thundery in places. However, the north should be dry and bright. In the west and the south the showers should ease later in the afternoon and evening with some sunshine.
Sunday should be a better day overall, with some bright/sunny spells. A few scattered showers are likely but some places will miss them and stay dry. The west may become sunnier during the afternoon and evening, especially on the coast, with highest temperatures 16 to 18°C.
So, some welcome rain for the gardens, fields and allotments later tomorrow and on Friday. Pollen levels, which have been very high recently, will drop. It's not all bad news for the weekend - in fact, the north Wales coast and Anglesey may get away with a largely dry weekend!