Dancer turns her home into a stage fit for a festive treat
Not every performer would be prepared to open up their own house to the public for several nights at one of the busiest times of year. I know the view inside from my front door to my toy-strewn hall isn't fit for the postman to see, let alone the carol singers which are sure to visit.
But for dancer Caroline Sabin, Christmas is a fascinating time - a time where as the nights draw in and the temperatures plummet, we as a nation distract ourselves by getting giddy with excitement (and manic consumerism) in the build-up to the big day.
It is this idea of a festival happening simultaneously all over Europe, as we approach the winter solstice and its long, bleak night, which has inspired her latest production, A Curious Zoo.
Set entirely within the confines of her own terraced home in Canton, Cardiff, complete with a snow-covered roof and garden, the performance is a collaboration by a group of acclaimed writers, performers and musicians, funded by the Arts Council for Wales.
The performers are Wales Book of the Year winner Jon Gower, theatre practitioner Gerald Tyler, choreographer Deborah Light and actor/director James Williams.
The idea of the piece is to draw the spectators in to a dark magical world of strange and fantastical creatures, leaving them roused with a song, stomachs warm with Christmas cheer.
Caroline told me that her house is a perfect performance space and she cannot wait for the audiences to see the show.
"The house is very atmospheric and I knew it wouldn't take much to turn it into a really lovely set - we have a nice open space inside and there's reclaimed wood everywhere.
"I've also ordered snow in from a special effects company to decorate the trees and the garden and the outside of the house. It looks fantastic and is already attracting a lot of attention.
"We've got snow spray on the window and icicles everywhere."
The style of the ensemble piece is a "Victorian gothic aesthetic". Each of the contributors acts as a different animal in a short piece that they have devised and is dressed in lavish costumes by Neil Davies.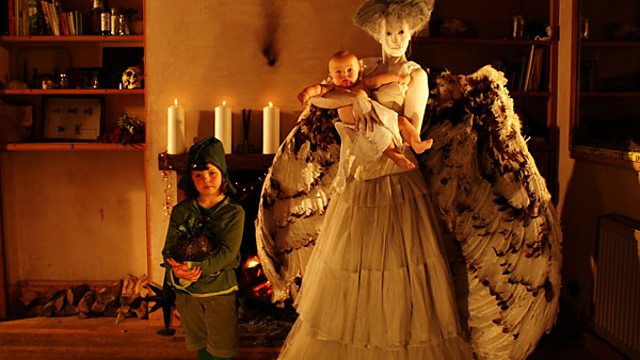 The eerie angel from A Curious Zoo. Photo: Gerald Tyler
Caroline is an eerie angel while Jon plays an owl, James is a faun, Gerald is a "toy-mending dote" out in the shed and Deborah plays a polar bear. Also appearing alongside Deborah are her husband and the cast's youngest member, her nine-month-old son Rowan.
Caroline said: "Deborah will be in the conservatory and little Rowan is also in a polar bear suit but he will only be starring provided he is happy. I imagine he will be a big hit with audiences!"
The hour-long show starts tonight, Wednesday 12 December, with two performances each night until Saturday, starting a second run from Tuesday to Saturday next week. Audience capacity is limited to 25.
"It's supposed to be intimate and the audience will be split into small groups and be led round the house to visit the characters in a different order," says Caroline.
"There is definitely an element of the ghost story about it but it will end on a high with a rousing song. I want people to leave with a spring in their step.
"There will be somewhere to sit in each room, warm log fires, and the aim is to rekindle that sense of excitement we have about Christmas when we are children.
"I see Christmas as an island in the middle of the sea we are all swimming to through the dark winter days and there is a sort of group delirium as we get closer to it."
A Curious Zoo runs from 12 to 15 December and from 19 to 22 December at 7pm and 9pm. Tickets and more information from the Chapter Arts Centre's box office on 029 2030 4400 or visit www.chapter.org.