The search for William Yolen Williams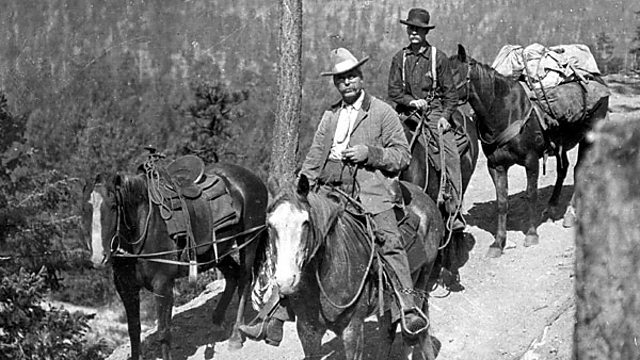 W Yolen Williams, manager of the Phoenix Mine, circa 1900
I was amazed at the beauty and depth of detail in such an old photograph and immediately asked for more information about the man, only to be told that very little was known.
If ever there was a challenge issued this was it and I gladly gathered up the gauntlet and went in search of extra details regarding the mysterious William Yolen Williams.
The 1901 census for Canada quickly revealed that he was indeed born in north Wales around 1854. Rather confusingly they listed his race as "Welsh" but his nationality as "American".
The next obvious place to look was the 1861 census for Wales, but this turned out to be a disaster with over 820 men called William Williams born two years either side of 1854.
But by revisiting the way in which his name was spelled I found an entry in the 1920 census for America on Ancestry.co.uk. This showed him as William Yolem Williams born around 1855. He was single and living alone in Spokane near Washington. It confirmed that both his parents were Welsh speakers and that he had emigrated in 1871 and naturalised in 1889, becoming an American subject.
This breakthrough led to the discovery that he was born in Caernarvonshire and incredibly had started work in the local slate quarry aged just 10, before setting sail for New York in April 1871 at the age of 17 with $50 in his pocket.
In the same way that many men from north Wales walked to Liverpool seeking fresh work opportunities, young Yolen walked the 125 miles from Colorado to Leaderville in three days to start work in the local mine. Other destinations included New Mexico and Seattle. I only hope he caught the train!
According to a report published on 2 July 1904 in the local newspaper The Phoenix Pioneer, by the time Yolen resigned from his post of six years he was very well respected. More than 400 of his employees were seen "hurrying in their digging clothes to be present" at the surprise presentation of a diamond ring.
It seems entirely plausible that a man of such standing among such a vast and quickly growing mining industry would have sent word to friends and family at home in north Wales telling them to come out to North America and start a new life.
Was this your ancestor, I wonder. Have you lost a young man, probably between the 1871 and 1881 census returns? If so, then I would like to guess that they might be found on a census in North America.
In 1930 there is another younger Yolan Williams aged 10, born in Spokane living with his parents John and Ella, who were born in north Wales. Could this be his nephew? According to the passenger lists for 1923 they were living at Bryn Siriol, Wainfaur in Caernarvonshire.
There is no sign of the older Yolen in 1930 and it seems a little strange for a man of such substance in the mining community that I can find no entry for his death; just a small newspaper report dated 22 December 1935 which refers to "the late Mr W Yolen Williams".
While I am content that I have uncovered some of the bare facts of William Yolen Williams' life there is much more to learn. It would be satisfy me if I could just locate him on the 1861 census, living somewhere in north Wales as a young man with his family.