Actor with Aspergers to take centre stage in production that explores the condition
When Calum Glanville-Ellis takes a leading role at the Sherman Theatre later this month, he will share more than a little in common with his character.
Calum will play the role of Matthew in the new play Matthew's Passion written by Mike James, the theatre's former artistic director.
Like his character, Calum is a teenager with Aspergers Syndrome, a form of autism, which can lead to difficulties with communication and interaction because those with the condition often find it harder to read the signals most of us take for granted.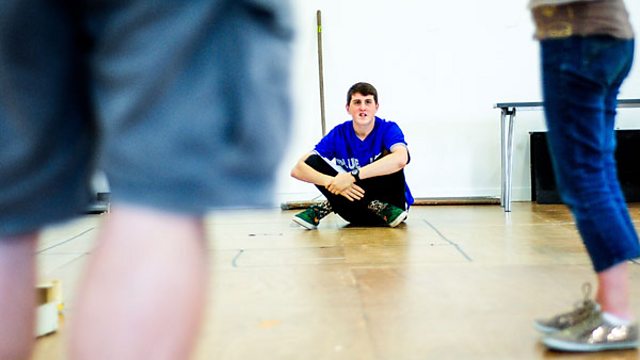 Calum Glanville-Ellis in rehearsal for Matthew's Passion. Photo: Kirsten McTernan
I caught up with Chris Durnall, who will be directing Calum in Matthew's Passion and begins rehearsals on Monday.
Using theatre as a means to connect with young people with learning difficulties or communication issues is something Chris is very passionate about and strives to achieve via his own company, Winterlight Productions.
He told me: "I am really interested in working with actors or individuals who do have these difficulties and having them lead main stage performances.
"It's a really exciting area to be working in because they have a different viewpoint and bring something fresh and new to the plays.
"At the moment the adaptation of the famous novel about an autistic boy The Curious Incident Of The Dog In The Night Time is proving popular in the West End, so I think there is a real interest in autism and how those who have it respond creatively.
"I spent quite a lot of time looking for the right person for this role and making sure they were totally happy with what it would involve.
"Calum's mum has been really supportive of him and the show and I have every confidence in him."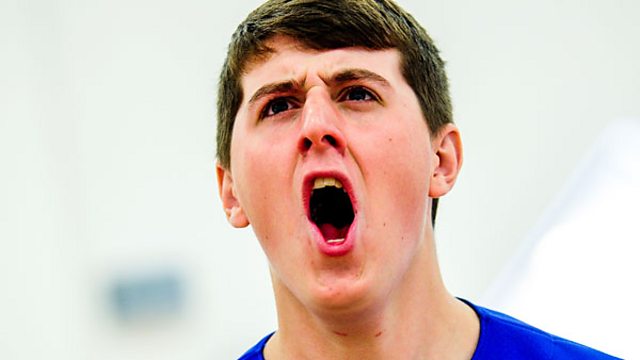 Calum Glanville-Ellis in rehearsal for Matthew's Passion. Photo: Kirsten McTernan
Calum, from Heath, Cardiff, is a member of the Sherman Youth Theatre and has just got a place on the Cardiff and Vale Performing Arts Course.
He will perform alongside familiar Welsh faces Ioan Hefin (Belonging, Pobol y Cwm), Ri Richards (Belonging, High Hopes) and Bethan Morgan.
The play follows the story of Matthew, a 16-year-old boy with Aspergers Syndrome who is watching as his parents' marriage falls apart.
His father is a priest, but Matthew finds much of the iconography of the church frightening, instead finding an escape in the company of his beloved birds and his firm belief that he can fly.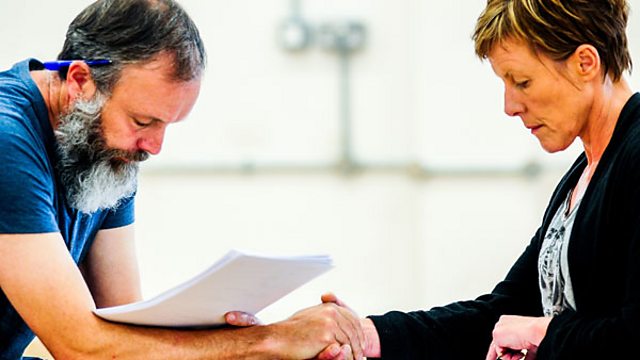 Ioan Hefin and Ri Richards in rehearsal. Photo: Kirsten McTernan
Matt's mother introduces him to a music therapist in the hope it will soothe him and he becomes hooked on it, likening it to his favourite bird songs and calls.
The production will feature live music created and performed by the well-known Celtic folk couple Robin and Bill Williamson.
Chris said: "I've been working with them since September because I wanted there to be a really strong connection between them and Calum's character so he could respond to the music."
"Matthew's Passion explores the boy's inner world where nature and magic are his creed. Matthew really believes he can fly and who is to say that he can't.
"Calum has just the right level of wonder needed to play Matthew. He carries with him sense that anything is possible.
"The play is about empowerment and finding your feet and is very poetic. I think audiences will find it quite emotional."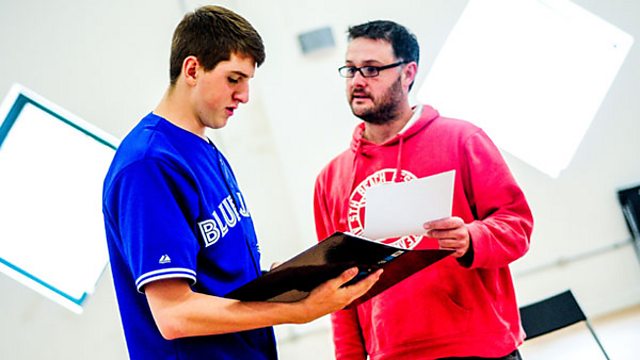 Calum Glanville-Ellis and Simon Nehan. Photo: Kirsten McTernan
Chris hopes to take the play on tour next year.
Matthew's Passion will be at the Sherman Theatre from 24-27 July. For further information and tickets visit shermancymru.co.uk.