Sheep rustling on the rise
Sheep rustling is on the increase and becoming a big problem for farmers in Wales.
I know this after making a radio series earlier this year about rural crime and discovering that as the economy nose-dives, criminals are becoming more organised and more audacious.
I spoke to one farmer, (who didn't want to be interviewed) who told me that he'd lost around 100 of his sheep last year - taken off the mountain where they were grazing - resulting in significant financial losses.
It's hard to imagine how anyone could steal that many animals without anyone noticing?
You'd have to have proper transport, somewhere to take them and someone who knows what they're doing to slaughter them. But meat prices are high at the moment and a whole lamb can sell for around £75.
This week, 80 sheep have been stolen from common land in Mid Wales and police in the Beacon Hill area of Radnorshire are asking for anyone with information to come forward.
Figures also show that rustling doubled in the first six months of this year across the UK.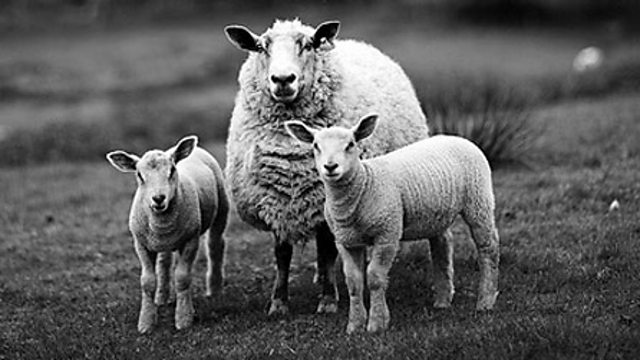 Sheep portrait by Photography King on Flickr.
Police and Trading Standards Officers are asking people to 'remain vigilant' but it's difficult to know how to tackle the problem.
One of the difficulties is keeping an eye on livestock and to catch any rustlers in the act. After all, you can't install CCTV high up in the hills.
We've tried looking at this issue on Country Focus, but again found that people are extremely reluctant to talk publicly about the problem.
I remember seeing a news report about a farmer in the Yorkshire Dales who got so fed up at losing his stock to thieves, that he sprayed his entire flock a bright orange.
Another suggestion from the farming unions is to make gates into fields narrower, so that access is harder - but again, that means extra cost for the farmers.
The rural equivalent of Neighbourhood Watch, called Farmwatch is drawing more members as these incidents increase.
At the moment, there are schemes covering large areas of rural Wales from Anglesey to the Ogmore Vale, using the latest technology to help combat rural crime.
If anyone notices a suspect vehicle for example, they can contact the local police who then send out a text message to all the Farmwatch members in the area to alert them to a potential problem.
There's a common assumption that farming does well during war or recession but I doubt that farmers who've lost livestock recently would agree.