Love letter from a northern soul
On this week's programme I will feature a half-hour set of my favourite northern soul records. This is my love letter to the genre that isn't really a genre, a better-late-than-never foot on the bandwagon before Elaine Constantine's anticipated film 'Northern Soul' reaches cinemas.
It's something of an explanation as to why 30 minutes of a new Welsh music show is dedicated to a music made elsewhere many yesterdays' ago that still has a startling and uplifting resonance for many people today.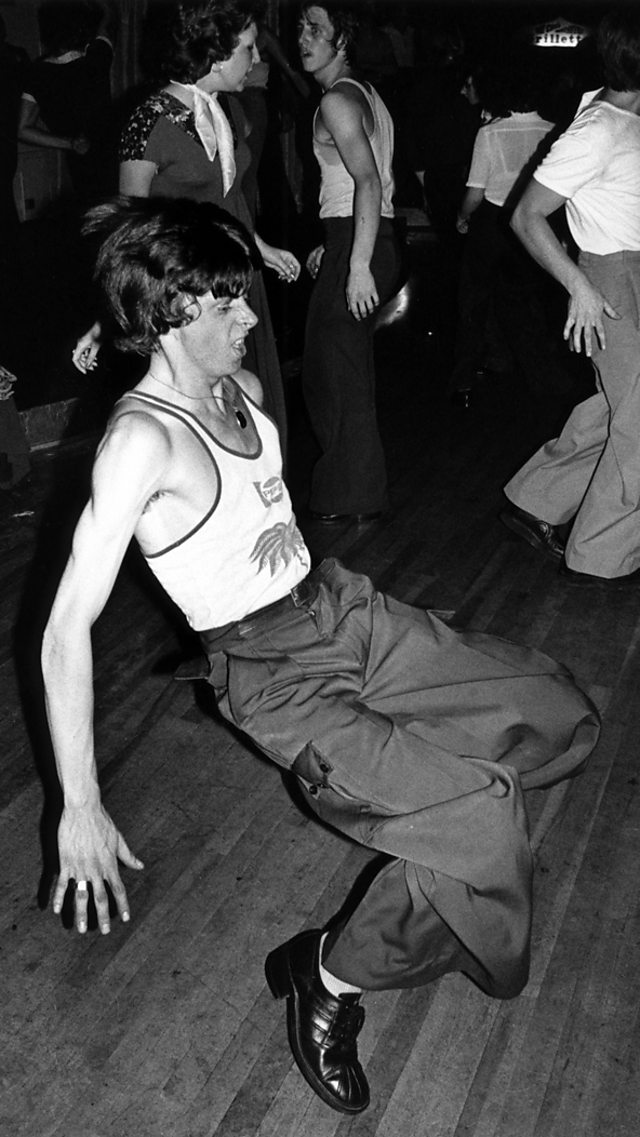 Dancers showing off the characteristic dance moves of Northern Soul in 1975.
I first heard friends talking about northern soul when my band played a gig at a rowing club in Chester in 1993. The phrase stuck because I didn't know what it was. I liked soul music, mostly because I knew that The Small Faces had loved soul music. I had no idea what the 'northern' bit meant - stodgy men in flat-caps doing Smokey Robinson covers? My mind boggled. I apologise now, 21 years later, for the stereotype.
During the mid-90s, Phoenix Festival was a baby Reading for those of us who couldn't get tickets to the real deal. Most of my favourite memories of Phoenix Festival involved the fairground (a thunderstorm of neon and puke) or Carl Bevan, drummer with 60ft Dolls, committing unspeakable practical jokes on unwitting hangers-on in the hospitality area.
Good-time roustabouts Dodgy, headlined the first night of the '94 festival. They'd visited our Mold studios to record sessions for my radio show. Excellent people. We weren't there to see them out of a sense of duty, though. Their debut LP The Dodgy Album, had been an inspiration when it came out.
For a 20p mod* who found the Yank grunge invasion too much to bear, and whose sensibilities were equally appalled by all that 'fraggle' nonsense, Dodgy were something of a throwback godsend. They sounded a bit like The Who and could harmonise better than any UN taskforce.
Soundgarden they were not. Thankfully.
My listening tastes were a lot more conservative back then. At that point I hadn't crashed headfirst into mclusky, Public Enemy or Squarepusher. But I did have a Damascene revelation at that Dodgy gig. Partway through their set a space opened up in an audience of Doc Martin-ed types with the whiff of patchouli about them.
People started to look over there, instead of at the stage.
A couple of guys had started dancing. I'd never seen anyone dance like that before. They were spinning and jumping, falling backwards onto their hands and springing up again like jack-in-the-boxes. It looked so graceful and cool… a lithe, whole other species compared to the lead-footed, hoodie-wearing indie kids.
The song that so energised the dancers wasn't one I recognised. It was called The Snake. A studio version ended up as a b-side on their Melodies Haunt You single. It was, I discovered some time later, a cover of a de facto northern soul classic by Al Wilson.
There was that mundane, but alluring, phrase again - northern soul. What was it? Where could I hear more? It wasn't something you stumbled across on the Evening Session, or Peel (yet John Peel frequently played another northern classic – Needle In A Haystack by The Velvelettes – in his DJ sets.)
No one I knew in Mold could enlighten me. The less I could discover, the more intrigued I became. From the recordings I understood were classified as northern soul - Seven Days Too Long by Chuck Wood and Frank Wilson's godlike Do I Love You? - I knew there was the likelihood of more recordings that I could love, but in the same way I make sure I leave a favourite bit of my tea 'til the last mouthful, I didn't initially investigate further.
I had a radio show to fill with new Welsh demos. My DJ sets at the time were all Beck, Fatboy Slim, Chemical Brothers, The Stone Roses and The Beastie Boys.
It was listening back to those artists' influences - and some of the records they were sampling - that kept my curiosity smouldering. Fatboy Slim's Rockafeller Skank sampled The Just Brothers' Sliced Tomatoes — a track occasionally found in northern soul sets. I remember Ian Brown detailing in interviews how he had started a soul night in Manchester back in the day, that had a queue snaking quarter of a mile up the pavement.
Then a couple of years into the new millennium, people started asking me if I had any 'northern' when I was DJing. I span, or – more accurately – clicked on Gloria Jones' Tainted Love and Frankie Valli's The Night in my laptop playlist to grudging approval.
Duffy's 2007 single Mercy is very much informed by northern soul, a fact explicitly acknowledged in the video. It was the first time northern soul dancing had been seen in the mainstream for many a year.
The people who I knew were associated with, or inspired by northern soul, were influential without compromising or getting their hands dirty with the vicissitudes of modern pop fashion.  When Johnny R's R-Bennig record label, based on Ynys Môn, released pop music, the philosophy was inspired by northern soul. Musical accessibility and deliberate obscurity linked together to foster collectability and myth.
I dabbled to pique my curiosity. I bought a few compilation CDs that for the most part sounded awful played at DJing volume.
"If you're going to play old stuff, you need to play it off vinyl, brother," some greying sage said to me one night when I was shredding ears with a horrid mp3 of The Sonics.
I'd never been a format fascist; music is music regardless of the medium it comes on. At least, that's what I thought. I don't now.
His words echoed round my head for a few weeks. Then I gathered what decent vinyl I had - mostly nicked off my dad – took it into my regular DJing haunt and played it loud. Martha & The Vandellas, Smokey Robinson, The Supremes, The Beatles… by god, they sounded amazing!
There's a way an old record will compress at a loud volume that makes it sound incredible - warm, exciting and enveloping. Digital tracks have clarity, for sure, but little life or give in them - certainly in comparison to their vinyl equivalents and certainly when you're playing older recordings.
There is one other major advantage if you DJ with records. DJ from a laptop and the audience expect you to play what they want, on request. You also suffer from the 'can't see the woods for the trees' syndrome. Putting a DJ set together when you have tens of thousands of tracks at your fingertips is inordinately more difficult than when you have one hundred 7" in a box.
That's because you have to think in advance about which singles you want to bring with you, going for the ones you feel the most. DJing is all about feel, hopefully one reciprocated by the audience, but it has to start with you loving what you play.
Nowadays I only play vinyl. There's something about a great soul recording that will encourage people who've never heard it before to dance to it. Without wishing to indulge in hackneyed cultural theorising, I think the spirit with which the disenfranchised working class Americans suffused their music finds a resonance in most other people's lives. It's universal because the songs are about triumph in the face of adversity, whether that's adversity in life generally, or adversity in love.
It's music powered by an urge to escape, to find maximum joy in minimum time (the weekend).
I felt the power of that first-hand at Green Man Festival a couple of summers ago. Renowned music journalist and broadcaster Pete Paphides was DJing at the Walled Garden. It had been a long weekend for me, with the legs falling off my marriage back home and various other messy challenges on my mind. Even a few pints of Growler hadn't allayed the melancholy.
Pete played The Flirtations' Nothing But A Heartache - a 7" so emphatically sad and defiantly bereft. It was, in that couple of drizzly minutes on a field in Glanusk, an effulgent ray of empathy, with horns and a vocal that would cut through the roar of the apocalypse.
I teared up. I broke into my first smile of the weekend. It returns every time I remember that moment - music casting its inexplicable and enduring magic across the decades.
That song has a story to it that is rather emblematic of northern soul's transatlantic stew, in that it was a record written by Englishmen, sung by Americans, orchestrated by another (great) Englishman (Johnny Harris) and recorded using Decca's superlative engineers and studios. The song also has a Welsh link. Its video was shot at Tintern Abbey. A very strange affair!
Nothing But A Heartache doesn't feature in this mix. I've tried to reflect some of the diversity of northern soul in my allotted half hour. So we have the Glaswegian melodrama of Frankie & Johnny's I'll Hold You, the grainy, lo-fi, pop brilliance of The Yum Yums, NF Porter's searing and irresistible testimony - a godless Al Green - Keep On Keeping On (Nolan put a legendary performance in at the Prestatyn Soul Weekender in 2006), classic stompers from The Younghearts and Gene Latter (a Cardiff boy) and bubble-gum genius from Samantha Jones.
I hope you enjoy it.
I leave you with this image: stumbling through Wrexham town centre one Saturday night last year, we're presented with the unlikely tableau of people, various ages, 'northern soul dancing' in the street. They have a northern karaoke at the Horse & Jockey every Saturday night. It's packed every week. Everyone has a big smile on their face. It's like stumbling across a secret society of the joyful.
Share the faith.
*20p mod - in a 'mod' blazer, generally bought for 20p from Mold's Save The Children.
The next episode of Adam's show is on BBC Radio Wales, Saturday 8 February at 10pm.