Dark comedy about perils of personal debt to tour Wales
Young Welsh company Waking Exploits has enjoyed hits with its recent productions - its 2012 run of Simon Stephens' Pornography and a production of Caryl Churchill's Serious Money in 2011 were both sell-outs.
Next month the company will stage Dennis Kelly's Love and Money, with a 10-night run at the Chapter Arts Centre in Cardiff, before it goes on tour around Wales.
The play is a diffracted black comedy where the time frame constantly shifts as we see various characters reacting to a tragedy.
It examines the lure of personal debt and addictive credit and how a life based on material desire can spin out of control, with disastrous consequences.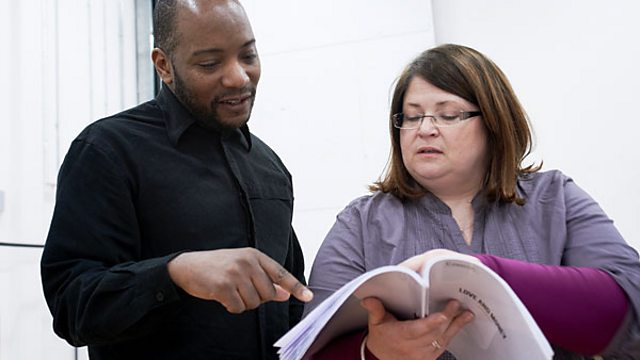 Director Ryan Romain with Rebecca Harries. Photo: Jorge Lizalde/Waking Exploits
Central to the play is the suicide of shopaholic Jess - a momentous event the audience learns about early on.
But what is intriguing is that as the story unfolds, the decisions made by the characters seem less black and white than at the outset.
The production features a mostly Welsh cast and is directed by Ryan Romain, former associate director of Theatre Royal Stratford, who currently has projects in development with National Theatre Wales.
I caught up with Rebecca Harries and Keiron Self who play Jess' bereaved parents in the play.
Keiron Self and Rebecca Harries. Photo: Jorge Lizalde/Waking Exploits
Rebecca said: "The play doesn't happen in chronological order which adds to the drama.
"It's written almost like a stream of consciousness so the characters never seem to finish articulating their train of thought before another person cuts across them.
"The first time you meet my character and Keiron's, it's 19 months after our daughter's death as we stand at her graveside, so you see us as grieving parents first and the audience knows exactly what has happened."
Keiron added: "Although it is very tragic in parts, there are moments of great comedy and hilarity and the characters will prompt very extreme responses from the audience.
"Kelly's stuff can seem quite dark and angry one moment and light and funny the next, so it's sure to hit a nerve. I think the audience will be shocked by the subject matter."
The pair believe the play's primary themes, love and money, offer much food for thought, particularly in these straitened times.
Keiron said: "The play has a lot to say about how money drives people and how we treat each other like commodities sometimes."
Rebecca added: "It shows how money can seem more important than anything else and how debt can have a ripple effect so it impacts on family and friends as well."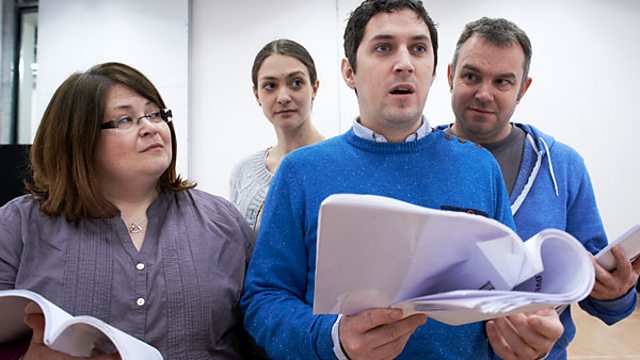 The cast of Love and Money in rehearsal. Photo: Jorge Lizalde/Waking Exploits
Both say they are enjoying the rehearsal process and the techniques being used by the director Ryan, which have even seen them visiting graveyards and Sara Lloyd-Gregory, who plays Jess, being asked to go on a virtual shop to put herself in her character's shoes and understand her compulsion for spending.
"I think it has made what happens in the play seem more raw," said Rebecca.
"It's helped understand just how much parents will be prepared to do for their children and when they have to stop to let them make their own mistakes, which in this case are tragic," added Keiron.
Rebecca Harries is well known for both English and Welsh language TV and theatre, having starred in Ar y Tracs, Good Arrows, Teulu, Ty Crwn, Belonging Con Passionate and Pobol y Cwm, to name a few.
Keiron Self has worked extensively with Cardiff based Mappa Mundi Theatre Company and performs regularly on BBC Radio 4. He has starred in various TV shows and has several feature film projects in development.
The cast also includes Sara Lloyd-Gregory, Gareth Milton, Joanna Simpkins and Will Thorp.
Love and Money opens at Chapter in Cardiff on 10 April before commencing a three week tour of Wales which includes dates at Galeri in Caernarfon, Pontardawe Arts Centre, Aberystwyth Arts Centre, Halliwell, Carmarthen and Taliesin, Swansea.