An unseasonably autumnal weekend
The weather is in better shape today after yesterday's rain but it's not going to last.
In fact it's going to feel more like autumn than spring this weekend with low pressure bringing rain, heavy showers and strong to gale force winds.
Unseasonal weather for the time of year but it won't be a total washout.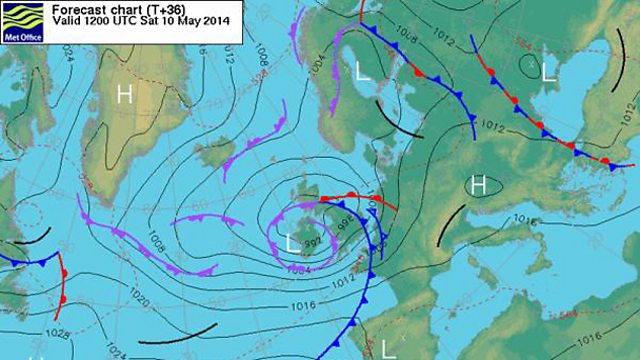 Forecast chart Saturday 10 May 2014
This evening will start dry for most of us with sunny spells; just one or two showers in the south and west, but later in the evening and overnight more rain will spread from the southwest.
There will be some heavy rain and the wind will pick-up again, with the lowest temperatures between 7 and 11°C. 
By tomorrow morning the worst of the rain will have cleared and it will be dry and bright for a time with some sunshine.
However, showers will spread across the country during the morning. Some of the showers will be heavy with a risk of thunder.
It may brighten up in places during the afternoon but showers will never be far away so take an umbrella if you're popping out.
Top temperatures will be 12 to 14°C and the wind will be a feature; strongest in the south and southwest later in the afternoon and into the evening reaching gale force on the Bristol Channel coast with gusts around 45 to 50mph. 
The CARTEN100 Cycle Ride is taking place tomorrow, riding between Cardiff and Tenby. The weather will be challenging at times with strong winds and blustery showers. Good luck to those taking part and take care! 
Tomorrow evening and night will continue windy, especially on the south and west coast and also on high ground with more rain and showers as well.
Sunday will continue windy with showers and longer spells of rain, especially in parts of the north and west.
Some dry weather is likely too, especially on the south coast. Pembrokeshire should escape the worst of the rain with some sunshine but it will be breezy and feel cool; highest temperatures will be between 11 and 14°C with a brisk westerly wind slowly easing. 
The Welsh Women Walking group are celebrating their 5th anniversary by climbing Pen-y-Fan on Sunday. Conditions will be far from ideal and the waterproofs and thermals will definitely be needed. 
Monday should be less windy with sunshine and scattered heavy showers; becoming dry and sunnier on Tuesday.
By Thursday next week, there will be a hint of more settled, warmer weather and high pressure.