Call for Wales' unsung voices
As the so-called 'Land of Song' Wales has a rich and varied vocal history spanning centuries where revivalist preachers, songstresses and poets have captivated their audiences.
But a new performance project is hoping to unearth the authentic voices of Wales, from the newspaper seller to the town crier, from the shepherd to the rag and bone man, to the singer of alawon gwerin or the cattle auctioneer.
Performers will be chosen for how they use their voice in their daily lives, be it in Welsh or English or any other language, and the more out of the ordinary the better.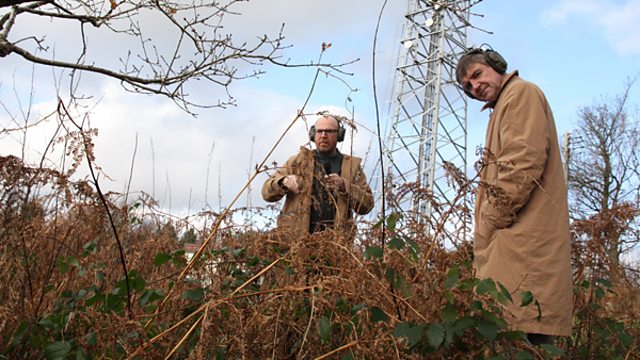 John Rowley and Richard Huw Morgan from good cop bad cop. Photo: Cathy Boyce.
The search is being led by Chapter Arts Centre in Cardiff and 'good cop bad cop' with the hope of devising an experimental performance under the title Lleisiau/Voices to be staged in May as part of the Dylan Thomas 100 Festival.
Those who feel they have an unusual vocal talent, like whistling or yodelling, or a unique way of speaking, are invited along to a series of open auditions across Wales with the first being held at Chapter on 1 February 2014.
I spoke to Cathy Boyce, Chapter's theatre projects co-ordinator and good cop bad cop founders Richard Huw Morgan and John Rowley about what they've got planned.
Richard told me: "We are looking for people who use their voices every day in their work or have hobbies which use their voices in some way. We want auctioneers, rag and bone men, shepherds, bingo callers and newspaper vendors or people who use distinctive Welsh vocal forms like cyd-addrodd, penillion and canu pwnc.
"Unlike shows like Britain's Got Talent and The Voice, we are not looking for somebody who wants to be a star but somebody who may not quite realise just how interesting their talent is."
Although the inspiration for Lleisiau/Voices comes from Dylan Thomas and his use of the new broadcast technologies which surrounded him at the time, the team is keen to move away from the idea of one Welsh voice representing every man or every woman.
John added: "We want to create a sonic landscape for Wales which reflects how it actually is and reveals people who are not normally represented.
"In Dylan's day the broadcast media was in its infancy, and it could be argued that at that time, one powerful voice from Wales was sufficient to represent the nation to the world.
"Today we live in a very different world from the one Dylan Thomas inhabited, with multi-channel television and radio, YouTube, Soundcloud and Facebook, where artists of all kinds are able to place their work directly in front of potential audiences.
"But even with this wealth of opportunities it is often the familiar that frequently commands attention; the tried and tested voice, the cliché of the 'Land of Song,' at the expense of new voices and unusual talents.
"Lleisiau/Voices aims to uncover, and present to the public, the diversity of uses of the human voice in both official languages of Wales, and others spoken by the people who live in Wales."
The team appreciates the type of people they are hunting for may be hard to reach and are not likely to be the sorts to regularly step inside arts centres, but they say this makes them all the more determined to uncover those voices, even if they have to venture out into the four corners of Wales to find them themselves.
Cathy added: "We at Chapter are quite comfortable with this open creative process. We have worked with good cop bad cop before and enjoy how their method is very organic and not overly structured and how these voices may appear as live performances or as recordings as part of an overall soundscape.
"The live performances will also be streamed in high definition via the internet and we're really keen for as many venues as possible to get involved with live streaming the final performance and to help the show reach every part of Wales, whether it's through a theatre, rugby club, society or internationally."
The final performances will also feature contributions from some well known Welsh voices from the world of music, film and television, but the creators would prefer to keep these to a minimum and allow the new talents they uncover during the process to lead the production.
John added: "The overall effect will be bricolage, working with what is available to us during the search and the raw materials we are provided with.
"It's about diversity and difference and valuing what makes Wales what it is."
Performances will happen at Chapter Arts Centre in Cardiff, 8-10 May 2014.
The open auditions take place at:
Chapter, Cardiff: Saturday 1 February 2014, 11am - 5pm
CARAD, Rhayader: Sunday 2 February 2014, 11am - 5pm
Ffwrnes, Llanelli: Saturday 15 February 2014, 11am - 5pm
Theatr Mwldan, Cardigan: Sunday 16 February 2014, 12pm - 6pm
Canolfan Hirael Community Centre, Bangor: Saturday 15 March 2014, 11am - 5pm
Oriel Wrecsam, Wrexham: Sunday 16 March 2014, 11am - 5pm
If you can't make it in person, then there will be the opportunity to submit an audition digitally online. A selection of these will also be woven into the live presentation, as will specifically devised contributions from New York and New Zealand as well as other locations in Wales.
For more information visit www.chapter.org/lleisiau or www.facebook.com/Lleisiau.