Some sunshine for St David's Day
This winter has been very wet and mild - in fact Hawarden in Flintshire was the warmest place in the UK last Sunday with a top temperature of 13.6°C, several degrees above the average which is nearer 7°C.
Mind you, we've had warmer February days in the past. On 23 February 2012, the temperature in Hawarden soared to 16.7°C. While on 23 February 1990, Velindre near Glasbury in Powys recorded 18.6°C, which is more typical of May or even June!
At this time of year, the sun is stronger, the days are getting longer and there are signs of spring in the garden.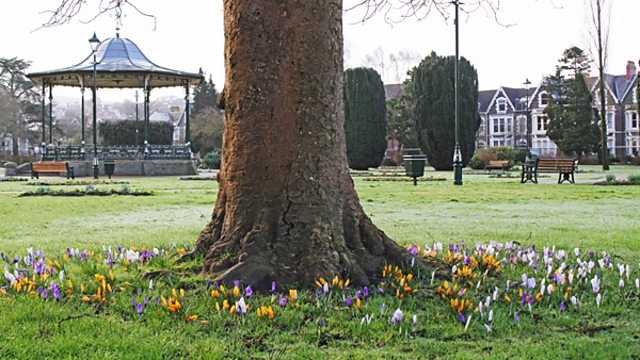 Springtime, Victorian Gardens, Neath. Photo: Mike Davies.
But Mother Nature can quickly remind us that winter is not over yet. A change in wind direction into the north or east and we find ourselves digging out the thermals and clearing snow off the car.
Thursday night into Friday, low pressure looks set to move across Wales bringing a spell of rain, sleet and snow with strong winds on its southern flank. The snow will mainly fall on higher ground with several centimetres possible on some hills and mountains but wet snow may fall to lower levels before it clears on Friday.
At this stage there is some uncertainty in the exact track the area of low pressure will take. The forecast could change so stay tuned for updates on BBC Wales and on twitter @DerekTheWeather.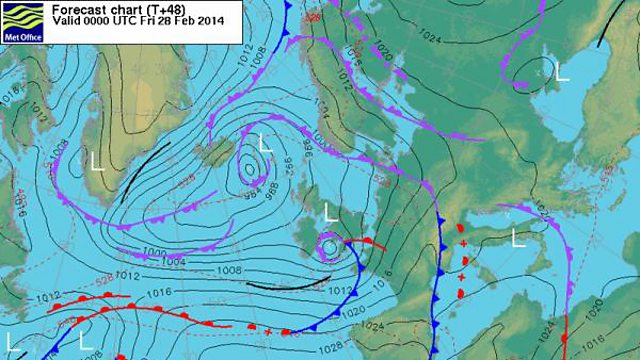 Weather chart for Friday 28 February 2014.
Over the weekend, we should enjoy some sunshine on St David's Day, but few wintry showers are likely too.
On Sunday afternoon and evening rain may spread from the west clearing to heavy showers overnight into Monday.
The first day of March is the first day of spring from a meteorological point of view but weather-wise it will be chilly this weekend with overnight frost and icy patches - the first widespread and significant frost we've had for quite some time.
Hopefully, though, this March will turn out warmer than last March which was the
coldest in Wales since 1962
!