Touring Queen exhibition to mark Diamond Jubilee
An exhibition featuring portraits of Queen Elizabeth II will tour the UK to mark the monarch's Diamond Jubilee in 2012, it was announced today.
Queen Elizabeth II by Dorothy Wilding, 1952 Chlorobromide print, 290 x 215 mm
National Portrait Gallery, London (P870(5)) © William Hustler and Georgina Hustler/ National Portrait Gallery, London
The Queen: Art and Image will feature 60 images of the Queen spanning the six decades of her reign, some of which will be on public display for the first time.
The exhibition is set to open in Edinburgh in June before moving onto Belfast in October. It will show at the National Museum of Wales in Cardiff from 4 February to 29 April 2012.
Following the stint in Cardiff, the exhibition will show in London from May to October 2012.
Among the highlights from the works from life are Annigoni's popular life-size 1969 commission for the National Portrait Gallery, Lucian Freud's 2000-01 portrait from the Royal Collection and Justin Mortimer's painting where The Queen's head floats away from her body against a background of vibrant yellow, pictured below.
Among the exhibited photographers for whom The Queen has sat are Annie Leibovitz, Dorothy Wilding and Cecil Beaton - including his iconic Westminster Abbey Coronation image - and Chris Levine's unusual photograph from 2004 of the Queen with her eyes closed.
A selection of unofficial portraits of the Queen will also be on show, from major 20th century artists such as Andy Warhol and Gerhard Richter, as well as less formal portraits by photographers such as Eve Arnold, Patrick Lichfield and Lord Snowdon.
David Anderson, Director General of Amgueddfa Cymru - National Museum Wales, said: "Amgueddfa Cymru is pleased to be working in collaboration with the UK's other national museums.
"This is an example of how effective partnerships between museums and galleries can make works by such influential artists such as Andy Warhol and Gerhard Richter, accessible to visitors across the country.'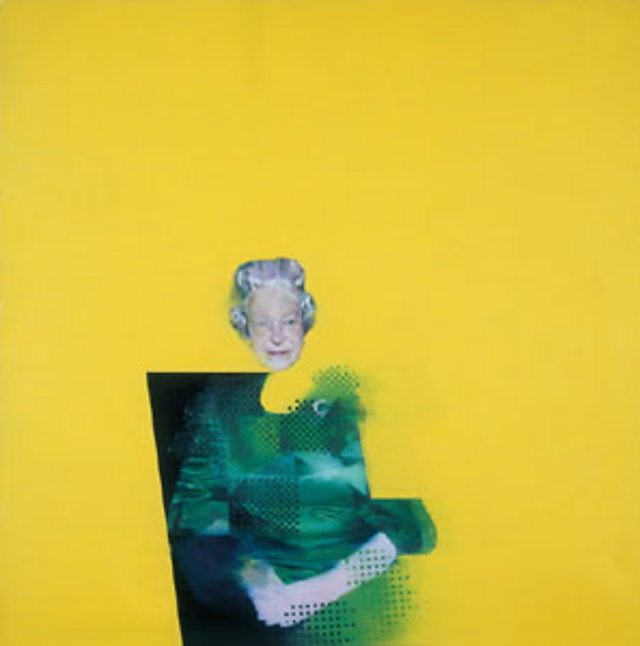 The Queen by Justin Mortimer,
1998 Oil on canvas, 1350 x 1350 mm
The RSA © Justin Mortimer
For more information on The Queen: Art and Image, visit the National Portrait Gallery website.