Radio One
and
BBC Radio Wales
did our annual gig share at
Chapter Arts Centre
on the Thursday, and myself and
Adam
DJd together till the early hours of the morning at the
Buffalo Bar
, so Friday was a bit of a slow start to my Swn.
I drove up to the BBC to catch some special acoustic sessions we were recording with some of the Swn bands, only to rush back to the Toucan to panel some seminars (see
Adam's blog
for more on this).
The afternoon turned to evening, and I was soon trotting around Wombany Street watching the buzz and watching the bands, and getting a little irate with the cues for certain shows. What I did see and thoroughly enjoy involved, Johnny Foreigner, The Longcut, Hafaliadau, Beth Jeans Houghton, and Zissou.
That involved a lot of venue hopping which is why I missed and really really regret not seeing
Los Campesinos!
Girls, Drums and Y Morgrug. More than anything, it was a joy to behold wine bars, restaurants, dance studios get turned into makeshift gig venues. There was live music pouring onto the streets, and for once the music lover was king!
Sunday, I joined the weary looking throng at the Dim Swn party at
Gwdihw
. After three days of international names, and many festival tourists bolstering our local scene, this was a community party. A cozy, bonfire night atmosphere out under the bunting filled sky, with the most psychedelic of Welsh bills. Rich James,
Cate Le Bon
,
Race Horses
, and Y Niwl, plus DJ sets from
Gruff Rhys
, and Kiko. A lovely hot mug of a hug after days of craziness. Thankfully, though I left before the rock and roll dancing and rolling around on the floor kicked in - a strange yet regular pastime at certain events!!!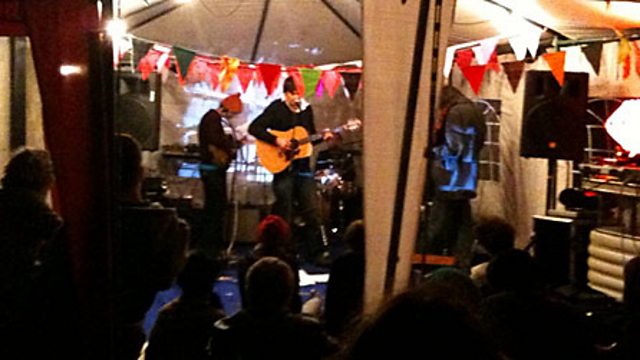 So, that was Swn 09. Many say the best yet. Guess we'll just have to wait and see what's in store for Swn10. But thanks to anyone who came to the Marina gig and supporting new music in the city in general. Don't make it an annual event, check out your weekly listings at gig venues - and make Cardiff consistently special!

Check out some Swn photos here:



Some Swn reviews here: