That is a very big mountain
It may be argued that the tone poems of Richard Strauss represent the apex of late Romantic (or early modern if you prefer) programmatic writing.
His crystalline depictions of Till Eulenspiegel, Don Quixote, and of course, the infamous Don Juan, not to mention his not so anonymous (rather narcissistic) hero of Ein Heldenleben, are nothing short of remarkable. These are musical pictures in technicolour.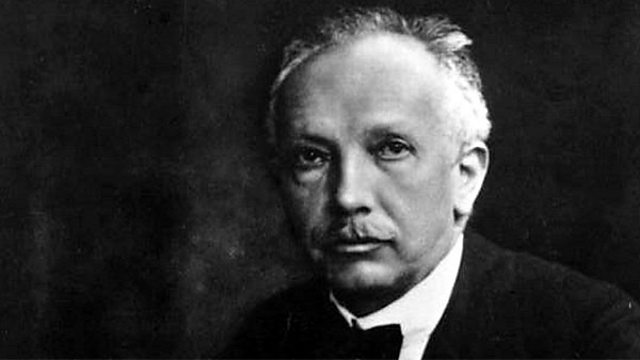 Richard Strauss
As I've written on previous occasions, his writing is incredibly technically challenging, and one thing you cannot do in the music of Richard Strauss is blag it. Oh, that there was a magic button to press that would enable one to be proficient in the pages upon pages of seemingly endless notes that make up his magnificent tone poems, for indeed, it is not just the technically trickiness of these works that make them tough, it is also the sheer volume of notes!
Nonetheless, despite the cold sweat inducing difficulties in Strauss, for me there is also a vast amount of heart. Yes, there is also an incredible amount of the composer's own ego apparent, but the warmth, passion, and tenderness surpasses, in my opinion, all else.
So, how does it feel to perform a work such as Strauss' Alpine Symphony on a stage like the Albert Hall in the BBC Proms? There is a great deal of nervous excitement for starters. You leave the bullring (as the RAH backstage is known) and walk on to the stage to stare out at a sea of faces, many of which are rather close to you. A work like this is often discussed in rather reverent tones, and so, there is a great feeling of pressure to get it right.
However, when the first downbeat falls, much of this sort of melts away. All your concentration becomes focused on the music in front of you, what you've rehearsed, the conductor, your principal, the leader of the orchestra, your colleagues. It's almost like everything else around you slows down. Your concentration becomes so focused that something like a mobile phone going off, or someone taking a photo with the flash on can be really startling.
It is only as the last chord dies that you become aware of the sweat on the back of your neck, the fact that your skirt lining is sticking to your legs, and that your limbs have developed a tired heaviness akin to having lifted too heavy a weight at the gym too many times.
You stand for the applause, you walk off stage, you take off your fancy concert clothes, you clean your instrument, you leave the hall, you have the traditional post-match analysis with your friends, and you start to think about the next programme.
But, for that brief time that you are on stage, nothing else matters. Everything happens very much in the moment. Some romantic souls (normally in pulp fiction style books) describe the end of a performance like waking from a dream, but, perhaps, there is an element of truth in that.
The BBC National Orchestra of Wales performed Strauss' Alpine Symphony on Thursday 18 July. The orchestra will be performing at the BBC Proms on Monday 29 July, with a programme of music by Colin Matthews, Prokofiev and Shostakovich. Listen live on BBC Radio 3 from 7pm.