Caradog Jones: Welsh war veteran who survived kamikaze attacks
Today, Wednesday 15 August, marks the 67th anniversary of Victory over Japan (VJ) Day.
One war verteran, 88-year-old Caradog Jones from Anglesey, recalls the role that he played in the Battle of the Pacific, known as the 'Typhoon of Steel', how he survived kamikaze suicide attacks as well as naval battles stretching from the Mediterranean to the Pacific.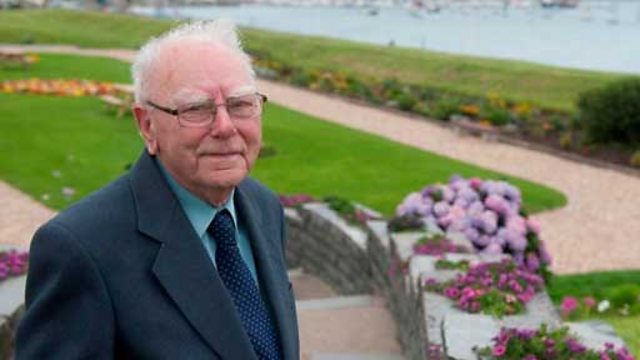 Caradog Jones in 2012
Jones was just 18 years old when he was called up by the Royal Navy as an able seaman. He joined the Torpedo Branch and was responsible for firing torpedoes from destroyers on enemy ships and dropping depth charges to sink incoming enemy submarines.
"I went to war completely innocent, not knowing what to expect," says Jones.
"The funny thing is that I joined the Royal Navy and I couldn't even swim a stroke, despite being surrounded by the sea growing up on Anglesey. I still can't swim to this day."
HMS Queenborough – 'The Lucky Ship'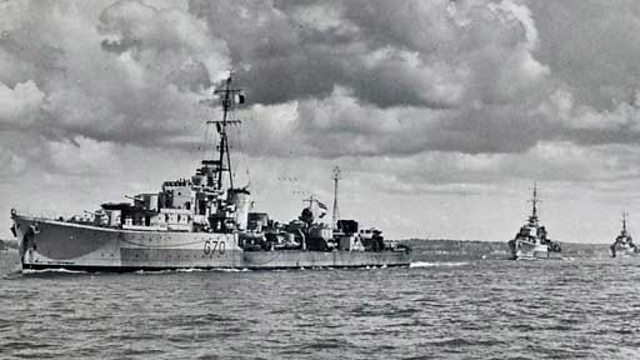 HMS Queenborough
After completing his training in Plymouth, in 1943 Jones joined the crew aboard HMS Queenborough in Gourock, Scotland. This ship was dubbed 'The Lucky Ship' after the war in reference to all the near deadly scrapes she and the crew emerged from unscathed, despite fighting in some of the deadliest theatres of war.
Sicily: first taste of war
The Queenborough set sail for Gibraltar and the Mediterranean to prepare for her role in the invasion of Sicily, a major campaign in which the Allies took the island. The invasion began on 9 July 1943 and lasted until 17 August.
"The troops were being transported to Sicily from Africa after fighting in the campaign there," recalls Jones.
"Our job was to keep them safe from submarine and air attacks when they made their way to invade Sicily. We also had the job of knocking out the German big guns along the coast that were pinning back our troops. We would shell the German positions until they pulled back so that our troops could move forward.
"We were getting bombed constantly wherever we were. On one occasion during Sicily, six German fighter planes came at us with a bomb each aimed at us. The bombs were so close that we ended up going right through a bomb water spout in front of us."
The invasion of Italy
Success at Sicily led to the invasion of mainland Italy during September 1943 and the Queenborough again had a major role to play in shelling positions and protecting other warships. She was one of the first warships to pass through the Mesina Straits and again, she emerged unscathed after being targeted by six German fighter planes.
"After we took Sicily, we went on to take Salerno and mainland Italy and moved up the Adriatic Coast to the port of Bari."
The 'Lucky Ship' lived up to her name on further occasions during the Italian campaign.
"We would be shelling positions in the day and every couple of nights we would go out across the Adriatic to Yugoslavia on patrol searching for enemy ships and submarines. The motto of our ship was 'Seek and Slay," says Jones.
"One evening while we were out on patrol, the port of Bari where we were based was raided heavily by the Germans. Seventeen of our ships were sunk in the harbour that night. We were told not to go back there and we had to dock at another port.
"We would also regularly go on patrol with one of our sister ships. One day, she went out on her own and we stayed behind. She had only gone about one hundred yards out of the port when all of a sudden she was blown up by a mine in the water and we lost her. We were lucky that day I guess and it could have been us."
Kamikaze attacks
After leaving the Mediterranean and attacking Japanese positions along the Indian Ocean and the West Coast of Malaya, at the end of 1944, the Queenborough was deployed to the Pacific Ocean to support in the war against Japan.
This was where Caradog Jones and the Queenborough took part in the Battle of Okinawa, the largest amphibious assault in the Pacific War on the island of Okinawa off the south coast of Japan. The battle lasted from early April until mid-June 1945.
The battle has been referred to as the 'Typhoon of Steel' in reference to the ferocity of the fighting, the intensity of kamikaze attacks from the Japanese defenders and the sheer numbers of Allied ships and armoured vehicles that assaulted the island.
From 23 March to 29 May 1945 the Queenborough was part of an escort protecting British carriers as their aircraft attacked Japanese airfields around Okinawa and the surrounding Ryuku islands.
Jones also witnessed at first hand kamikaze suicide attacks on Allied warships.

"The Japanese were trying their best to stop us and they threw everything at us. We had a huge task force there. There were 1,400 ships in all and 882 assault ships. The Americans also had around 182,000 troops on Okinawa. We were there for 31 days in total and it was non-stop."
Sitting ducks
On one occassion the ship escorting four aircraft carriers (HMS Victorious, Illustrious, Indomitable and Indefatigable) was attacked by Japanese kamikaze planes.
"We knew they were coming and we all went to our action stations and braced ourselves," says Jones.
"Our job really was to distract Japanese aircraft from attacking our troops on Okinawa. We were sitting ducks. I remember the guns on every ship opening up at the aeroplanes as they came through the clouds at our carriers. Our aircraft carriers were their priority targets. The Illustrious and Indomitable were struck, but their decks were only slightly dented.

"When the kamikaze pilots would hit our aircraft carriers, what was left of them on the flight deck were dragged and pushed over the side to make way so that our planes could continue to land and take off on the deck during battle. Such was the impact, sometimes they would have to change the damaged plates on the deck."

The war ends
World War Two culminated in the atomic bombings of Hiroshima and Nagasaki and Jones vividly remembers being told by the ship's captain of the plans to use atomic bombs against Japan.
"Once we were given the all clear to move, we went to Hong Kong where the admiral of our fleet went to meet a Japanese commander to find out where all the prisoner of war (POW) camps were.
"We were taken to an island near Hong Kong where most of them were kept and there were a lot of Australians there. We took about 30 from there on our ship. They were in a sorry state and we were warned not to give them any food because they could die."
Heroes welcome
The Queenborough had the honour of escorting an aircraft carrier full of released Australian POWs back to Sydney harbour at the end of the war.
"We had a huge welcome as they were expecting us in," recalls Jones. "The Sydney Harbour Bridge was black with people. It was a huge celebration.
"The POWs were malnourished and some of them couldn't walk. We went up to Katoomba in the Blue Mountains for a break for 10 days and then I was invited to stay with a family in Sydney. He was a major in the army and we were friends for many years after that."
Christmas at home
The Queenborough was handed over to the Royal Australian Navy on loan after the conflict and Caradog returned back to the UK on another ship, HMS Norman, before arriving home in Anglesey a week before Christmas Day, 1945.
"I hadn't been home for two and a half years and I got home a week before Christmas.
"My brother had been fighting out in Burma and luckily he came home two days before Christmas. It was wonderful to be home with everyone safe. My brother had joined since 1939 and the war ended for him on VJ day as well. It was strange that we were both back at the same time. My mother was delighted to have her boys back home safe and sound."
The hero returns
Sixty-seven years after he sailed into Sydney Harbour, Caradog Jones will be returning down under for three weeks in November to pay his respects to fallen comrades and retrace his steps.
During his visit, he will be taking part in Australian Remembrance Day in Canberra on 11 November along with his daughter Gwenda.
Jones' story is featured as part of the Big Lottery Fund's Heroes Return 2 programme. The programme has no fixed deadline for applications at this time and is for veterans who have so far been unable to undertake a commemorative visit.
More information and details of how to apply for a Heroes Return 2 grant are available by calling 0845 00 00 121 or visiting http://www.biglotteryfund.org.uk/prog_heroes_return