Weatherman Walking returns
Just a quick reminder that my new Weatherman Walking series starts tonight at 7.30pm on BBC One Wales so I hope it inspires you to go on a nice long walk.
In episode one, I tackle a challenging walk in Nant Gwrtheyrn with guide and local photographer, Glyn Davies.
Some of you may remember I blogged about this walk back in June when we filmed this and another walk up Cnicht Mountain.
You can see some of Glyn's lovely pics from the walk we did here in the gallery.
The Iron Age fort of Tre'r Ceiri and ancient stone huts clinging to the southern most peak of the summit of Yr Eifl were amazing to see first hand.
For the second walk we went coastal and hopped on a boat over to Flat Holm Island in the Bristol Channel. This is a tiny island but a fascinating place to walk around as there is so much history packed onto this little rock.
I was also lucky enough to be visiting when a maintenance crew were working on the lighthouse so got a very rare, guided tour of the inside.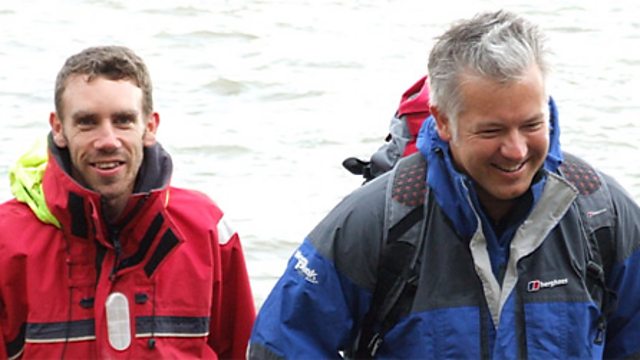 Derek sharing a joke with Flat Holm Island resident and head warden, Matthew Lipton.
There are some nice pics of the walk we did here and the weather was amazing so we enjoyed a nice day with local head warden and guide, Matthew Lipton.
There are four episodes in the series so I hope you enjoy them and have time to browse the new weatherman walking website.
If you're not sure where I'm walking - visit our interactive walking map for more details and get a bird's eye view.
This year we've improved the walks and printable maps and dabbled with GPS points for at least two of the walks thanks to Gull and his new fangled gadgets!
As usual we had a great time making the series, met some lovely people along the way and saw some incredible sights in this amazing country, we're lucky enough to be able to live and walk in!
Do let us know what you think either here in the comments area below or via email at wales.nature@bbc.co.uk
Derek