Hijinx Theatre presents The Snooks Brothers
Hijinx Theatre bring a little theatrical entertainment to the stressed Christmas shoppers of Cardiff next week with their short play The Snooks Brothers.
The Cardiff-based theatre company will transform one of the empty retail units in Morgan Arcade into a theatre set in the style of a Dickensian bank. It is here that two curious brothers will be hard at work, and where their customers - the audience - will intrude on their work and meticulous routine.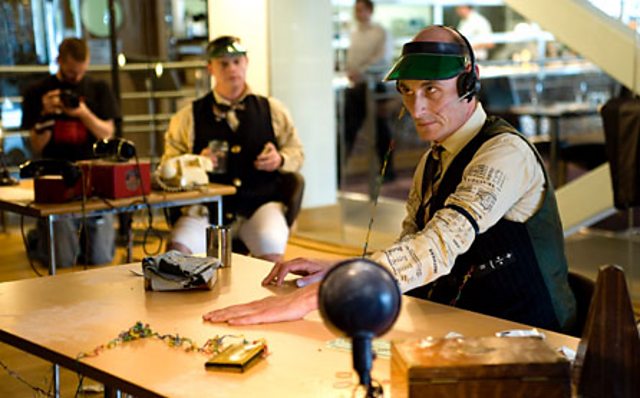 The Snooks Brothers. Photo: Como Loveo
The Snooks Brothers is inspired by Tellson's Bank in Charles Dickens' A Tale of Two Cities, and is a comical offbeat play about the relationship between two brothers and their familiarity, contempt and painstakingly rigid routine.
Hijinx will perform the production, which lasts around 40 minutes, three times each day from Tuesday 20 December to Thursday 22 December. Performance times will be displayed in the shop window.
Tickets are available on the door free of charge on a first come, first served basis but audiences are invited to make a donation to Hijinx Theatre, which specialises in working with people with learning disabilities through the medium of theatre and regularly employs learning disabled actors in its professional touring shows.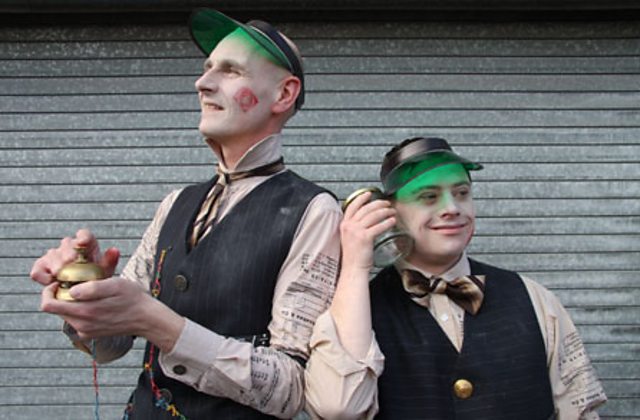 Cast members of The Snooks Brothers. Photo: Ceri Legg
Between the scheduled performance passers-by will be able to watch the two brothers hard at work in their bank, which will be decorated in an unusual Christmas style. It'll be more Scrooge than Santa.
The director of The Snooks Brothers, Ben Pettitt-Wade, said: "Audiences love the fact that they are a part of the unfolding comedy.
"It always puts a smile on peoples' faces and so we're delighted that we can bring an extra sparkle to shoppers in the Morgan Arcade this Christmas."