Flaming June: weekend weather 7 June 2012
So much for flaming June; flaming awful more like! If you think today is bad enough, there is worse to come. Wales is in the firing line for some stormy weather in the next 24 to 36 hours with a deep area of low pressure moving across the UK bringing heavy rain and strong to severe gale force winds, very unusual for this time of year.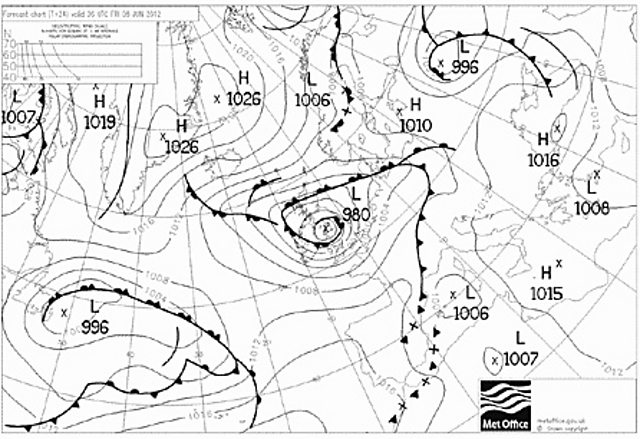 Met Office weather chart for Friday 8 June 2012
The south and west will bear the brunt of the gales, especially on the coast and on high ground with gusts around 60mph or more in exposed locations. The wind could bring even down a few trees given they are in full leaf. Poor travelling conditions are likely too with a lot of surface water and spray on the roads and motorways.
50 to 100mm of rain (two to four inches) are possible on high ground in the south and west and parts of Mid Wales by the end of tomorrow. Rivers will become swollen and there is also a risk of some flooding on the Bristol Channel coast due to the combination of high tides, between 9 and 10 metres, and strong onshore winds.
Over the weekend, the weather will improve. Turning drier and brighter with some sunshine and lighter winds. Perhaps a few showers on Sunday.
The changeable/unsettled weather looks set to continue for at least the next 10 days with a mixture of sunshine, showers and longer spells of rain at times. Heavy downpours are likely in places with a risk of thunder. There is no sign yet of any prolonged settled weather on the horizon but some days will be better than others.
In the meantime, take care if you are travelling in the next 24 or 36 hours, we are in for a dose of rough weather! If you take any good pictures please send them in either by email to dereksdiary@bbc.co.uk or on Twitter. You never know, they may end up on the telly!