An exciting new boardwalk is helping to open up the great outdoors to visitors at Dinefwr Park in Llandeilo.
The 600 metre-long wooded walkway, which gives visitors easy access to special areas of the park, was opened by Iolo Williams earlier this month and is officially open to the public from Sunday, 20 March.
The boardwalk takes visitors on a journey of discovery into the heart of the park, over bogwood, streams and ancient ruins.
It's handrail-free which creates a true sense of freedom while encouraging walkers to reach out and touch the centuries-old trees, mosses and lichens.There are new viewing platforms and a jetty so that visitors can get a close view of pond wildlife.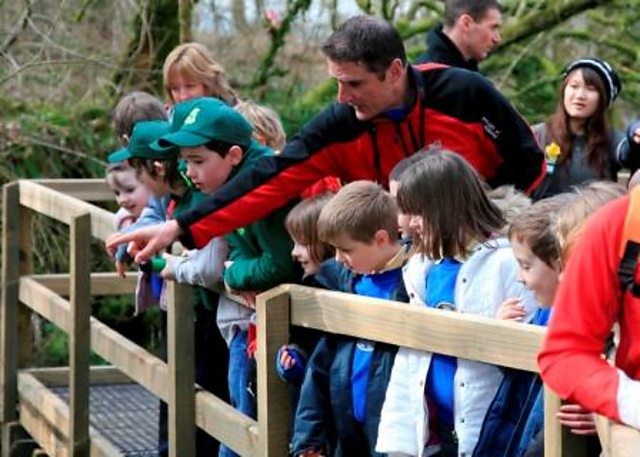 Iolo Williams at the new boardwalk opening.
"The boardwalk is a fantastic resource which really brings nature to life and gives you the chance to get up close and personal with the environment," said Iolo.
"It's not just a lovely walkway with amazing views, you can actually get your hands dirty and feel the natural habitat under your skin."
Dinefwr Park, famous for its ancient woodland, white park cattle and fallow deer, is the only area of parkland in Wales to be designated a National Nature Reserve.
An action-packed outdoor activity programme is planned for the year ahead, ranging from den-building, tree climbing and orienteering.
A number of special activities are planned for Sunday, March 20 to celebrate the new boardwalk which is opening in partnership with the National Trust, the Wildlife Trust of South West Wales and the Welsh woodlands association Tir Coed.
Activities include 'discovery-pack' rucksacks crammed full of items to make the journey through the park fun for all the family. Among the goodies inside are torches for peering into dark crevices, magnifying glasses to help spot tiny creatures, walkie-talkies plus a sheet of activity suggestions for an afternoon of discovery. The fun starts at 11am through to 4pm.
Dinefwr is open 11am-5pm daily. Normal admission charges apply (National Trust members are free).
For more information please call 01558 823902/824512 or email Dinefwr@nationaltrust.org.uk