Festival grandparents show their attitude at Green Man
There was a time when festivals were traditionally the home of loud music and raucous hedonism, and children and grandparents were scarce, but the Green Man Festival has built up a loyal following among folk fans, families and alt-rock aficionados of all ages, many of whom return year after year.
Among the young people and families, Green Man in Powys has a large festival grandparent contingent. Many of the "festival grandparents" - the die hard music fans who might be pushing 70 or over - refuse to hang up their wellies. For them, the threat that one day the fun might end altogether makes them among the most positive festival-goers around.
"I was 16 when I went to my first-ever music festival in 1969 - the Bath Festival of Blues with Led Zeppelin and Fleetwood Mac, and John Peel was compere," says Jacquie Linck from Maenclochog in Pembrokeshire, who's at Green Man with her 14-year-old granddaughter Jamie Morgan and friend Izzie Barrett from Cardiff.
"Back then it was a case of 'Oh my word, there's an old person' - and they were probably only 30!"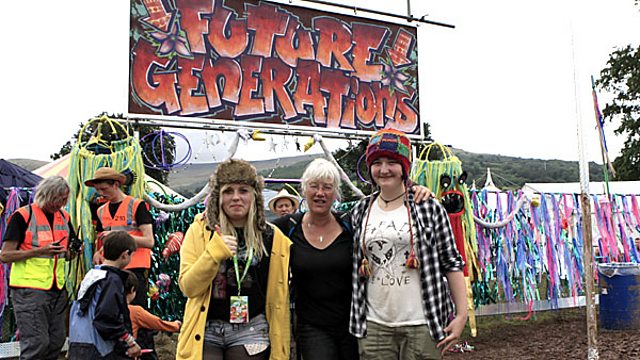 Jamie Morgan with grandma Jacquie Linck and friend Izzie Barrett
The people I met at Green Man last weekend looked happy and relaxed - delighted and thrilled to be camping at a music festival. I saw people in their 70s, full of life, having a fantastic time in some muddy fields listening to the music they love.
Pat Stancomb, a grandmother from West Sussex, is over 70 and at the festival with three generations of her family: her sister Sue - fondly referred to as "farmer Aunty Sue' - her daughter Kate Thompson, Kate's partner Amos Clerke and Pat's 14-year-old granddaughter Lilly.
"I've always loved live music and in particular Green Man," says Pat. "We're all having a fantastic time and everybody is delightfully friendly."
"I like different bands from Granny," says Lilly. "She likes acoustic acts and doesn't like loud banging music, but we all like Van Morrison."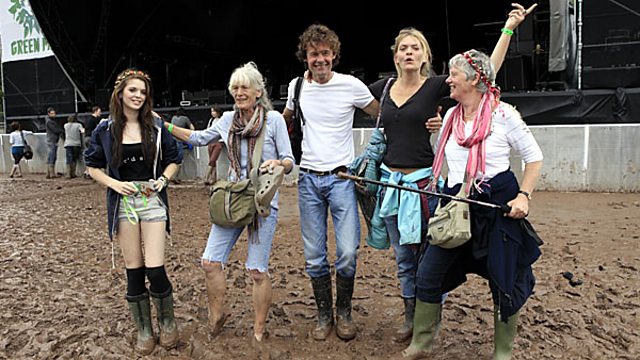 Lilly, Pat, Amos, Kate and Sue
Green Man started in 2003 as a one-day event for 300 people, but is now one the biggest music festivals in Wales. Taking place in the Brecon Beacons over four days, it boasts several music stages, cinema and comedy tents. It has expanded its lineup, after starting as a strictly folky affair, while still retaining its outsider credentials.
Post-rock quartet Explosions In The Sky headlined last year alongside Iron And Wine and Fleet Foxes. This year Mogwai, Van Morrison, Junior Boys, Metronomy and Ghostpoet are among the headliners. It is this mix of old and new entertainment, reflected in the audience, that makes the event work so well.
Is there a more child-friendly festival in Britain than Green Man? Perhaps not. There's a designated family camping area just a stone's throw from all the entertainment, and the children's area has free workshops and activities. A great deal of the fun comes from mooching about the breathtakingly beautiful hill-fringed site, past kids splashing in streams, real ale tents, quirky films and stalls selling candle-powered boats.
In 2009 the festival introduced a holiday ticket offer which gave people the option to stay on the festival site during the week and enjoy the local surroundings, as well as gaining them full access to the festival over the weekend. Family holiday tickets sold out weeks ago.
So if the t-shirt still fits - and even if it doesn't - festival grandparents may have the last laugh. It seems, very gradually, some commonly held preconceptions about ageing are changing: that it's not all about decline and a steady reduction in activity.
Fifty years ago it was absurd to think that grandparents would be at a music festival, or that people over 45 would compete in athletic sports, but we've just seen Japan's Hiroshi Hoketsu, London 2012's oldest Olympian, compete at the age of 71. Hopefully music festivals and sports are just part of those changing attitudes. At Green Man there was a huge sense of joy among this age group, but the overriding feeling is of a sense of life.