Well, it was my last day at the Eisteddfod yesterday and the busiest to date.
I made it back in one piece from Maes B, the youngsters' field, although they did seem inclined to sing the words of a certain advert at me when ever I asked a question…
The day started with a walk around the Maes and who did I spot but the Wales coach, Gary Speed! I asked him how I might make the leap from Welsh Anthem Singer to Welsh Player…He seemed to stare at me for a bit before saying with a cheeky smile…'I think it would take a bit of time'. On reflection, I must come to terms with the fact that my hopes of an international cap are well and truly over.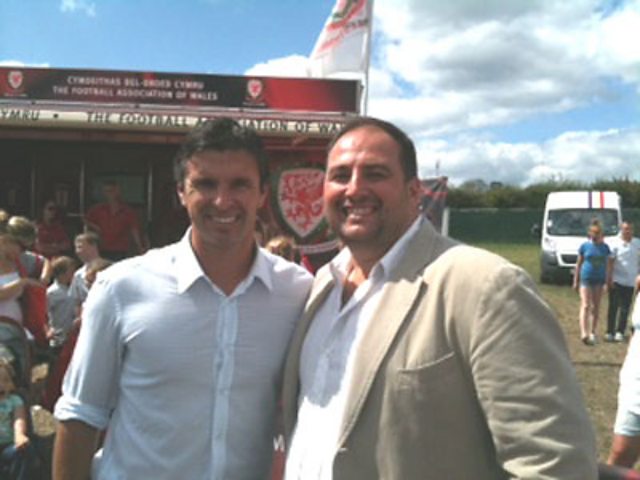 Gary Speed & Wynne Evans
Some more filming around the Maes followed and the crew were in good spirits at the thought of not having to follow me around after the day was over! We had the usual team curry at lunch time- something I really recommend if you find yourself on the Eisteddfod field.
After a tearful farewell to the guys in the curry van, the crew and I went off to the Stiwt in Rhos to hear a sing-song with a couple of local male voice choirs. You know what, you really can't beat a good AMEN!
My final job of the day was to put all the voiceovers onto the programme ready for transmission. The programme, 'Eisteddfod 2011 with Wynne Evans' will be broadcast on BBC2 at 5:25pm this Sunday. At thirty minutes long, it'll show only a fraction of the fun I've had this week.
This is my last blog for the BBC from the Eisteddfod and I really would like to thank my Crew and all of the BBC guys both up here on the Maes and in Cardiff for making this one of the most enjoyable week's work I've had in a long time. So until next year lovely people, Hwyl Fawr!