Manic Street Preachers' Generation Terrorists: Matthew Olivier, studio engineer
As we celebrate the 20th anniversary of the release of Manic Street Preachers' Generation Terrorists, we ask sound engineer Matthew Olivier about his work on the album at Black Barn Studios in Surrey.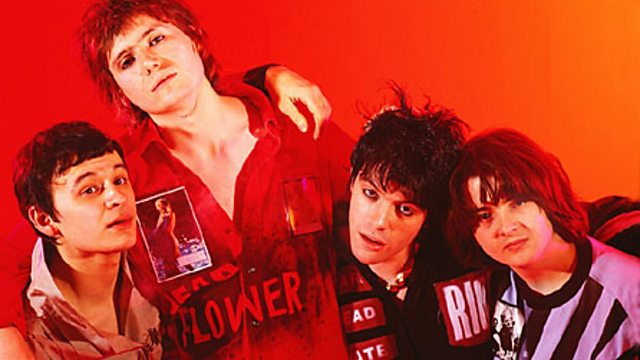 Manic Street Preachers. Photo: Tom Sheehan
"At the time I was the in-house engineer for Black Barn where the album was recorded. I think the studio must have persuaded [producer] Steve Brown that I was good enough.
"I read the NME at that time and so knew of them and their reputation. I guess I was a bit apprehensive, not knowing quite what to expect and it being just after the photos of Richey were in the magazine. I liked what they were about and the way they were going about it. I had bought Motown Junk so knew their music already.
"I suppose the album is a bit long! But I guess that was part of what they were about, releasing a double album as a début. I remember them wanting it to be a triple album but I think that was a bit too much for Columbia. Oh and there are some great guitar sounds on it.
"I think my favourite track always was Little Baby Nothing but I really like the Bomb Squad remix of Repeat. Being a fan of Public Enemy and the Bomb Squad productions it was great to hear what they would do with one of their tracks.
"It's very difficult for me to comment on whether it's a classic. Having been closely involved in it I think that I listen to it in a different way. I seem to remember that we spent many, many weeks in Black Barn working seven days a week so it's impossible to distance yourself and not hear it without all the stuff that went along with the making of it.
"I am proud of my work on the record. I think I worked hard on it. When you work on something like that you do get very involved and thinking back to it now I certainly have some really good memories of those sessions and that time.
"Being in a residential studio for that amount of time is bound to create certain incidents. One thing I remember very clearly was managing to break the headstock off of James [Dean Bradfield]'s Les Paul Gold Top by knocking it off its stand. A little bit awkward!. He was very good about it but I still remember feeling really bad. It was fixed though and I imagine he still has it.
"Maybe a better memory was driving the band to London to buy Guns N' Roses' Use Your Illusion I and II. They were released during the sessions and Tower records on Piccadilly Circus opened at midnight to allow people to get it as soon as it was out.
"It probably seems a bit silly now as I'm sure the CDs could have been sent down to the studio for the morning but that wasn't really the point. So we drove up to town in whatever old car I had at the time, queued up and bought the CDs. As a thank you they bought me a CD. I think I chose Metallica's 'black album' just to be different. We drove back and immediately listened through to both Illusion albums all the way through. I can't quite remember the reaction. Mixed I think!
"Is it important in UK music history? I guess it is! Personally, as I said, I don't or can't listen to it with any real degree of objectivity. It was certainly important for the band and they have obviously gone on to bigger things with a 20 year career behind them.
"But when I look back at these sessions I just remember it as being a really good time. I was young and working as an engineer in a recording studio with some really nice people. It is difficult to see it or listen to it in any other way. I mean you do hope that everything you work on will be well received and there was obviously a lot of talk and anticipation about the album. Some obviously think it is important and hence this 20 year anniversary thing, but for me I'm just really glad to have been a part of it."
Feel free to comment! If you want to have your say, on this or any other BBC blog, you will need to sign in to your BBC iD account. If you don't have a BBC iD account, you can register here - it'll allow you to contribute to a range of BBC sites and services using a single login.
Need some assistance? Read about BBC iD, or get some help with registering.