Yesterday parts of south and west Wales were hit by heavy snow which was not expected. It just goes to show you can't be right all the time in this job.
Forecasts are much more accurate than they used to be with advances in technology but sometimes Mother Nature has a few tricks up her sleeve, things change and we're caught out!
Thankfully, the weather is much more straightforward today - dry and settled with some cloud and sunshine.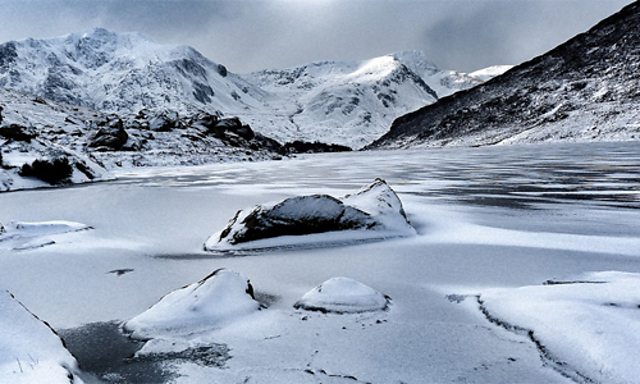 Frozen lake, Llyn Ogwen Snowdonia by Christian Roberts
Tonight will be dry with a widespread frost and ice with lowest temperatures -1 to -7 Celsius.
A few freezing fog patches are possible too, mainly in the east and the Marches. The far south west will be less cold and breezy.
On Friday, rain will slowly spread across the rest of the country with rain on low ground in the south and west but further inland and higher up some snow.
There will also be snow in the Valleys for a time tomorrow afternoon and more snow in Mid Wales, Powys and the north.
The heaviest snow will be in the north east, especially on high ground with drifting and blizzards on the mountains.
A yellow warning of snow has been issued by the Met Office.
Tomorrow night will be wet and windy with heavy rain. Some snow too on higher ground in mid Wales and the north and north east. Inland temperatures will be around freezing with a risk of ice.
Saturday should be a better day - breezy and less cold with plenty of dry weather and sunshine but make the most of it!
Top temperatures will be higher than recently in the range 5 to 8 Celsius.
Saturday night/ into Sunday the weather will turn wet and windy with heavy rain and strong to gale force winds.
This will lead to a rapid thaw of lying snow bringing a risk of localised flooding and possible avalanche in the Snowdonia mountains.
A Met Office yellow warning of heavy rain has been issued for Sunday
On Sunday, heavy rain will clear to brighter skies and frequent, blustery showers.
The showers may be wintry on the higher hills and mountains. Temperatures on Sunday 6 to 8 Celsius and windy, the wind making it feel chilly.
So, if you're fed up with snow and ice, there is a change on the way over the weekend, with a thaw!
Derek