Behind the scenes at Newtown's Robert Owen Museum
Keep an eye out for Baker Boys: How the Co-op Started on Monday 7 February, 10.35pm, BBC One Wales.
The documentary goes behind the scenes of BBC Wales' heartwarming drama Baker Boys, and also explores the remarkable life of the co-operative movement's Welsh founder Robert Owen.
One of the people interviewed in the documentary about Robert Owen is Pat Brandwood.
BBC Wales history asked this Newtown resident and Owenite to write a blog about about her passion for the man, her work with the Robert Owen Museum in Newtown and why she thinks Owen's ideas still resonate 153 years after his death.
Pat Brandwood, curator, Robert Owen Museum
Pat Brandwood writes:
I am new to blogging, so let me introduce myself. My name is Pat Brandwood and I am curator of the Robert Owen Museum.

I have admired Owen since my early 20s when I first came across his ideas about learning through enjoyment and discovery. This approach brings out the best in students and remains as inspirational now as it was then.

After a career in teaching and lecturing, my husband and I retired to Newtown and, as a fan of Owen, I called into the museum to offer my services. After a short spell as education officer, I was offered the curator's job at the end of 2009, and all thoughts of a leisurely retirement disappeared.

I soon realised that Newtown was central to Owen's vision.

It was here he went to school, explored the countryside, learned to dance and run faster than any of his contemporaries.

When he set up his school in New Lanark as a model for "universal education" he used his happy Newtown years as the basis for the curriculum: there was dancing, sport and nature study.

Despite setbacks, Owen remained an optimist about the future of society.

He spent his lifetime and his fortune campaigning for factory reform, co-operative communities, trades unions, and education for life.

His vision was broad, democratic and surprisingly modern. As he wrote in 1841, his aim was "to promote the well-being, and happiness, of every man, woman, and child, without regard to their class, sect, party, country or colour".

He returned to Newtown in 1858 to, as he put it, "lay my bones whence I derived them".

He still loved the place and Newtown honoured him with a grand funeral. His friend and lifelong co-operator, GH Holyoake, was one of his chief mourners.

When Holyoake returned to Newtown over 40 years later, he found the grave neglected and he used his influence in the Co-operative Union to improve the grave and make it a fitting memorial to his friend and "social father".

At the opening in 1902 he gave an impassioned tribute to the great man. You can read it on the Co-op archive.

The museum was opened in 1929 on the site of his birthplace. The collection was donated to the town by local gentry, business people, co-operators and American members of the Owen family.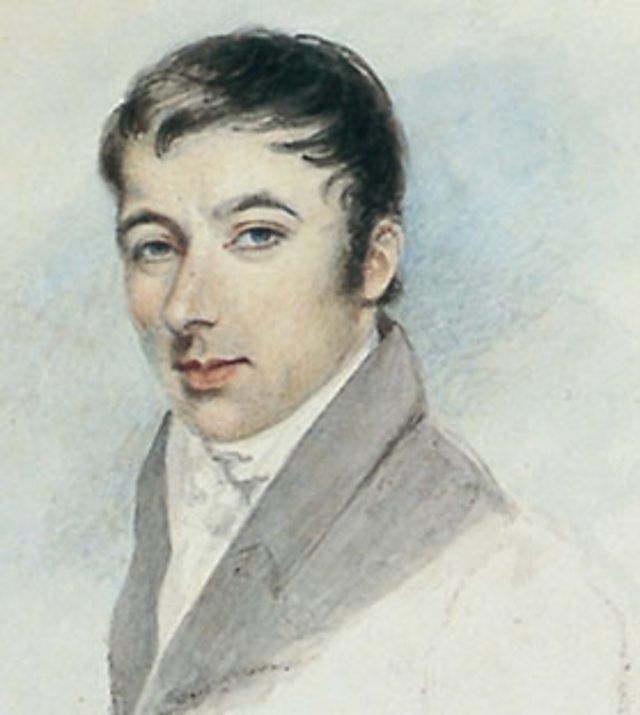 Portrait of Robert Owen © New Lanark Trust
The Co-operative Society continued to support Newtown in honour of their "founding father" and made a large donation to a lending library at the Cross in Newtown which has housed the Robert Owen Memorial Museum since 1983.
The museum is very small but visitors like the intimate, almost domestic feel. And though the real importance of the collection lies in letters, campaigning pamphlets and books by Owen, the museum is full of images of Owen, as well as some furniture and paintings which he would have known from his homes in Newtown and New Lanark.
My favourite exhibit is a very modest one: an empty glasses case. But with it comes a letter from the optician's daughter explaining that Owen came to their shop for a new case and when Owen asked the price, her father said he would be honoured for Mr Owen to have it free of charge, if he could keep the old one in memory of their meeting. She had kept it for 80 years and sent it to Newtown from America!
Throughout the museum's history fans from all over the world have found their way to this small market town. We regularly get visitors from Japan, Australia, USA and Europe.
For me and the other unpaid volunteers, the best reward is when someone discovers the range and impact of Owen for the first time. Our visitor's book is full of comments from people who have just learned of the continuing impact of his ideas.
Almost as important as the museum itself is our website, which we believe is the best source of information about Owen and his writings on the web. It's a pleasure to receive emails from Owenites and co-operators all over the world.
My aim is to make people in Newtown, Wales and beyond aware and proud of a man who made his mark on history as one of the most prominent social reformers of the period, a pioneer of the co-operative and trade union movements and a source of inspiration for political theories from David Cameron's Big Society to green issues, fair trade and socialism.
You can meet Pat and the other volunteers at the Museum of Robert Owen, The Cross, Broad Street, Newtown, Powys. The phone and fax number is +44 (0)1686-626345, and opening times are on the visitor page of the museum website.
Phil Carradice has written a blog on the remarkable life of Robert Owen. Read it on the BBC Wales History blog.