Rare sand lizards released in north Wales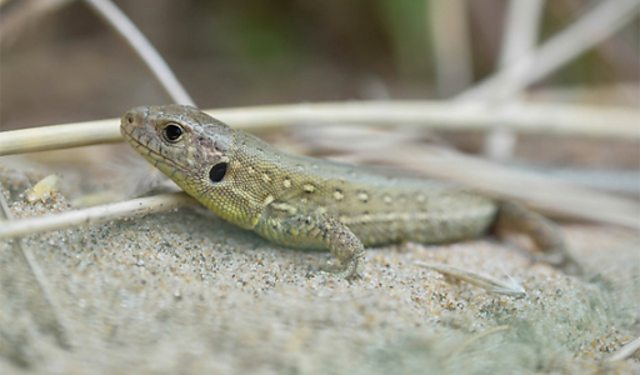 A rare sand lizard being released at Talacre dunes in north Wales
Once commonly found on dunes and heathland, sand lizards became endangered after the gradual destruction of their habitats.
27 lizards, reared at Chester Zoo, will now return to their native habitats in Talacre dunes, north Wales.
The long-term aim of the conservation project is to restore the species to its historic range.
In the UK sand lizards only live on two rare habitats; sand-dune and lowland dry heath.
Due to vast historic losses, and fragmentation of these habitats via development and land use change, the species has been lost from north and west Wales.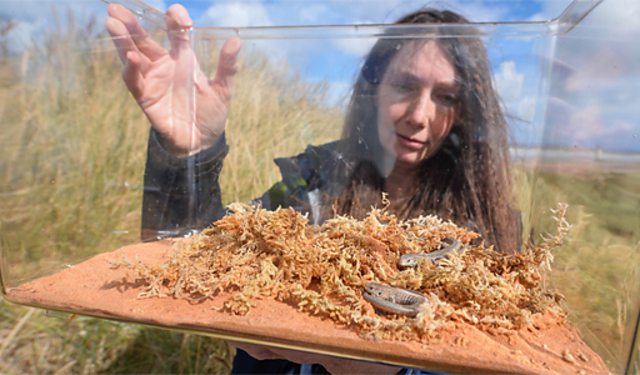 The rare lizards were raised in special outdoor enclosures in Chester Zoo
The lizards were bred at Chester Zoo in outdoor enclosures designed to mimic the sand lizard's natural environment.
After being reared by expert keepers for a number of weeks the captive bred juveniles are released in early September to allow them time to get used to their new habitat before hibernation begins in October.
Liz Howe of Natural Resources Wales said: "This new sand lizard release site on the dunes at the end of the River Dee is an example of the high quality habitat we have on the Clwyd coastline, and will complete the re-introduction programme of this previously extinct species."