It's been more like autumn than spring today. Heavy rain, strong winds, a little sunshine and reports of a tornado in Bettws in Newport!
One of the wettest places was Tredegar where 28mm, over an inch of rain, fell and the highest official wind gust recorded was 55mph at Mumbles Head in Swansea.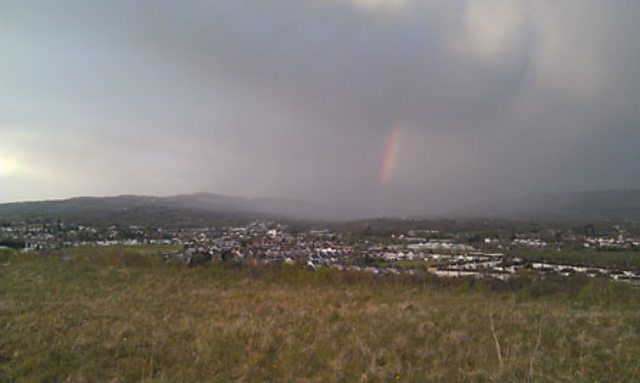 Mike and Kathy Jenkins took this photo of rain coming down the Amman valley
There's more rain and showers to come in the next 24 hours. Torrential downpours in places with hail, thunder and localised flooding.
Met Office website: severe weather warnings
However, some places will be drier and brighter than others with a little sunshine. Friday will be cloudy and damp with rain or showers. And feeling cool, especially along the north and west coast. There might even be a little snow on Snowdon.
Over the weekend, Saturday should be drier and warmer. Still a few showers but more wet and windy weather may spread from the south overnight into Sunday. Longer term, there are signs that May will bring us some better and warmer weather but still changeable.
If you take any pictures of stormy weather please send them to me on email at dereksdiary@bbc.co.uk and don't forget you can follow me on twitter @derektheweather.